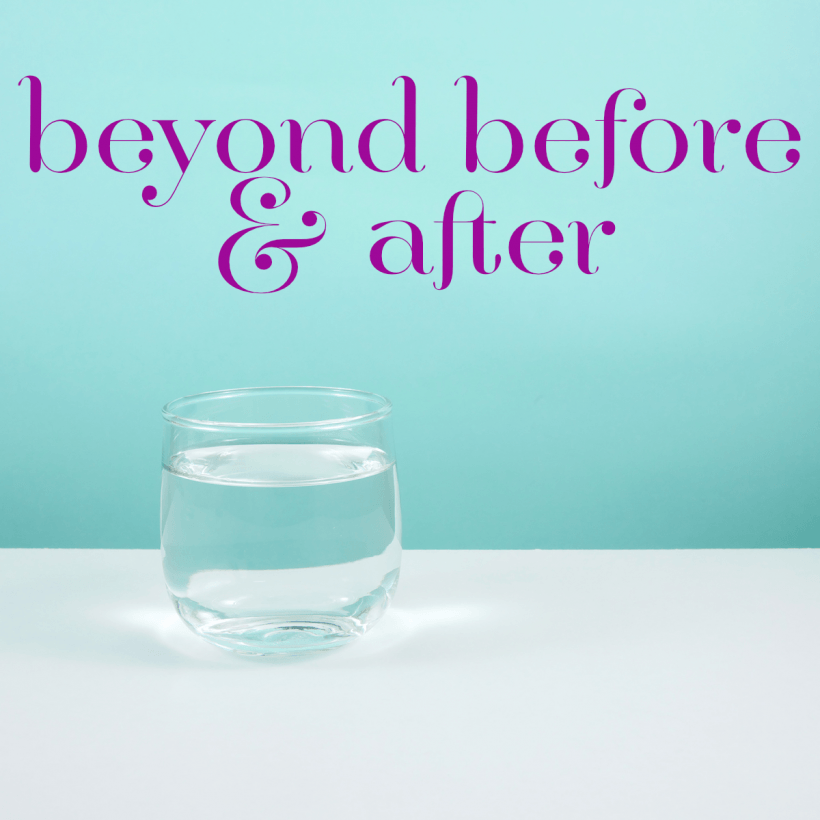 Beyond Before & After is a bi-weekly column devoted to discussing living without dieting, fostering self-love and healthful choices made on our own terms. No scales, no calorie counting, no before, no after. Because we're so much more than that.
I wasn't always fat.
In fact, I was a pathetically thin child. The kind of kid that grammas try to stuff with cookies, admonishing, "You're so skinny. You eat like a bird."  When in truth, this skinny was eat-a-cheesecake-and-make-the-middle-aged-women-green-with-envy skinny.
This is the kind of skinny that gives the shitty kids in school even more ammunition than just big ears. "BONEY JONI," they'd holler while I looked at my legs — scabbed knees, scarred from a hundred falls, skinny — with no defense.
I was simply the kind of skinny that folks assume will forever be skinny.
Instead of staying that skinny, I did the other thing. I got fat. And then I got skinny again and people said, "You were never meant to be fat," like being fat was a thing that just happened to me, a thing I should have prevented.
I did this, the getting fat and skinny again thing more than a few times.
As a human, and a Type A OCD Bipolar one at that, I am the opposite of lacking willpower; I am willpower personified. But the truth is, when it all boils down to the cake and the cookies, having willpower doesn't mean you're automatically skinny.
Sometimes "willpower" is really sickness. And sickness is really successful at keeping you thin, but really fails at keeping you happy.
One day, all at once, something happened. Skinny was no longer the answer. And I told the world. I told the world that the answer wasn't the clothing size or the Victoria's Secret catalog, it wasn't turning heads as you walked your skinny ass down the street head-to-toe in Lululemon.
The answer was in a change of thinking, a shedding of the things you'd been taught about beauty and success and lovability.
And the world listened and cheered, and begged for the secret to it all.
I screamed body positivity from the Today Show and the Daily Mail. I screamed it in Australia and Germany and in any part of the world that needed to hear you are enough. I screamed it from the front page of Ravishly.
And I still do.
At some point though, things started to shift. Maybe it was the time I couldn't sit down on the floor without falling, because my stomach prevented me from bending.
Or maybe it was the time I walked up the stairs only to reach the landing and find myself breathless — breathless, from 13 stairs.
Maybe it was when I fell down those same stairs I was breathless ascending, and couldn't heal under the weight of my own body — realizing that I might never walk without pain or run at all.
At some point, being fat stopped working for me.
And when you've been Moses on the mountaintop preaching fat acceptance, body positivity, fuck the patriarchy, riots not diets, it's hard to allow yourself the space to ask, Can I be body positive and still change the things that hurt?
The thing is, if being fat works for you, if it gives you peace and power and confidence and joy, do it. Be fat. Be unapologetic. Scream at the world that you won't bend under the wind of its hatred.
And if being fat doesn't work for you, you can change, or you can at least give it your best effort.
Being fat doesn't work for me anymore.
But changing that? It's another thing entirely. It's a thing that is scary and vulnerable; a thing that reminds me that I don't know how to do change without obsession.
I don't know how to lose weight without weighing myself five times a day. I don't know to drink enough water to fulfill the needs of my body that I so readily ignore. I don't know how to exercise without exercising 4 hours a day, every day, until my muscles burn with pain and my body soars with the ignorant risks that come with unmedicated mania.
I don't know how to take care of myself. How to really take care of myself.
But I'm trying to learn. And I'm trying to do it with people watching me, people keeping me accountable. People who have been where I am — or somewhere else equally painful, equally torturous — watching me and cheering and crying and joining me in this fight.
 

There have been successes in the last two weeks. And there have been some stumbles and some trips and falls and some falling right on my face. But I'm here.

 
So I drink the water, 100 ounces a day. I do it with success, and I am proud.
I get the blood work done, even though I'm scared, even though I know if something is wrong I'll have to then admit that when the public scolded me, emailed me, publicly humiliated me, "You're going to get diabetes. You're going to have heart disease. You're going to die and leave your children motherless." They were right. I was wrong, and all of the Health At Every Size was the lie they promised it would be.
But it doesn't happen. The blood work is ideal, except for a tired thyroid that needs a little T3 boost.
I have the mammogram to look for the cancer that everyone is scared of, and the ultrasound to peer inside the uterus that won't stop bleeding. And I'm diagnosed with peri-menopause. Which is, at the very worst, a normal thing that causes me to sweat so much I sleep on a towel, and cry so much that I have started to avoid anything with shelter animals, babies, social injustice.
I download and delete My Fitness Pal at least three times. I know this is a certain path of destruction for me. I CANNOT track food or I will obsess about food and I will stop eating. Because if less food makes you lose weight, then NO FOOD makes you lose EVEN MORE.
This is like WAY flawed thinking. I delete it and leave it deleted.
I try to avoid the scale. I ask my husband to hide it, and he doesn't. I'm sure he doesn't because he steps on the scale and looks at how much he weighs and thinks ok that is information that is good to have probably.
Whereas I step on the scale and because I'm trying to actively lose weight I think, sometimes out loud even, I HAVE NOT LOST ANY WEIGHT. I HATE MYSELF. I HATE THIS SCALE AND ALL THE PEOPLE WHO HAD A ROLE IN THE MANUFACTURE OF THIS SCALE AND DURACELL FOR MAKING THE BATTERIES THIS SCALE RUNS ON AND THIS TILE FLOOR BECAUSE IT COMES IN CONTACT WITH THE SCALE. I HATE EVERYTHING. WHY AM I DOING THIS? I SHOULD GO AHEAD AND EAT THIS ENTIRE BOX OF HOSTESS MINI DONUTS WITH A SNICKERS CHASER. WHAT IS LIFE? NOTHING EVEN MATTERS ANYMORE.
What I'm trying to say is, his relationship with the scale is far less complicated than mine. And by complicated, I mean the scale is either my mortal enemy of my BFF.
So, because it's there, in my bathroom floor, and because I look at it every time I use the bathroom (which is a lot because I'm drinking ⅔ my weight in water), I weigh myself. I do it only once a day, which feels like a victory, but I do it everyday, after I said I wouldn't weigh myself at all. Even though I said the scale doesn't matter, it does matter. Because I am Type A, I am a person who wants, needs even, objectivity.
I do it and every time I do it I feel a pang of guilt because I lied to my readers, my team, and also because I know that the scale is a path to certain destruction for me. Once a day, in the morning, will become twice. Which will become at lunch. And then once in the afternoon. And then every time I'm in the bathroom.
Because I can't do moderation when it comes to the scale. The willpower I have when it comes to starvation simply dissolves when I'm in front of the scale. I tell everyone else, "The scale only represents your relationship with the Earth's gravity. It has nothing to do with you." But when it comes to me, to my relationship with the scale, I don't practice what I preach.
The worse part of it all? I act like I do.
There have been successes in the last two weeks. And there have been some stumbles and some trips and falls and some falling right on my face. But I'm here.
I'm here with you. I'm here to be honest with you. To admit those falls, because I know you are there. I'm here with the people of our Beyond Before & After Facebook group, the people who are crying, trying to figure this out too. I'm here with Instagram.
I'm here to start a movement that preaches and practices self-care, self-awareness, and health, however you define it.
Let's do it together.
Want to follow my journey? Join in? Cheer me on? Cry with me?
Follow me on Instagram and Twitter. And Beyond Before & After here.
Join our Facebook group.
And drink your water.