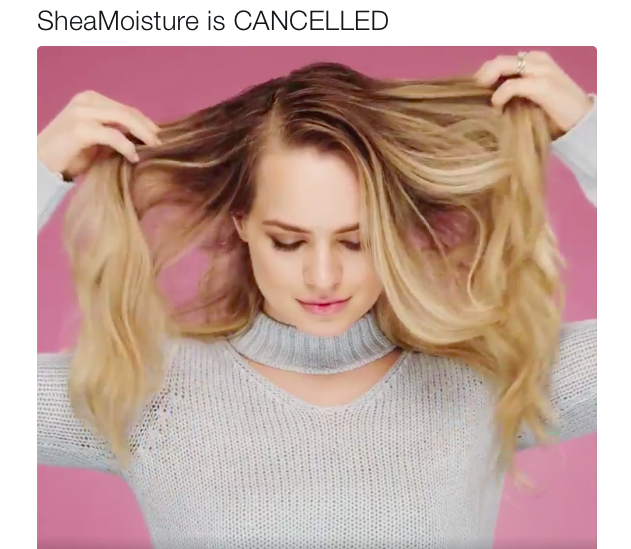 Image via Twitter/ @girlswithtoys
Rather than feature multiple black models with coarse hair (models who would be representative of the company's generations of loyal customers), Shea Moisture chose to use one light-skinned woman with loose curls and two white women instead. Needless to say, their (previously) super-loyal customer base was not pleased.
It has become painfully apparent that this brand no longer prioritizes the black woman's dollar, and a little internet sleuthing reveals why that may be: according to LinkedIn, the smiling faces of four white women were revealed to be the people behind this failed marketing attempt. This is not to say that white women are incapable of creating successful campaigns that feature and appeal to women of color, but this does highlight the never-ending struggle for representation that women of color, and especially black women, face on a daily basis. If a black woman had been working on this campaign, this issue would almost certainly have been avoided.
One of the most problematic elements of this ad is that it traded in the idea of "Hair Hate," despite the fact that there was not a kink to be found in the entire commercial.
Black hair is different, and "hair hate" has traditionally happened to black women. Black women with kinky textures have been denied jobs simply because of their natural hair, and many have endured painful chemical perms to assimilate into what we are told looks "beautiful" or even just "professional." But rather than tell the true story of hair hate and honor the women who have had to endure it, Shea Moisture has made the decision to alienate their black customer base by catering to a community they refer to in their video as "everyone" — a word that apparently means "white people."
When Shea Moisture finally issued an apology, it was too little, too late. Not only were we over it, but they did not even have the guts to specifically apologize to the people they had wronged the most: Black women.
Shea Moisture went on to say: "We are keenly aware of the journey that WOC face — and our work will continue to serve as the inspiration for work like the Perception Institute's Good Hair Study/Implicit Association Test that suggests that a majority of people, regardless of race and gender, hold some bias towards women of color based on their textured or natural hair."
This is a lot of words to say that black women have been ridiculed for years due to the texture of their hair. "Nappy-headed," and "kinky" are specific terms that refer to the texture of black women's hair, and Shea Moisture was founded as a company that catered to our texture. This company once stood side by side with women who dared to cut off their relaxed roots and weaves and accompanied us along every step of the way throughout our journey to self-acceptance. 
But that past is in the past. And unlike #HurtBae, we won't be fooled into forgiving you after this sorry excuse of a non-apology. So without further ado, here are seven black hair care companies that are for black women and formulated to nurture the specific hair care needs of our textures:

1. Oyin Handmade
Oyin Handmade looks silky and delicious, and I want to drizzle it all over my hair. As a hard 4C, my hair gets so dry that the change in Shea Moisture's formula to accommodate silkier textures would be damaging for my kinks. According to their website "Oyin is Yoruba for the word honey, a natural ingredient for skin and hair care." Their mission states that they seek to inspire daily acts of self-care, also boasting "no petroleum or silicones." The family-owned business also appears to be black owned, featuring a woman with natural hair beautifully posed on the "about me" page as the face of the brand.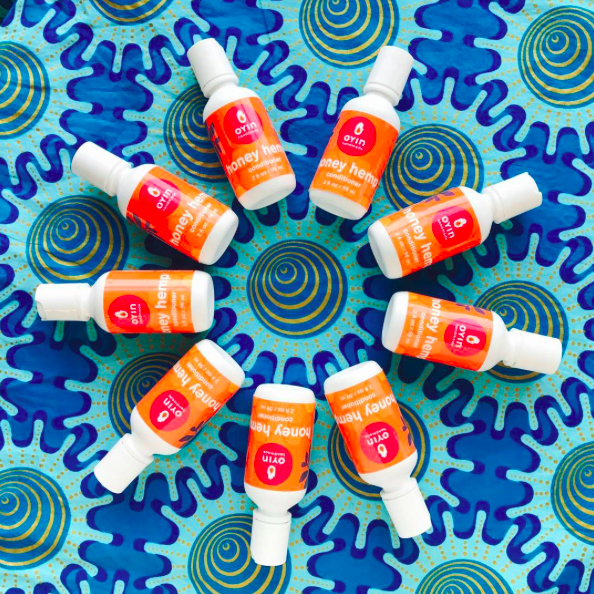 2. Alikay Naturals 
This all natural and "organic luxury beauty product" was created by the Vlogger @blackonyx77. Their Instagram page indicates they are now available at Target and it's clear that their variety of ointments ranging from Creme Brûlée Curling Delights to Leave-In Conditioners will allow you to create the perfect curl.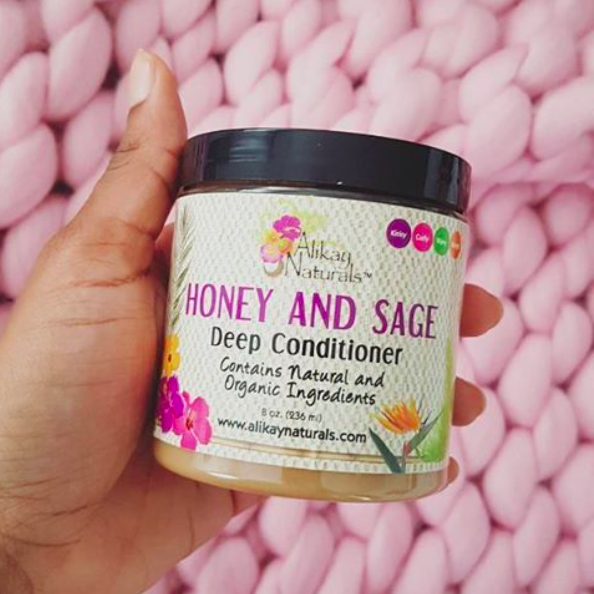 3. Qhemet Biologics
Described as "Ancestral Hair Care for Modern Naturals," their slogan is "Embrace your hair — Embrace your heritage." Their ingredients also strive to be sulfate-free, and my follicles felt moisturized just looking at a jar of their creamy concoctions. There are a handful of coupon codes on their site to purchase their products that support African, Mediterranean, and Ayurvedic hair care traditions.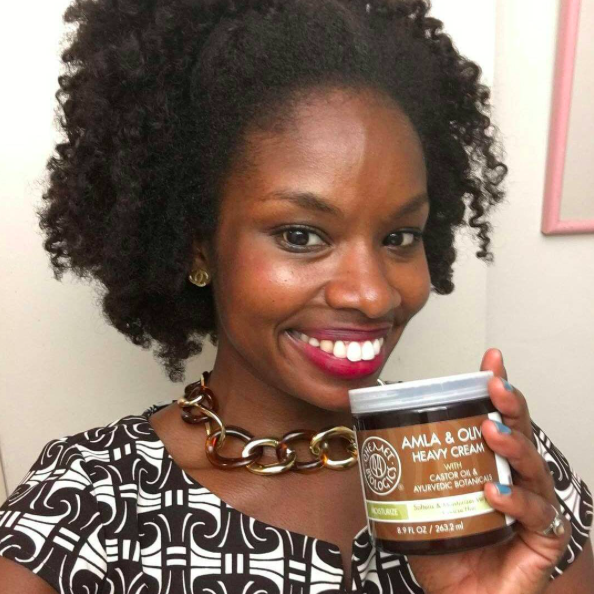 4. The Mane Choice
According to Black Enterprise, Courtney Adeleye had severely damaged her hair with a bad bleach job. She couldn't quite find the right formula to fix her hair, so she took to her kitchen to concoct her own. As she documented the journey on YouTube, it eventually evolved into the black hair care line known as The Mane Choice.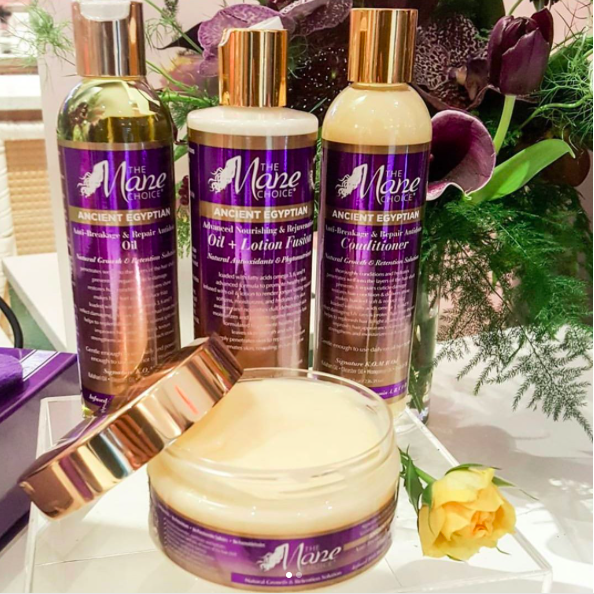 5. Uncle Funky's Daughter
Describing the birth of their product being a result of "necessity," Uncle Funky's Daughter caters to the hair care needs of their textured hair customers. Their product description vows never to sacrifice natural hair ingredients to satisfy those needs, and their website provides an educational guide for natural newbies who want to identify their hair type. Celebrating every curl in the world, this product is definitely for curls that want to make a statement and really shine.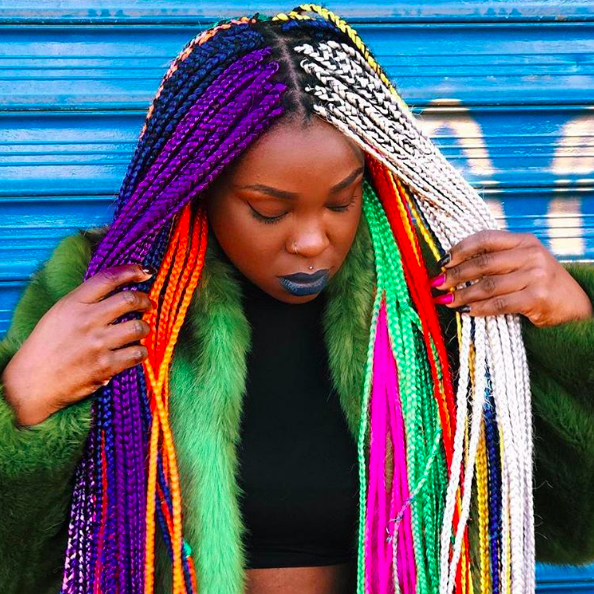 6. As I Am
Not only do they know the formula for perfect shade as seen in this conveniently timed tweet, but the formula for their product is equally good. Created by Dr. Ali N. Syed, the self-proclaimed hair care chemist understands that "celebrating one's own natural hair texture was now a lifestyle for many." The site has a collection of Cleansing Puddings and natural co-washes perfect for any member of #TeamNatural. And unlike Shea Butter, their site is centered around a variety of black women.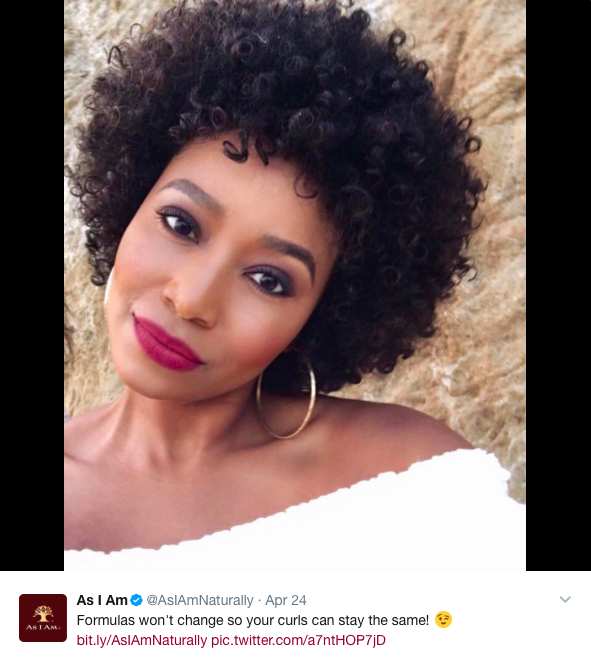 7. Bel Nouvo Beauty
Last, but absolutely not least, this company also took a page from Shea Moisture on what not to do. While that other canceled company created an ad that placed numbers over the faces of the black women, Bel Nouvo featured five coarse-haired African beauties in a full frontal photo that also mastered the art of shade. Using the promo code "NOSHEA," you can get your hands on Coco Castor Nectars, natural black soap, and other handcrafted goodies.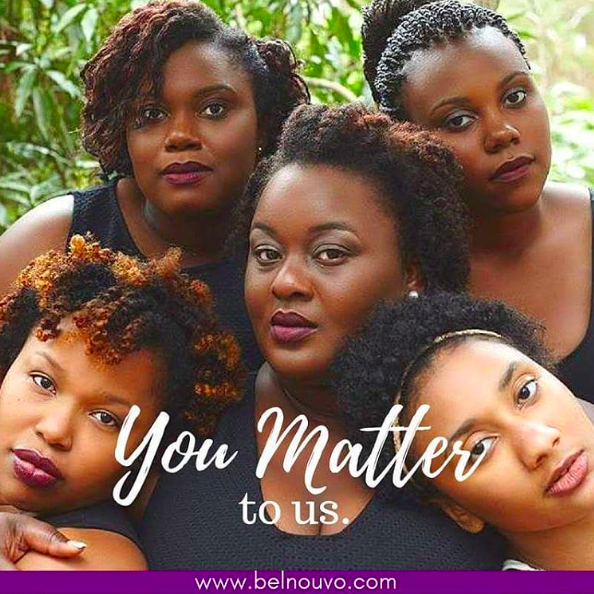 Hopefully, this list can be the beginning of a resource that encourages black women to fight back with their dollars. On the heels of the tone deaf Pepsi debacle, this is proof that consumers are evolving and quick to #Boycott if we feel betrayed by brands. The companies on this list understand that, and even a gorgeous ad by Pantene has started circulating again to seize the black dollars Shea forfeited. 
For more options, check out a longer list of companies that came out earlier this week on the blog, Official Black Wall Street, which is dedicated to supporting black owned businesses. Or make your way over to the market created by an award winning hair stylist who makes black women's hair care a priority, on the site "Shop Naturally Curly." 
Since this fiasco, Shea has been groveling on their social media pages, only to be met with commentary that reinforces the decision to "cancel" the company. But if nothing else good has come from this, the comments section is pure comedy gold.
A top comment by former customer Puma Sabti said it best. "You can stop trying so hard, we not buying your products no more."