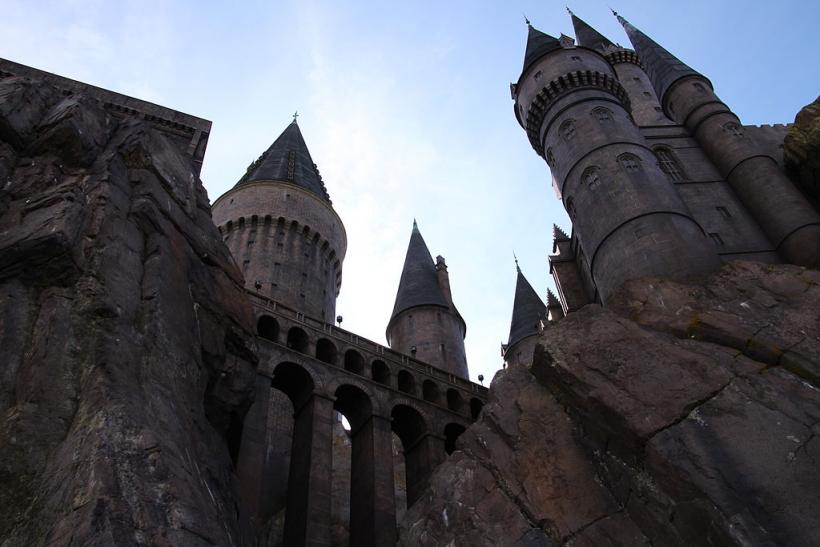 A manuscript of a Harry Potter prequel has been stolen, but no true fan should read it. No matter what. Seriously.... (Image Credit: By Loadmaster David R. Tribble via Wikimedia Commons)
Attention Potterheads: We are living our own Potter tale and it's called Harry Potter And The Stolen Manuscript.
Also? Harry Potter And The Story You Shouldn't Be Allowed To Read Even If It Falls In Your Lap.
Legendary author J.K. Rowling is begging fans of her series about the young wizard not to purchase a handwritten, 800-word story she wrote as a prequel to the Potter tales. The short tale, which is handwritten on two sides of a postcard — was a special story commission for English PEN, an organization that works "to defend writers and readers in the U.K. and around the world whose human right to freedom of expression is at risk." The one-of-a-kind item was auctioned off to raise money for the organization, netting them about $32,000 in 2008.
The story involved James Potter and Sirius Black and muggle cops and Sirius's flying motorcycle, but that's all anyone knows. Well, anyone but the rightful owner of the manuscript. That unnamed — and totally enviable — person lost the story to thieves who stole it and some jewelry from a home in England.
But don't get all excited thinking we'll soon get to see bootlegged copies of a story of the two best Marauders anytime soon. Rowling doesn't want the story published and she certainly doesn't want the thieves to benefit from stealing it. Early this morning, she tweeted "PLEASE DON'T BUY THIS IF YOU'RE OFFERED IT. Originally auctioned for @englishpen, the owner supported writers' freedoms by bidding for it."
And we probably shouldn't read bootlegs, either.
My inner Hermione is standing firm and telling me that even if the author's instructions are ignored and copies of the story become available, I should follow the rules and refuse to read it. My inner Sirius Black says… oh, shut up inner Sirius.
Inner Hermione is right. Rowling sold this under a particular set of terms, the proper owner hasn't changed the terms, and the thieves are WRONG WRONG WRONG.
We can only hope that the manuscript is returned to its rightful owner and that the owner is so grateful that s/he and Rowling conspire to publish the story because OMG I WANT TO READ IT SO MUCH!
If you do catch wind of the illicit manuscript contact the police in West Midlands UK.