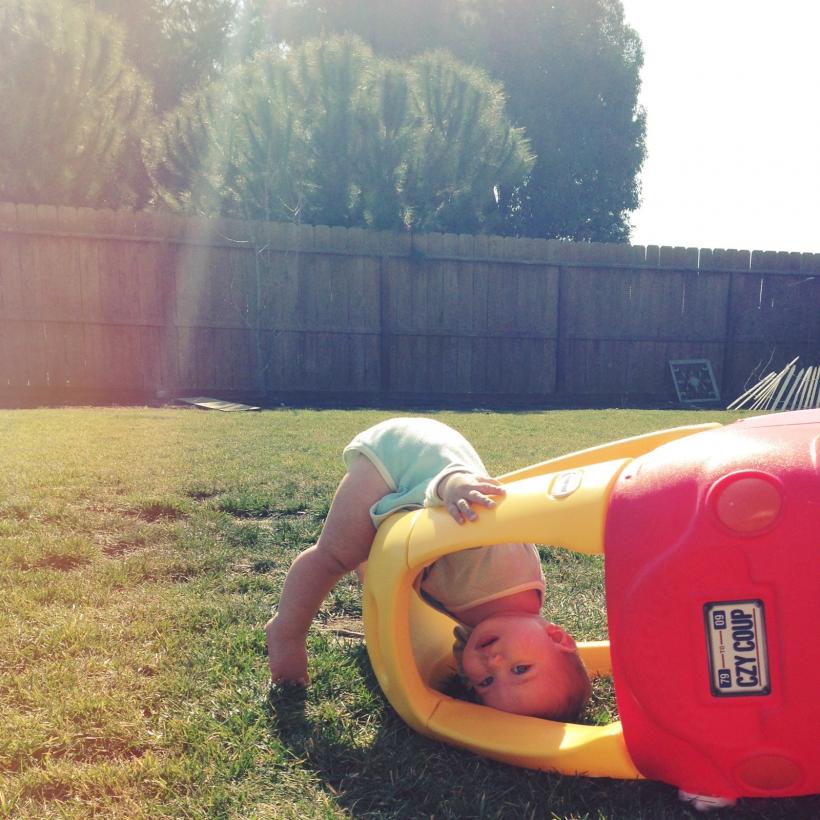 image credit: me, because I'm just that cruel
Not long ago, I had a dream that I was pregnant.
Except I don't have a uterus anymore, so the baby was just growing in my abdominal cavity (which OMG is ACTUALLY POSSIBLE). When it was born, it was not a human baby, but a tiny orange tabby kitten. I put the tiny kitten in the front pocket of my dress, kangaroo style, and that is where it stayed right up until I was woken up by my 5-year-old sleep-thrashing his elbow right into my eye.
Motherhood. Amirite?
When you've been awakened by a boney 5-year-old elbow to the eye, you know you're a mother.
Other ways you know you're a mother:
1. You can sleep in the bottom right 5% of your bed.
Exhibit A:
2. You know some food is supposed to be hot, you just don't remember having any.
Who needs hot food, anyway? As long as it hasn't been at room temp more than a few hours you're probably not going to get food poisoning.
3. You spent three hours making an elaborate dinner…
... to which someone at your dining table responds, "EWWHATISTHATFOODIHATETHATFOOD."
4. You make four pieces of toast in 9 minutes...
...because I WANTED TRIANGLES NOT SQUARES. I CAN'T SEEEE THE BUTTER. IT IS BURNNDED I HATE IT. I HATE YOU YOU'RE NOT MY MOMMY ANYMORE.
5. You find yourself saying things you never even thought of before.
Things like…
"Yes, eventually the sun WILL burn out. And yes, we will all die."
"Get your penis off your sister."
"No, you may not eat cat food."
"No, you may not poop in the grass like the dog."
"What do you MEAN kids aren't supposed to watch TV?"
"I haven't taken a shower since April."
6. Your hair is 85% dry shampoo.
Because you haven't taken a shower since April. (Or at least in several days.)
7. You haven't slept for more than 4 consecutive hours since 1995.
Oh. Just me then?
8. You can sleep sitting up.
You can probably sleep standing up.
9. You have read seven books JUST ABOUT SLEEP TRAINING/SLEEP TRICKS/SLEEP IN GENERAL. PLEASE GOD SLEEP.
Your 5-year-old is still in your bed elbowing you in the eye at 3 am.
10. You know the words to Brown Bear Brown Bear so well that you can say them in your sleep (and you actually have).
Brown Bear, Brown Bear
What do you see?
I see the inside of my eyelids. Shut up Eric Carle.
11. You have allowed children to remain in a precarious position...
...because the picture was just too good.
12. You have apologized to your parents.
MANY TIMES. Because you were a total butthole kid.
13. You have a minivan.
You can't see the floor, but you've always got a bag of crushed trail mix at the ready.
14. Your shirt/pants/pjs are stained with vomit.
The vomit is not yours.
15. You believe that the pool is basically a bath.
Chlorine works at least as good as soap.
16. You have a Pinterest board of Frozen-themed birthday party ideas.
You have literally prayed for any other party-theme but Frozen.
Let it goooooo…
...straight to hell.
17. You know who Caillou is.
You didn't know you could want a cartoon charater to die until you knew who Caillou was.
He's bald; does that mean he's in chemo?
18. Hearing other babies cry makes you let down.
Writing about hearing other babies crying making you let-down, makes you let-down.
19. You've stopped buying Starbucks, because college is really expensive.
Your child is two.
20. You lay awake thinking about how bad McDonald's is for you.
You eat McDonald's anyway. Because chicken nuggets are bribery and everyone knows that.
21. Your heart walks around outside your body...
...because that's where your babies are.