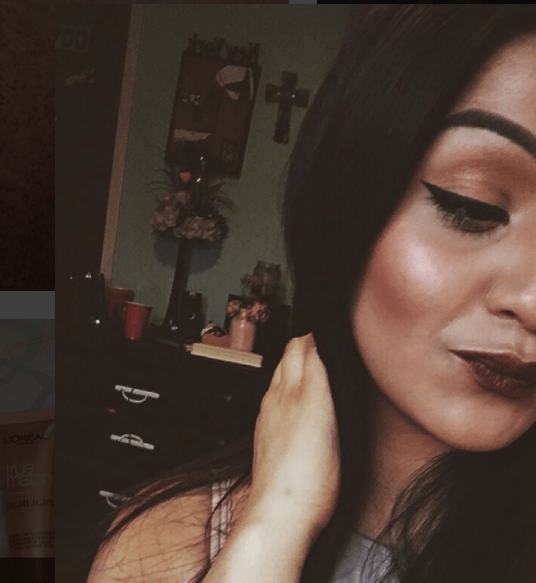 To go metallic or glossy? That is the highlighter dilemma. (Image Credit: Instagram/toriieebeaar)
If there's one thing that makes me deeply proud of my generation (apart from our general anti-Brexit sentiment) it's the newfound omnipresence highlighter enjoys in the makeup world. Remember mere years ago when highlighter just wasn't really a thing? Weird, huh?
Now I think you'd be hard-pressed to find a makeup wearer who doesn't dab on at least a hint of something reflective before heading out into the Big Bad World.
And now highlight itself is so massive a category that there have started to form subsets within it — little offshoots of different highlight styles, sometimes even in opposition with each other. Some people want blinding, some find that tacky and want to fake an inner glow; some want shimmer, while others insist on an imperceptible gloss finish. And there can be arguments made for each.
So today I'm tackling one of the big, important questions at the forefront of culture today: which is better, a glossy or a metallic highlight?
The two I have pulled up as defining examples of their kind are the L'Oreal True Match Powder Glow Illuminator and the RMS Living Luminizer. Because I have a skin color bordering on translucent I have the pale-gal incarnations of each — in L'Oreal, "Icy Glow," and in the RMS the "Living" rather than the warmer, golden "Magic" Luminizer.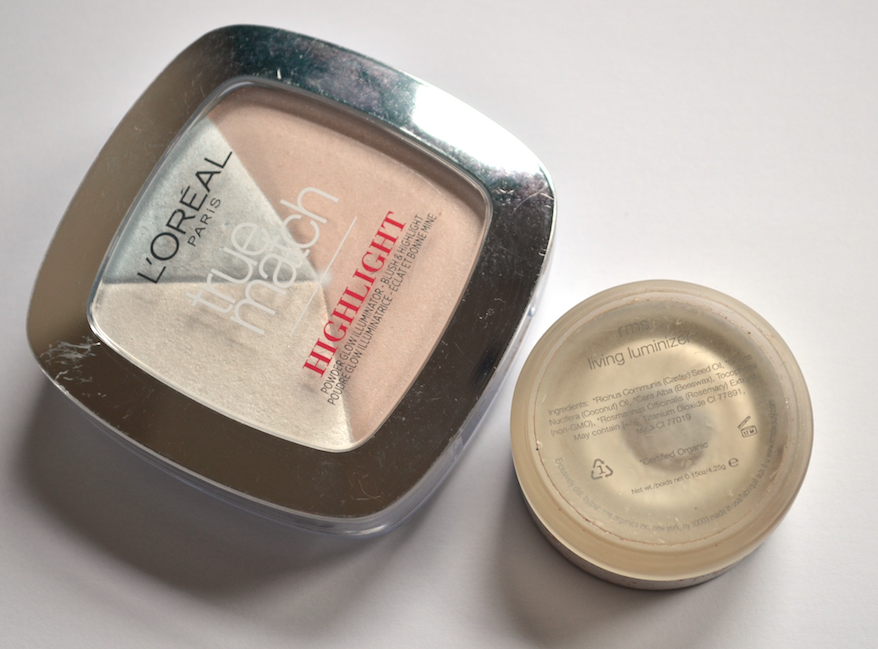 The L'Oreal comes in a pretty large pan and is a straight up barg, at around $10. Both my "Icy" shade and the "Golden" have three sections, meaning you could tailor application for different effects. I am way into focusing on just the blue segment to achieve an Anastasia Moonchild effect for a fraction of the price. Blended together, though, and dusted over the top of cheekbones, this gives a multi-tonal-yet-somehow-still-basically-white, ethereal glow.
The RMS Luminizer is more towards the "silly money" end of the spectrum, at an eye watering $38. But (and I hate to say this), for me, it's totally worth it. It's a sort of translucent, melty balm texture with imperceptible small shimmers suspended throughout. On the cheeks this looks somehow both supremely natural yet breathtakingly eye-catching.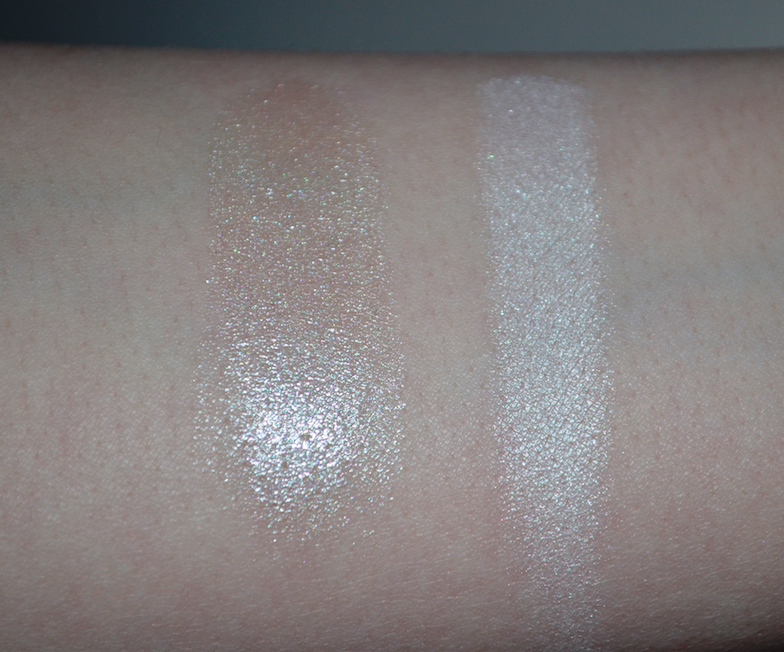 The appeal of both is abundantly clear, and surprisingly different. The L'Oreal will give the intense, metallic-sliver, molten-cheekboned look so beloved of Instagram. Using it with a dampened brush would intensify further for proper glowing goddess status. On the bang-for-your-buck scale, it is the clear winner.
Yet the RMS has the "je ne sais quoi" of a true superstar. It isn't as obvious or "fleeky" (*throws up*) as a metallic powder, but it captures the purest essence of highlighting. It basically mimics natural gorgeous skin which exudes light, like you're someone who drinks ten pints of water a day and gets ten hours of sleep a night (yeah, right).
There is a lingering worry that I'm totally falling for some Emperor's New Clothes type of thing here. Pay more, get less product, which gives a less noticeable effect on the skin? Sounds sketchy. And yet, in good conscience, I couldn't vote any other way.
While a beaming metallic powder will always have a place in my heart, for me, gloss is the one.
Perhaps it's my inner snob screaming out to be heard. Perhaps it's my weird, inexplicable desire to look ever-so-slightly sweaty. Who knows. All I can say is I'll be painting on my glossy, greasy cheekbones for seasons to come. Oh, and this meager 4.25g tub has already lasted me literal years, so maybe it too is a bargain, in its own weird way.