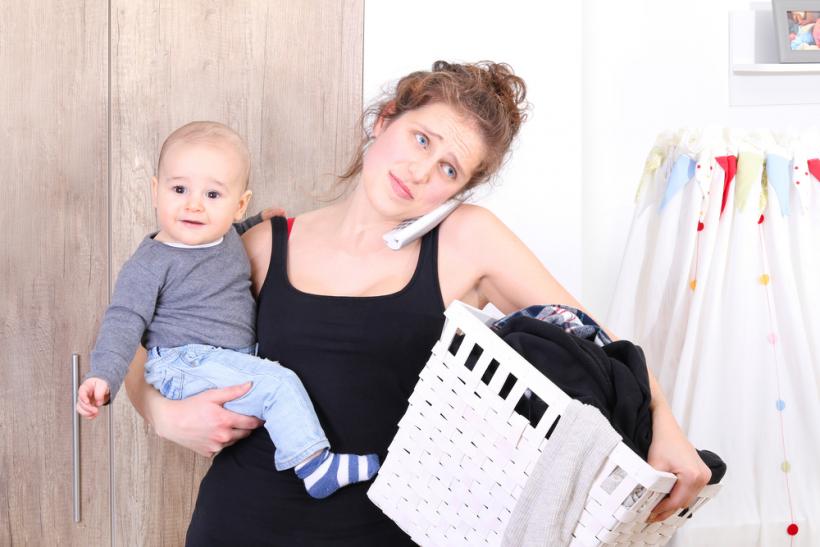 Like accidentally seeing your parents naked, ambivalence about motherhood makes people uncomfortable.
This article first appeared on Role Reboot and has been republished with permission.
---
My baby turns one today. Later I'll probably post an adorable picture of him on social media and write something about how I never knew what love was until he came along and what an honor it is to be his mother. All true. This morning, though, I'm thinking about the moment in the hospital when they laid him on my chest for the first time.
I looked down at his tiny body and puckered face and thought, "Well this is going to be inconvenient."
I seesawed wildly back and forth about having kids. Even while actively trying to get pregnant, all I could think about were the sacrifices ahead. Sleep deprivation, dwindling free time, and no more impromptu sushi date nights with my husband. Then there was the fear of losing my identity as all my skills and past accomplishments morphed into one faceless blob called "Mom." Would I inevitably become one of those women I avoided at parties, the ones who can only talk about their kids? Would all my professional achievements fade into the background as I obsessed about nap schedules and the consistency of my child's poop?
I was not one of those women who loved being pregnant. Frankly I'm not sure they even exist, those mythical women who glow for nine months straight with nary a swollen foot nor episode of killer heartburn. Beyond the physical discomfort, I also spent a lot of time worrying whether I would like being a mom. However, whenever someone asked how I was or whether I was excited to meet the baby, I responded with, "Great! So excited!" There is an unwritten rule that when you're pregnant you don't talk about anxiety and fear. Like accidentally seeing your parents naked, ambivalence about motherhood makes people uncomfortable.
This ambivalence extended to the way I prepared to welcome baby into our home. I did not have a Pinterest board of nursery theme ideas or a comprehensive baby registry at three different stores. Instead I had a spare room filled with boxes, dust bunnies, and a smattering of miscellaneous baby gear that well-meaning friends and neighbors had forced upon me.
"I appreciate your minimalist approach to this," a friend told me in a concerned tone when she saw my small, jumbled pile of toys and crib parts. "But you're going to need more stuff."
More stuff is exactly what I didn't want. I'd witnessed friends trying to leave the house with their kids, cramming one more snack or stuffed animal into an already overflowing diaper bag, trying to anticipate every need that could arise. Stuff represented the weighted-down nature of motherhood, the tether to a role I wasn't sure I wanted or was suited for.
When we came home from the hospital, I assumed the first few months would be a lot like boot camp: no sleep, physical extremes, and someone yelling at me all the time. Also like boot camp, I worried that motherhood might break me, melting away my personality and building it back up into something unrecognizable.
Far from robbing me of my identity, motherhood has brought it into sharper focus.
I have never been clearer about the things I value. I worried that as a mother I wouldn't have time for the long list of things I thought made me me. As it turns out, I didn't. Motherhood, however, has made me ruthlessly honest about how many of those were things that truly brought me joy, like a night on the couch with wine and a good book; versus things I did mainly so I could tell people about them, like Pilates and cooking on weeknights. Motherhood has cured me of FOMO, replacing it with a solid case of IDGAF.
With fewer things and more focus, my world feels simultaneously smaller and more expansive. Yet there are days I feel boxed in by time, and long for the minutes I squandered pre-children. How is it that I didn't train for an Iron Man, cure cancer, and write a heavily footnoted historical novel? These days when I finally have a minute to myself, a noise from the baby monitor causes resentment to surge through my body. I'd be lying if I said I didn't often curse as I climbed the stairs to the nursery. Then the sweet smell of powdery baby sweat hits me as I scoop my son up from his crib, and I remember and accept the phase of life I'm in.
So yes, there have been sacrifices. Along the way, though, life sneakily reprioritized itself so that the changes I feared don't feel so important after all. I do love my child more than I ever thought possible, and it is an honor to be his mother. It also feels good to be open about everything else that comes with it.
Recently I recounted all this to a friend who is thinking about starting a family. "I know we can't put it off any longer," she told me, "but…what if I don't like it?" She almost whispered the question. She was brave enough to ask the question so I thought she deserved an honest answer.
---