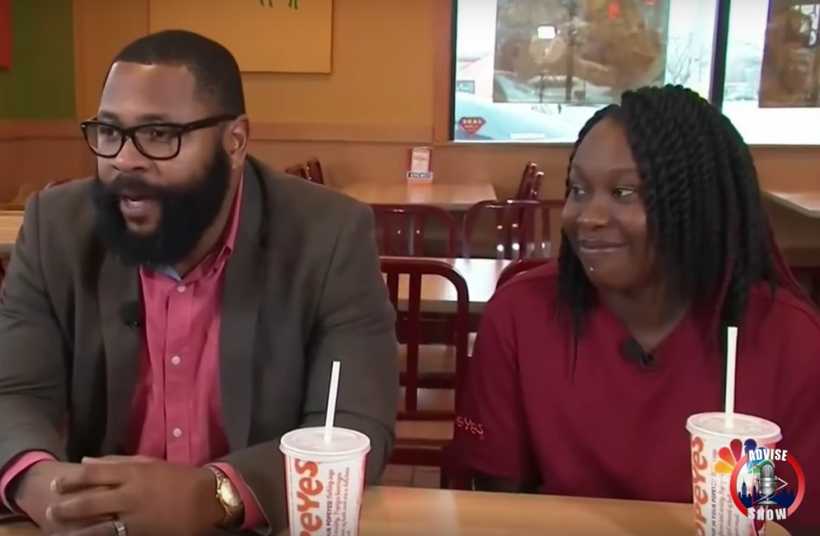 Don Carter put kindness into action, and now a young woman has the money to pursue her dream of nursing. (Image Credit: YouTube/TheAdviseshowTV)
The Lovers & Fighters of America' is a weekly column here at Ravishly featuring behind-the-scenes stories of inspirational people taking a stance against hate.
Don Carter, a married father of two, is redefining the meaning of kindness — literally — while changing the course of one woman's life in the process. 
One evening last month, the former Kansas City police detective was tired after a long day. While sitting in the Popeyes' drive thru, he struck up a conversation with the employee at the window, a 28-year-old mother of one named Shajuana Mays.
 
Their conversation was brief, but a few truths were shared. Like Carter, the friendly woman was feeling exhausted. She wanted something more for her life, and had dreams of becoming a nurse.
Her main setback was money: she was struggling to save up enough to put herself through nursing school.
Carter took his chicken and drove away, but the seemingly unremarkable exchange between the two stayed with him. He told Ravishly: "I can't explain the rest. It was only seconds. But I drove away from there with the lingering sensation (it was more than just a thought) regarding how I could help her. By the time I got home, a thought had been birthed in my mind about what I could do."
 
And what Carter wanted to do was help this woman, a stranger, go to nursing school. He shared his idea on Facebook, and he started a GoFundMe page called "Send a Random Girl 2 Nursing School." On the campaign page, Carter wrote: "I don't know her. Never seen her before today. Nothing. The thought just dawned on me. I have about 1,300 or so 'Friends' on FB, I think. If I put the call out there, maybe people would want to do something kind for this random young woman. So I'm doing something a little different than I've ever thought before."
 
His initial target of $1,500.00 — enough to cover basic CNA training — was raised within 24 hours. The current total of funds donated is now over $15,000.00, so Mays could be set to train as an RN.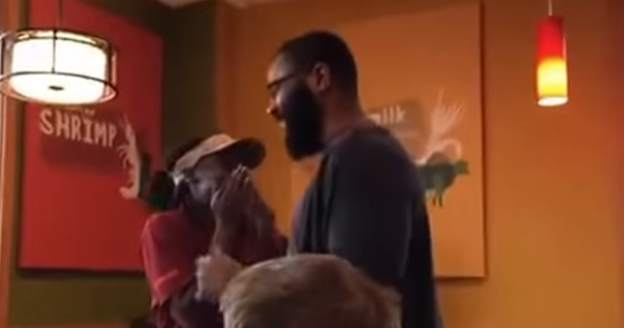 Mays had no idea a random customer had decided to help her and was shocked to learn what Carter, and those who supported his campaign, had done for her. A friend filmed Carter sharing the news with the aspiring nurse during her shift at Popeyes. She appeared to be close to tears, clearly delighted by the unexpected act of kindness.
 
Mays gave Carter a big hug and later explained how she was feeling: "I don't even know how to describe it in words," she said. "It's an emotional feeling right now that's unexplainable, but it's all good and happy emotions and feelings. I'm excited. I actually get to pursue something that I've always wanted to be doing for a very long time."
Carter says he's been thinking more deeply about kindness lately and he's come to a few personal realizations.
He said: "Now, before a couple weeks ago, I didn't think about kindness much. I mean, I was aware of kindness, but I didn't THINK about it much. It used to be that I would think about it in terms of the usual: to be kind meant to be friendly, generous, and considerate. That's a very vague definition." 
 
Carter suggests the true definition of kindness actually involves being more present with one another. He shared his new concept of kindness with Ravishly: "In my mind now, there are distinct differences between kindness and niceness as well as between kindness and charity. Kindness is simply the state of recognizing that the people you are sharing space with at any given moment in your life are LIKE you — human. Niceness can be faked, and charity is for those who are less fortunate. Kindness says 'We're in this together.' Maybe it's a new definition, but it's mine. It's how I choose to live." 
 
Carter, who resigned from the police force in January, says he can feel the positive impact that choosing kindness is having in his own life. He told Ravishly: "It's amazing to do this on purpose (so less random now) and have a heart that is so alive, especially after it had been dying so long; mostly because of the requirements of police work."
 
As for Shajuana Mays, she has big plans for her future and told NBC News: "I'm going to be the best nurse to come out of Kansas City, Missouri. That's what I believe."
 
We are honored to be featuring Don Carter as this week's lover and fighter of America. By choosing to live his own definition of kindness, he has changed Shajuana Mays' life forever and, in doing so, he has warmed the hearts of many, including his own.
If you know an inspirational Lover & Fighter whom you'd like to see featured on Ravishly, send a message to Shannon Day, via Facebook.
Lovers & Fighters say "hell no" to racism, sexism, bigotry, and xenophobia. These men, women, and children are saying "heck yes" to equality, human decency, and love. From bold acts of advocacy to simple moments of goodness, these everyday people remind us of what it truly means to be American.
These lovers and fighters are resistant in the face of intolerance. They are bold in the presence of judgment. They are determined to join forces (or to stand proudly alone) to ensure their message is heard: #LoveTrumpsHate