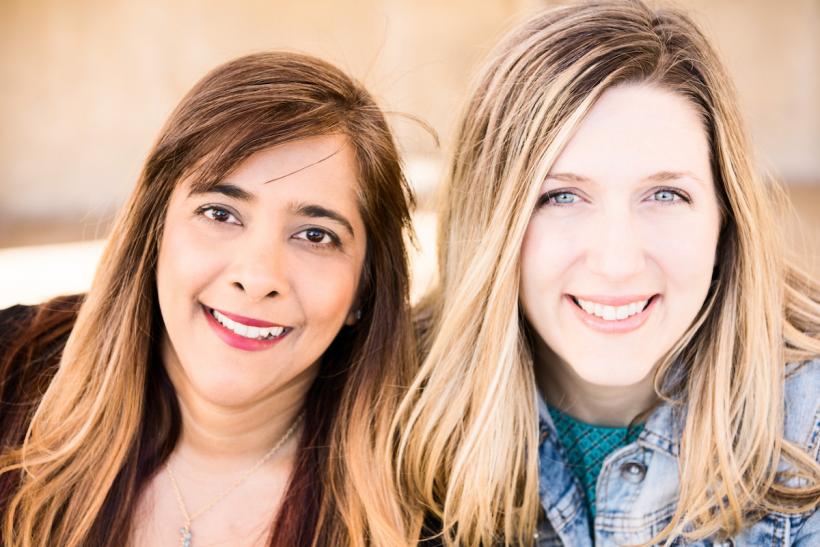 When Amalie Howard and Angie Morgan started writing a historical romance story together, they had no idea it would turn into a full-blown trilogy. My Rogue, My Ruin is the first in that series, a delightfully daring romp that adapts the classic tale of Robin Hood into a steamy historical romance. Though Amalie and Angie have both been published in the past, My Rogue, My Ruin is their first collaborative project.
We got the lucky opportunity to send them some of our most burning questions about their writing process, their childhood influences, and the host of misconceptions surrounding chick-lit. 
Amalie, you've written about everything from mermaids to cyborgs. What made you want to jump into the world of historical romance?
As both a reader and writer, I've always been a huge fan of romance, so love has been a strong theme in all of my young adult novels (even with cyborgs)! After all, we are social beings and our existence is bolstered by human connection. I love being able to explore these different layers of love and romance in my novels.
Historical romance is one of my favorite genres to read when I have some downtime — corsets, stringent etiquette, romantic entanglements, and a guaranteed Happy Ever After — what's not to love? Writing it, however, came quite by accident. A couple years ago, Angie and I were having a laugh about how much we love our "manly marquesses" and our "dashing dukes," and we decided to write our own historical romance as a fun project. A few months later, much to our surprise, we had written a complete novel, which we both fell in love with. We sent it off to our agents and the entire Lords of Essex series was then sold for publication to Entangled Publishing. My Rogue, My Ruin is available now, My Darling, My Disaster releases March 27th 2017, and the third book, My Hellion, My Heart releases July 24th 2017.
Romance novels are overwhelmingly popular and beloved by readers of all types, but they still struggle for recognition in the literary world at large. In your ideal world, how would we think and talk about romance novels?
Romance novels, particularly historical romance novels, have always had a shaky reputation, particularly when they're paired with derogatory misnomers like "bodice rippers" and the like. Let's be clear, not all historical romance books have bodice ripping in them. And more emphatically, not all bodice ripping is bad. Especially when it's consensual. There's nothing sexier than the swift shedding of clothing between a couple, and if a few buttons get torn in the process, YES PLEASE. It's about passion. It's about love. It's about romance. And it's most definitely about sex. To us, romance novels are empowering. They allow women to explore their sexuality in a safe space and to not feel ashamed by their wants and needs. Pride & Prejudice is considered literary and is at its core a romance. Just because something is written about sex and romance doesn't mean it's a fluff book. Beautifully written fiction is also about language and syntax, style and composition, not just about content and subject matter.
What should we know about My Rogue, My Ruin and the romance genre at large?
My Rogue, My Ruin is a steamy, regency retelling of Robin Hood. As with most historical romance books, we wanted the story to center around a flawed hero and an equally flawed heroine, who both manage to find reasons to change in each other. Archer Croft, the Marquess of Hawksfield, is driven by his hatred for the wasteful, wealthy beau monde to steal from the rich and give to the poor. But his motives, though helpful, are woefully misguided. He meets Lady Briannon Findlay, his sickly neighbor who longs for adventure and freedom from her mother's coddling. She becomes an odd sort of moral compass for Archer, while he pushes her to step out of her comfort zone. The attraction between them is sizzling and they both get caught up in a murder mystery that throws them closer together. To survive it, they'll have to trust in each other.
"As romance writers, we hope to empower women and help them embrace or celebrate their sexual identity. There's something incredibly powerful about that."
In this novel, we hope to offer readers a satisfying blend of romance, action, mystery, suspense, and humor. Though sex is important, the romance genre isn't only about that. Like life itself, it's a mix of many different elements. It's about emotional, mental, and physical connections. While we want the sex to be satisfying, we don't want it to be gratuitous or explicit. We're about the total package—incorporating all the different nuances and layers of romantic relationships. As new historical romance writers, we hope to bridge lush, setting-based, old school historical romance (Kathleen E. Woodiwiss, Johanna Lindsey, Judith McNaught) with sexier, character-driven, new school historical romance (Sophie Jordan, Sarah MacLean, Tessa Dare).
What's the most common misconception about "women's fiction" and romance?
That it's automatically less than because it's chick lit or romantic fiction written primarily by women. Or worse, a smut book. It's so demeaning. Just because a novel has sex in it doesn't automatically make it a "nasty" sex book. Sex is a natural, healthy part of human relationships. It's a physical culmination of a connection between two people, and it is the reason that any of us exist, after all. As romance writers, we hope to empower women and help them embrace or celebrate their sexual identity. There's something incredibly powerful about that.
My Rogue, My Ruin was a collaboration between the two of you. How did you come to work on the book together? What is the writing process like when working with a partner as opposed to working solo?
We started writing this book for fun because we both adore historical romance. That writing experiment evolved into the Lords of Essex series. We have a very strong working rapport, cultivated over the course of four books and countless brainstorming sessions via online chat, phone, and in-person. We write primarily via Google Docs and Word. We tend to do a detailed outline before each project so that we are both on the same page as to where the story is going. Our last outline was twenty-six, single-spaced pages! Then we write.
"For us, it's not just about writing tough female characters, it's about writing real ones..."
Because historical romance is so stylistic, we don't separate out by chapters. We pick up where the other leaves off, even if it's mid-scene. We trust each other implicitly, which is a must (in any relationship), and we edit as we go. Then we revise the finish project together. Our favorite part about writing together is having someone at your side who is equally invested in the project, who will tell you as it is, hold your hand when necessary, and also give you a kick in the butt if needed.
You both have writing roots in middle grade and young adult books. Growing up, what were the books that influenced you most?
Amalie: I've been a voracious reader all my life, devouring pretty much anything I could get my hands on. My love affair with reading began with Grimm's Fairy Tales and continued with books like Anne of Green Gables, Little Women, The Lion, The Witch & The Wardrobe, and Lord of the Rings. My biggest influencers were Enid Blyton, J.R.R. Tolkien, David Eddings, Anne Rice, C.S Lewis, Judith McNaught, and Jude Deveraux.
Angie: Growing up, I would go with my dad to used book shops all the time. He collects books and he'd let me pick out a book every time I went with him. I'd read everything, flying through series like Sweet Valley Twins and Babysitter's Club, and books like A Wrinkle in Time and Bridge to Terabithia. I read everything, even books not necessarily intended for kids, like Stephen King, Dean Koontz, and Danielle Steel.
My Rogue, My Ruin isn't just a romance, it's also firmly grounded in history. What drew you to writing about the past?
The rules — particularly the ones that govern male/female behavior — during the regency period are fascinating. We love exploring the challenges those strict rules present when two people are falling in love. Like the Victorian age, there is so much restraint and guarding of one's reputation, future, and heart. It's something, even in today's world with today's rules, that we all can struggle with. It's rewarding when our characters can break past those rules to find what's truly important. Also, London society in the regency period can feel very insular, and when writing about it there is so much opportunity to create multiple characters and storylines, some of which can be visited in future books!
With so much focus on Badass Women Being Badass in the literary world at large, there has been a swell of female characters who are tough but still lack depth. Brynn doesn't fall into that trap by any stretch of the imagination; she knows how to hold her own but still has a whole lot of heart. What is the process like for creating a character that reflects the complexity and diversity of women in the real world?
A woman's strength comes from her ability to be resilient... to rise in any situation, to face any challenge with whatever tools she has at her disposal. For us, it's not just about writing tough female characters, it's about writing real ones—making them well rounded with both emotional and physical strengths and weaknesses. However, it's a fine balance writing historical since there are so many rules of deportment (what was allowed, what wasn't, how a woman should behave, social expectations and the like). Within those parameters, we still wanted our heroine to have the depth and complexity that would make her relatable to modern women. Intelligence isn't limited by time period, and neither is common sense, humor, or self-awareness. At the end of the day, it still comes down to versatility and resilience. It's about how these female characters respond to the things they come up against and how they are shaped by their experiences.
Strength can be about embracing your vulnerability or sexuality, making a choice you've never made before, or trying something out of your comfort zone. For us, adaptability, heart, and resilience are signs of true strength, and we hope that all of our heroines are accurate representations of that.
What advice do you have for young writers considering a venture into the romance genre?
First of all, don't be afraid to write what you love, and have confidence in your ideas. For any new writer, we would encourage reading as many books as you can get your hands on—the more you read (especially books that have been successful in the genre), the more you'll understand the elements required to pen an equally successful novel of your own. Reading outside of the romance genre will broaden your scope, too. The most important piece of advice, though, is just to keep writing, keep trying, and keep reading.