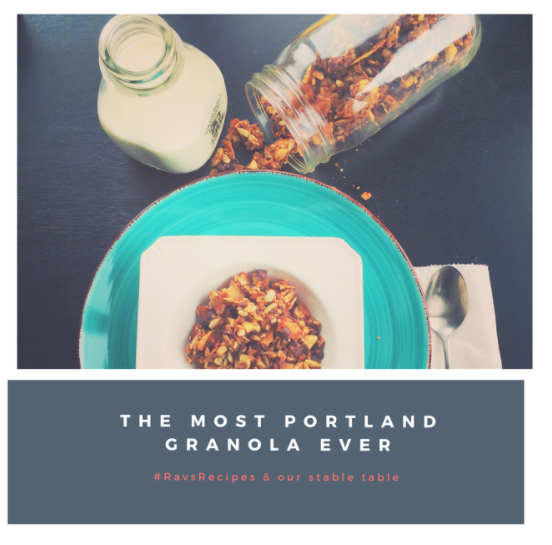 This granola, just like my mom's, is FANTASTIC. The high protein and fiber content will be a great start to your day.
I have a serious weakness for cereal.
When I was growing up, I coveted boxes of Lucky Charms, Fruit Loops, and Honey Bunches of Oats. What kid DOESN'T want a sugar-loaded cereal to start their day? But typically, boxed cereals were too expensive, and even if I found a coupon, my mom wouldn't let me have all that sugar anyway.  
She did her level best to give us something healthy. Whole milk, low-sugar/high fiber cereals. Fresh eggs. Homemade wheat toast with natural peanut butter. All three of us kids protested her food efforts to no avail. She was a woman determined to give her children a good start to the day, damnit! She would actually chase us down if we forgot a jacket or our homework or our lunch, and yes, sometimes even our toast.
We never stood a chance.
My mom would make us granola at home. (She made a LOT of things. She also split our firewood, but that's another post.) We, her ever-resistant offspring, scoffed because the granola wasn't from a box and she usually added wheat germ and raisins and about 1/3 of the sugar.
Jeez. We were really ungrateful. Sorry, Mom!
This granola, just like my mom's, is FANTASTIC. The high protein and fiber content will be a great start to your day.
Ingredients:
4 cups raw coconut flakes (sometimes called chips)
2.5 cups raw nuts and/or seeds of your choice (hemp seeds, cashews & chopped hazelnuts are my favs)
3 Tbsp chia seeds
1/4 cup cacao nibs (optional)
4 Tbsp coconut oil or melted butter
2 Tbsp honey or maple syrup
1 tsp vanilla extract
1 tsp cinnamon, heaping
1 tsp cardamom or allspice (optional)
1/2 ground ginger
3 Tbsp mini-chocolate chips (optional, but tasty)
Directions:
Combine nuts and spices in a large mixing bowl.
On low heat, melt butter.  Add honey and vanilla extract when butter is just melted.  Stir until just barely incorporated.
Pour butter/honey mixture over the dry ingredients and mix thoroughly.
Once thoroughly combined, spread evenly on parchment paper-lined baking sheet.
Bake at 275 degrees for 25 minutes.
Remove from oven and sprinkle mini chocolate chips on top.
Allow to cool COMPLETELY before breaking it up, eating, or storing in an airtight container.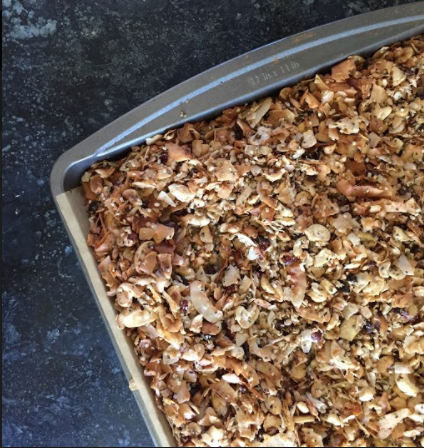 I made this recipe over the weekend. I shared it with a friend who texted me the next day saying she could not stop eating it. My husband took it to work for a snack and it didn't come home again. This stuff is crazy addictive.