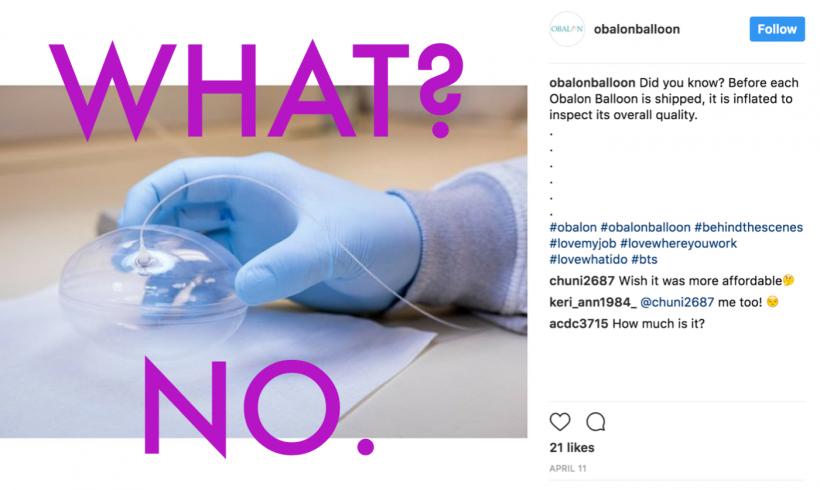 This is a stomach-balloon zone.
Because I have the esteemed title of "editor-in-chief," sometimes people send me free things. Sometimes they send me headphones that are built into an incredibly tacky looks-like-metal-but-is-definitely-not necklace (so terrible).
Sometimes they send me snacks. Sometimes they offer me "exclusive interviews" with "esteemed physicians/aestheticians/etc."
Today, a balloon.
But not just a regular balloon, one that you swallow.
Into your actual digestive tract. Where food is supposed to be.
Remember food? The thing you need to survive?
Yeah, that.
From the email:
The Obalon Balloon System is the FIRST and ONLY swallowable, FDA-approved balloon system for weight loss. The non-surgical treatment typically consists of 3 lightweight balloons, placed gradually over 3 months, occupying space in a patient's stomach. The Obalon Balloon System facilitates weight loss in adults with obesity (BMI of 30 – 40 kg/m2) who have failed to lose weight through diet and exercise. The System is intended to be used as an adjunct to a moderate intensity diet and behavior modification program. All balloons must be removed 6 months after the first balloon is placed.
You know why it's the FIRST and ONLY swallowable, FDA-approved balloon system for weight loss?
Because that is INSANE.
How does it work? I'm glad you asked.
Warning: this video contains images of simulated balloons inside a simulated fat-ish human.
The ostensible benefit of the "balloon" is that it's non-surgical because you just SWALLOW A BALLOON THAT IS INFLATED INSIDE YOUR BODY.
Remember the Oreo addiction shock therapy?
Remember the jars that lock you out?
This is definitely worse than both of those. Ok maybe it's tied with shock therapy. But probably not. 
I'm tempted to accept the "exclusive interview" with both doctor and patient, just so I can say, very loudly, "GOOD GRIEF CHARLIE BROWN. What is WRONG with you?"
You're in luck, because for a limited time only, you can get $500 OFF a Ridiculous Stomach Balloon.
In case you're wondering, YES, I do "qualify" for the Ridiculous Stomach Balloon.
From their Instagram:
What does that even mean. Are they trying to say that we should be dreaming about swallowing a balloon? I don't even understand this.
Did you know that kids actually DIE from swallowing balloons? And these people want you to do it ON PURPOSE?
WARNINGS re the use of the Ridiculous Stomach Balloon:
The Obalon Balloon System is intended for adults with a body mass index (BMI) of 30 to 40 kg/m2 willing to follow a diet and exercise program. All Obalon balloons must be removed in 6 months. Patients with prior weight loss surgeries are not eligible. The most common side effects reported were mild abdominal pain and nausea which typically resolved within two weeks. You must take daily acid-blocking medicine prescribed by your doctor. For full Important Safety Information click on Safety Information and Patient Labeling.
"You must take daily acid-blocking medicine."
Why? Probably because the balloon is going to thrust stomach acid into your throat.
I'm just guessing but, I know anatomy. So.
This is just another weight-loss gimmick preying on people (mostly women) that want to/think they should look like the lady on the Obalon website:
There is literally nothing that is going to make me look like that. But especially not a balloon.