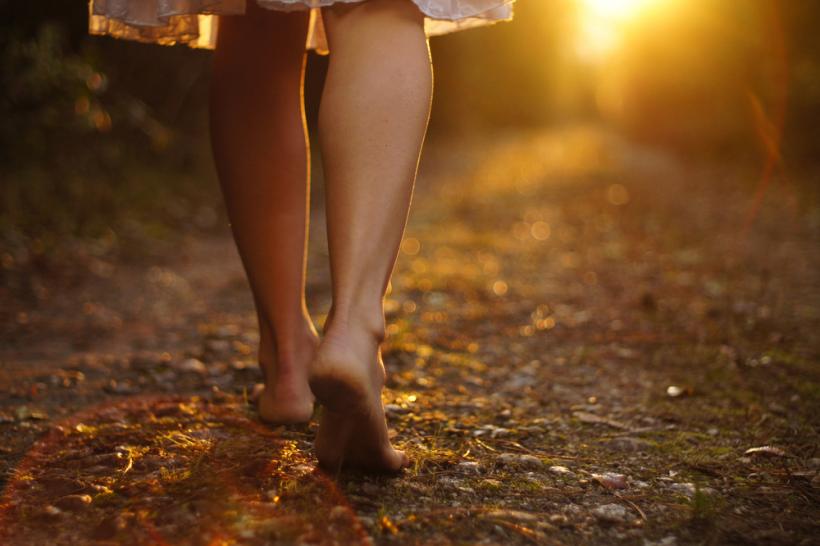 Below are some ways I've found healing, which might help if you find yourself anxious, too.
As I write this, the worst wildfires in the history of California are raging north of my home in the San Francisco Bay Area. More than 70 people have died in Butte County, and more than 600 are still missing. 
I live a few hours from the fires, but the sky here has been smoky and gray all week. Most of the schools in this area shut down last week due to the horrible air quality. I keep hearing everyone use the word apocalyptic to describe this time. It's true. Climate change is very real. 
This year, the United Nations' landmark climate compiled a report from 40 countries, and after analyzing more than 6,000 studies, scientists describe "a world of worsening food shortages and wildfires, and a mass die-off of coral reefs as soon as 2040." We are living in an environmental crisis.  
Below are some ways I've found healing, which might help if you find yourself anxious, too: 
Find gratefulness in the small moments.
I am not sleeping well, but I'm grateful to be safe at my home with the DIY air filter my husband made. And to help families who've have lost everything. And to witness my teen daughter move through the world with so much intention and empathy, as she models this for her little sister. 
I'm also grateful to the strong, insightful women in my life, such as my friend Melinda Drayton, a mom-of-two and Deputy Chief of the Oakland, CA Fire Department. Melinda knows a thing or two about suffering and healing.
 
Here's what Melinda tells me: "Being a firefighter for twenty years who has experienced trauma on many levels and seen so much pain when someone loses everything in a fire, it is hard to tell someone 'at least you have your life'…. Recovery from trauma takes time and patience and an unbelievable amount of personal perseverance when all you want to do is crawl in a cave and hope that when you come out, it will all better, whatever better means. Time does heal, but healing can be expedited if you consciously do the work to repair and rebuild that which is lost, physically and emotionally."
Let yourself feel your feelings. 
I remember the times in my life when I've struggled, like Thanksgiving weekend 18 years ago, when my older daughter's father walked out the door. She was seven months old, and I was suddenly a solo mom. 
How did we heal? How did I move on? I let myself feel angry. I accepted the loss. I tried to hold onto my sadness and hope at the same time. I've repaired. I've changed. I've found love again. I had another daughter. 
This isn't the first wildfire we've experienced in California. Last summer, my husband and I took our younger daughter to visit her big sister in Yosemite National Park, where she'd been working as a camp counselor. We drove through the smoke-filled sky, just miles from the Ferguson Fire, and as we weaved through the mountains, swarms of butterflies fluttered on the road. They were hitting the windshield, trying to get out of the smoke. 
When we pulled into camp, everything was covered in ash. We were headed home when we got the news: the local health department had issued a health advisory to evacuate our daughter's camp due to increased levels of smoke in the air. The U.S. Forest Service said the air quality was unhealthy and the fire conditions were volatile.
Girls need to support girls.
For the remainder of the summer, we hosted a handful of young women who'd been evacuated from camp as the wildfires blazed. They filled our house with love and laughter. 
"Girls supporting girls," Joni Edelman says. "I'm here for it." 
Me, too. 
When the school year started, I got active. I rallied a few moms in my community to form a "Green Team" in our school district to reduce waste and make our schools more sustainable. I'm using my voice. I'm standing up for change. 
It's supposed to start raining tomorrow morning. This will hopefully stifle some of the flames, although I know the rain could also cause flash flooding and mudslides. 
Deputy Fire Chief Melinda Drayton reminds me that forests do grow back. "It may appear to those watching that it takes years, even decades, to see the forest back to all its glory, but it actually happens quite quickly," she says. "Mother Nature never stops working. We should take her advice and immediately plant the seeds in ourselves and our souls when feeling damaged so the repair can begin without delay."
---
Related: