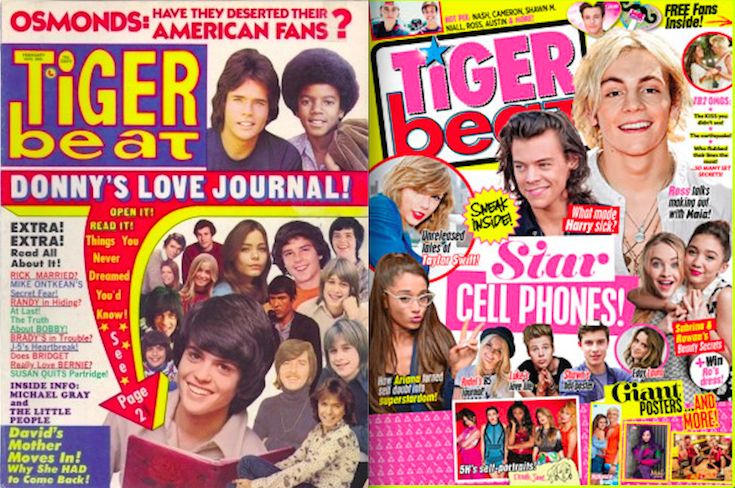 Image: A cover from the '70s and today, courtesy Tiger Beat's archives.
Remember that teenybopper magazine that made you (and probably your mom) gush over the male heartthrobs, like *NSYNC, New Kids On The Block, or David Cassidy? You know, the one and only Tiger Beat?
Well, beloved heroes industry giants Nick Cannon, Steve Tisch, Kevin Durant and 15 other new backers raised $2 million to buy and revamp the (now fledgling) magazine to a media empire.
Calm down your inner preteen girl for a second, and get savvy below.
"It's a great investment," Daily Mail North America Chief Executive Jon Steinberg explained to New York Times. "This is not a vanity investment."
First published over 50 years ago, the magazine gained fame for its multi-page glossy spreads that could be hung as posters.The current website will have a drastic overhaul with digital media more synced. There is — wait for it! — even a possibility of a music tour, radio station, ventures into TV and film, as well as apparel with the magazine's vintage logo.
"I knew when I was a teenager how much impact it had," Tisch said. "I'm certainly excited about not only restoring the power of Tiger Beat, but really introducing it to a whole new generation and hopefully many generations going forward."
The September issue, which was released today, is the first official re-launched content. There's no word on which star will go on to dominate the pages monthly, but he will definitely be too young for you.
What do you think? Will a magazine about young pop stars survive in the Internet age?