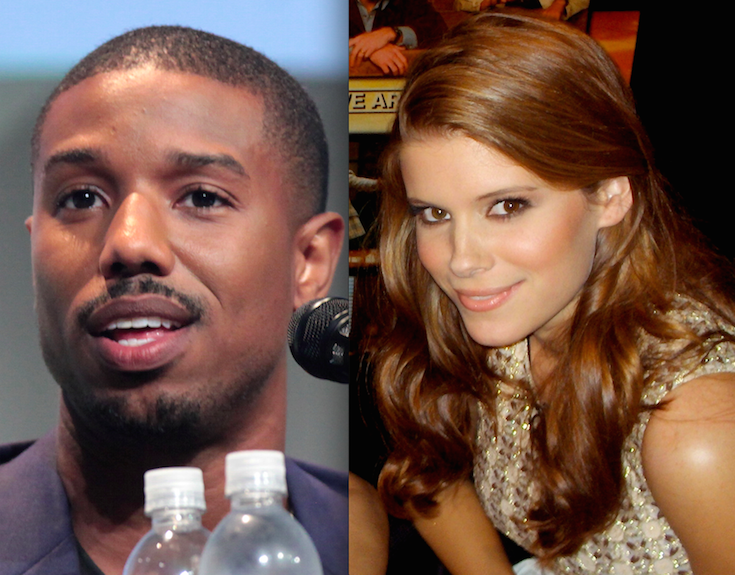 Images courtesy of Wikimedia
The cast of the new Fantastic Four film is participating in press tours which, unfortunately, involves some awkward interview questions. Luckily, stars Michael B. Jordan and Kate Mara (who play siblings in the action flick) know how to handle themselves.
"But you're white and you're black. How does that happen?" asked host Jason Bailey of the Rock 100.5 Morning Show in Atlanta.
Jordan was equipped to answer this bizarre question.
"They could be raised as brother and sister," Jordan responded. "I mean, there's a whole bunch of different family dynamics that could be without the 'obvious' adoption."
Just to make things even more awkward, host Steven J. Rickman then discussed Mara's hotness all the way to her toes. (Really? Okay, Quentin Tarantino . . . )
"You're way, way hot," he said. "Why'd you cut the hair? Your hair was beautiful. I'm a toe guy. Your toes are fine."
Mara herself gave the best response: "WOW!"
Jordan hopes that race won't be an issue in the future and wrote an essay about his thoughts in the Entertainment Weekly May issue.
"People are always going to see each other in terms of race, but maybe in the future we won't talk about it as much," Jordan wrote. "Maybe, if I set an example, Hollywood will start considering more people of color in other prominent roles, and maybe we can reach the people who are stuck in the mindset that 'it has to be true to the comic book.' Or maybe we have to reach past them."
With those questions coming at you, how would you respond?