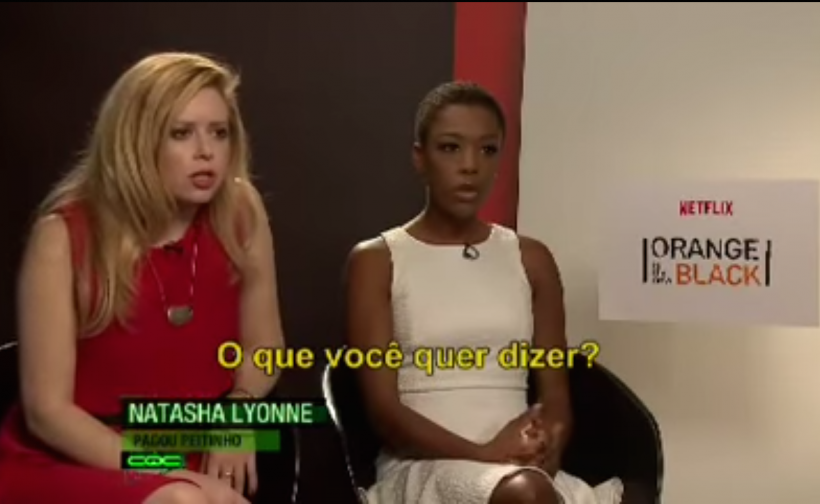 The women of Orange Is The New Black rock.
It was comedian Rafael Cortes's first time conducting a Netflix junket, so his questions to actresses Uzo Aduba, Natasha Lyonne and Samira Wiley may come off as . . . sexist. 
 "Don't you think that in the series you really need a guy inside the prison with you, doing things that just one guy can be able to do?" Cortes awkwardly asked Aduba. "'I'm talking about guys; men. Want to see my muscles?"
Aduba quickly shut down the question and said, "No." Seriously, was he referring to lions? (The answer is still no).
When Cortes interviewed Lyonne and Wiley, he noted that their beauty must get in the way of their acting. 
"I feel like [the question] is accidentally maybe a little bit misogynistic," Lyonne said in the interview with a face of confusion. "Despite great beauty on the show, everybody is professional and talented and very capable. So, I don't think that really anybody is really thinking about something as meaningless as their beauty when they're at work or certainly not this show." 
Cortes ended the junket by asking if a potentially beautiful woman would be in the next season of the show by showing her headshot. Lyonne repeated that beauty shouldn't be a factor in hiring them. 
Did Cortes mean to be sexist? I mean, the man sure gave that vibe. Maybe it's the first-time jitters in interviewing? Was this some manipulative plot schemed by the feminist overlords to make the actresses look badass? (Or perhaps it was, you know, societally embedded prejudices rearing their ugly heads.)
Regardless, the women handled the awkwardness with class.