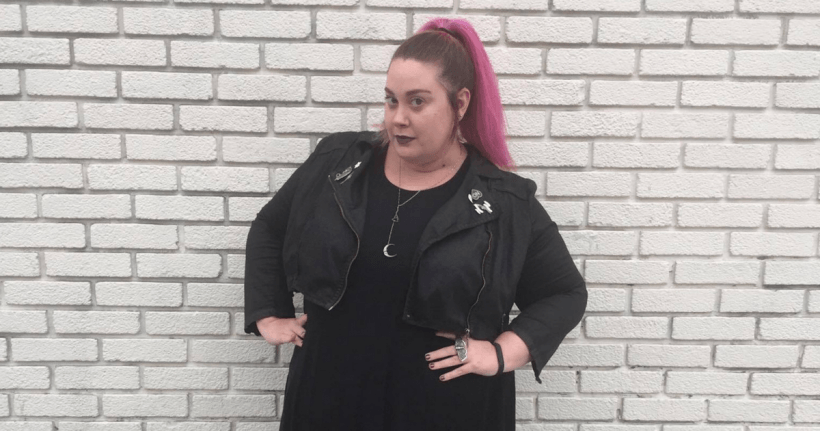 Photo credit: Tracy Broxterman @brxtrmn on Instagram
Few subcultures from the 20th and 21st centuries have been as enduring as Goths. From New Romantic to Cyberpunk to Health Goth, the cool factor has always been and remains relevant as it shifts and moulds to the current zeitgeist.
What month could be a better time to celebrate gothic style than October? With the veil between worlds at its thinnest, fall begins the onset of the darkness of the year's end. Fallen leaves crunch beneath trick-or-treaters as something wicked this way comes… or stays at home eating pizza and binge-watching horror flicks on Netflix.
It's the most wonderful time of the year. Fabrics get cozier, lipsticks get darker and deeper, and food gets richer and more luxe. Gothic fashions reflect the dark luxury of hedonism while toying with themes of death and sex. A lifestyle for some, it's also a style which anyone can borrow from as the mood or occasion suits them.
Let's be real: while some diehard lifetimers may take offense to their lifestyle being perceived as a trend to borrow from, it's hardly the same as appropriating from minority groups and oppressed cultures and ethnicities. Borrow as you wish.
Keep your looks fresh with inspiration from these plus-size fashionistas rocking straight-up goth or goth-inspired looks.
Special thanks to Margot Meanie and her campaign #AlternativeCurves for inspiring much of this particular lineup.
Boss business babe Brianne Huntsman shows off this deliciously sexy dress by Beth Ditto while on a trip to Portland for the Knockout fashion show.
Margot Meanie rocks a gorgeous bohemian goth look topped with a beautiful mint wig. Creator of Alternative Curves, Meanie inspires alternababes to be proud of their plus-size bodies and dark style, providing a community for like-minded people to find each other as well as style inspiration.
Plus-size yogi Jessica Rihal rocks a simple health-goth look. Rihal shows that you can take goth sensibilities and extend them into athletic wear, no longer relegating goth looks to dancefloors and parlors.
4. Tracy Broxterman (

@brxtrmn)
Former Domino Dollhouse-designer Tracy Broxterman rocks a gorgeous maxi look for a rare date night. As the mother of two young daughters and an entrepreneur, she still serves looks for days and always has incredibly interesting and stylish content.
The Plus Size Pioneer channels retro elegance with a witchy vibe in this gorgeous deep green dress. Topped with a black hat, this look transcends genres and is perfect for fall.
The perfect way to show off without feeling completely bare, mesh and fishnet have been staples in the goth wardrobe since its inception, borrowing from the Queen of Punk herself, Vivienne Westwood. Make it modern with this combination of athletic wear for a gothic take on the new "Casual Couture" trend.
Mexican Instagrammer Kathy brings a bit of playful bruja magick to the shoot with this cute t-shirt and easy-to-wear goth-casual look.
Syd utilizes a classic "dark romantic" goth look for this shot reminiscent of a Renaissance Faire. Granddaughters of the witches they could not kill, we still walk among those who would wish us gone.
Mead takes a stroll with a feline friend not far from her. This look shows the perfect way to incorporate goth aesthetic into incredibly wearable casual looks, playing with the draping of harem pants and modernizing it with the unique hem on the hoodie.
Chaela P rocks a super on-trend carefree boho-goth hybrid outfit. Mesh, leather-look vinyl, bell sleeves, and a hat? It almost sounds like too much, but Chaela proves that more is more in this particular look.
Perfect take on a simple black modern goth look with super vibrant pops of pink — a mashup of goth + modern + pinup. Who says goths can't love color, too?
A perfect example of simple, tasteful goth minimalism. Pair a great black mini dress with a simple, classic cut with the perfect black hat and accessories to recreate this fantastic look. Wear with tights or leggings as weather requires to stay warm throughout fall and winter.
This dark fairy keeps it cool with great accessories. The top and skirt are great on their own, but the look is both grounded and rock-n-roll with great shoes and a phenomenal belt.
---
Related: