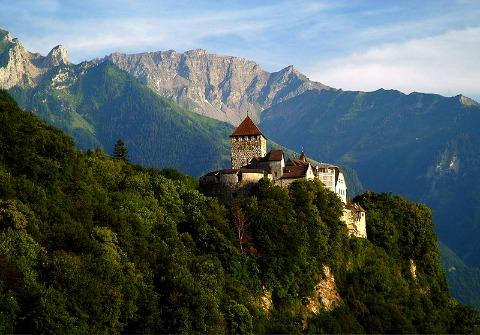 Europe has a smattering of tiny nation-states that are part of an exclusive international world-club. Monaco (of Grace Kelly fame), San Marino, Andorra, and picturesque Liechtenstein are all itty bitty in land and population, but straight-up gargantuan when it comes to national wealth. Now Liechtenstein's government has altered its official map to make the German-speaking principality . . . even smaller!
Like many countries, Liechtenstein has been updating its surveying system with satellites to ensure its territory map is more precise (a big improvement from the good 'ol days, when the practicing of defining borders relied on a whole lot of guess work and inaccuracies). But where most countries would want to fudge it on the side of gaining territory, Liechtenstein voluntarily cut off bits of land amounting to about a quarter of an acre. (A small amount, yes, but the country only boasts 62 square miles of land.) Moreover, territory loss has long been considered weak in the eyes of symbolic nationalistic values. While such loss should have dampened citizens' spirits or inspired a call to arms, everyone in Liechtenstein seems pretty down with it. Just a side effect of technological precision people!
In fact, Liechtenstein's population of about 37,000 takes great pride in its nation's petite size. Foreign residents—who make up about a third of the total population—frequently have to wait three decades to gain naturalized citizen status. But hey, Liechtenstein is among the wealthiest nations per capita, and has among the longest life expectancy rates, their tiny size allows more streamlined access to politicians and powerful businessmen, and once a year the royal heads of state even provide an open invitation to the whole population to come to their castle for a beer.
Beyond their nationalist pride in elitist "smallness," a leader of one of Liechtenstein's political parties shed further light on their indifference to the border issue, by noting an incident in the 1980s when the Swiss army accidentally scorched a forest in Liechtenstein during a military exercise. While such an incident could of lead to a sharp escalation in tension, if not outright war, among other bordering nations, he explained:
"...the whole issue was solved over a case of white wine. So, we have a fairly simple approach on these things."
It's hard to argue with a laid back attitude of that caliber. Liechtenstein, we salute you.
Image: commons.wikimedia.org.