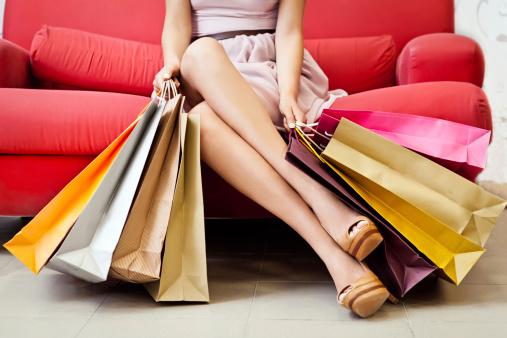 There's something gratifying about spending hours sifting through racks of clothes, patiently searching for the item you don't yet know you want, but will be everything you've ever needed (and more!) once you find it. That find, that ultimate steal, that fashion holy grail, is a thrifty shoppers' drug of choice, and it's kept customers returning to big-box stores like Marshalls and TJ Maxx for years.
For those hooked on the high of a sweet, sweet deal—but not so keen on the crowds, doorless dressing rooms and don't-give-a-damn sales associates—we have some good news. This week, Nordstrom Rack and Loehmann's both launched ecommerce sites. Though each offers a very different online shopping experience, the launches are huge news for off-price retailers. Up until last fall, when TJ Maxx launched its first ecommerce site, beloved stores like Marshalls, Ross and Nordstrom Rack were not down with the times, a.k.a the fact that 70% of consumers shop online. The advent of ecommerce sites has potential for huge growth for both retailers.
Take Loehmann's. The brand was a fashion institution, famous for selling top luxury brands like Chanel, Louis Vuitton and Fendi at deep (deep) discounts. But it struggled with bankruptcy problems for years—much of which was a direct result of the proliferation of ecommerce—and finally shuttered in February.
Its new site, offering men's, women's and children's apparel along with beauty, bed and bath products, is totally attuned to its thrifty customers. The company has even partnered with Paypal to create a "pay per month" system for customers who want to spread out payments over the course of six months. Though the system may not be in the best interest of each customers' credit, it's definitely in the best interest of Loehmann's.
Nordstrom Rack is also paying attention to the way its customers are shopping, and is cashing in on the get-it-now mentality of modern consumers. The online shop, which launched Monday, is rolling out a feature that helps shoppers find items in their local store, so they can get it even faster. The store also has a companion app for iPhone which features daily flash sales through Nordstrom's partner HauteLook, so consumers can shop anytime, anywhere. 
Designer clothes at low prices with no lines, busy parking lots or rude sales associates—now that's really a fashion holy grail.
Image: ThinkStock