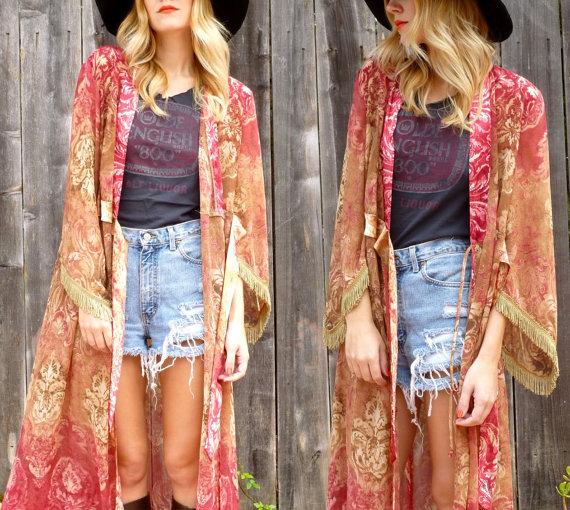 Big surprise—we're all in shock and awe! The kimono is back. Carried by the waves of Coachella, this confusing garment is on everyone's radar these days and owes its spectacular? return to the one and only Kate Moss. The ever-impish model had decided to revive her collaboration with Topshop this summer, re-issuing a wide array of billowy, flowing, tassel-y tops at more than a $100 a pop. Other retailers have been quick to adopt the hippy-go-lucky trend, and everyone from NastyGal to Forever21 are offering their own incarnations. 
On the runway, spring kimonos—in heavy glitter, chiffon or silk—were spotted at Gucci, Hermes and Pucci, looking (you know you hate this word) effortless. 'Just throw a kimono over ye old jeans and t-shirt combo, and you'll look and feel instantly chic!' Right? Wrong.  

Here's some food for thought:
It labels you. There's no way to wear a kimono without looking like you tried too hard. But isn't it, well, effortless? Unfortunately, the kimono has a reputation—it's so trendy, you just can't avoid looking like that girl who reads about something in Vogue and "tries it out" no matter what. Which brings us to the second reason:
It doesn't flatter, necessarily. Unless you are a tall, skinny, A-cup wearing Kate Moss lookalike, that is. You guessed it right—it's one of those trends that look so great on celebrities and models, but tends to turn an average girl into a walking, talking throw pillow. Notice how fashion blogger Sydne Summer models her kimono choices—her boyish figure fits perfectly into the trend. Now imagine Jennifer Lopez wearing one. You get the picture.
It implies you're on vacation. Kimono screams sleeping in, tanning and window shopping. You can not be a busy person and wear a kimono—it physically slows you down, doesn't it? Too much sleeve! If you're a creative freelancer typing away at your local coffee shop, an unemployed gal on a job hunt, or a student but still want to look put-together and sharp—avoid the kimono.
It limits your wardrobe choices. For all its mumu-esque, free-flowing features, a kimono will only work with something tight and fitting underneath. If you're not into wearing skimpy, tight clothes, you're better off without it.
And finally? It's the opposite of effortless. The kimonos "look" requires lots and lots of thorough thought. The shirt. The skirt or pants dilemma. The hair— it should be sexy-tossled, just so. The shoes have to flank it perfectly. Every little damn detail works into this delicate equilibrium—and who can be bothered, really? If you can't/won't, don't sweat it, we sure don't. There are plenty of other trends to try this summer.
Let's leave some things to Kate Moss, shall we?
Image: Wanelo.com