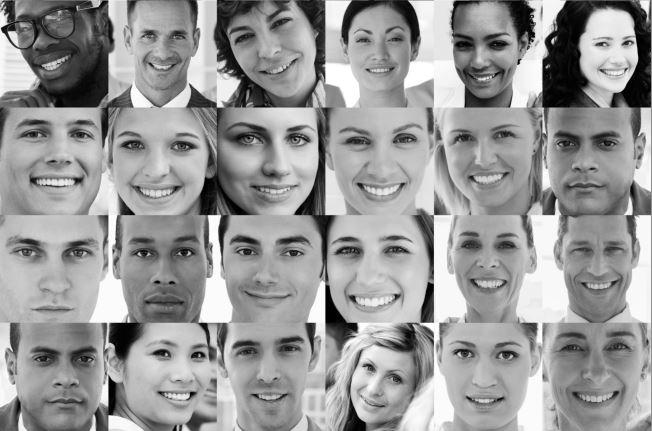 The emergence of the tech industry has shaken up the dating world in ways no one could've imagined even a few years ago. Even if you're a dating app virgin (like I am), it's hard to ignore the onslaught of apps promising the love matches of your wildest dreams, from the standard-bearers (OKCupid, Match.com) to the niche (J-Date, Plenty of Fish, Date a Farmer) to the soul-crushing (BeautifulPeople.com, AshleyMadison.com). You can't even scroll through your Facebook news feed these days without hearing about the latest "perfect" marriage magically arranged by Zoosk.
Let's face it: The dating times, they are a'changing. 
Now comes news of what could spark the next trend in e-happiness-ever-after: paid headshots for dating sites. That's right, we bring you Tinder Headshots. The company (which doesn't seem to be associated with actual Tinder) promises to help clients create a picture that "speaks to your strengths and irresistible charm." Three glamor shots cost a cool $150, with retouching included (one headshot is $75). Based out of New York, it's goal is to keep potential mates from swiping by you. 
Is this weird and a little craven? Yes. And it's worth noting that it skews the field in favor of those with extra cash to burn. But I have to say: In many ways, it also makes a lot of sense.
Why Tinder Headshots are Kind of Genius
With a dating app, you could potentially turn off an amazing person with the wrong picture. Insignificant details (let's say, a dirty dish in the background) that don't actually pertain to you (maybe it's your roommate's dish) could turn away an ideal mate (who is a clean freak, oops). A professional photographer will ensure no such turn-offs make it into your pic.

Also, let's look at cost. Tinder is free; other popular sites, like eHarmony, are not. Yes, they attract different crowds—but who knows when that will change? eHarmony offers several different packages for its users, and can cost between $19.95 to $59.95 per month. The former is the price of a 12-month subscription at the basic level, for $239.40 per year. Then of course, you have to pay for the dates themselves. (That is, assuming you offer to pay—which, ladies, you should do if you're going to demand equal pay). You can't put a price on finding the love of your life, but even using the fancy Tinder Headshot package is cheaper than that.

Finally, I have to ask: is this really different from buying a new dress for a date? Or a fancy mascara from Mac? Or those killer shoes that cost half your rent? The bottom line is that people—women and men—often do invest in their appearance to land love. At least a picture is a one-time fee for something that lasts years.
In other words, don't hate the players. Hate the game.

Image: Stop, don't swipe! Courtesy of, ThinkStock