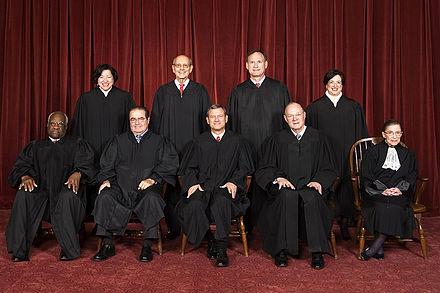 Three of these things are not like the other ones (Image: Wikimedia Commons)
What does it say about our political leadership when a parody video feels a bit too real?

Funny or Die's new video, "Supreme Court: No Girls Allowed," features all the dudes of SCOTUS—so, Justices Roberts, Scalia, Kennedy, Thomas, Alito and Breyer—playing in a boys-only fort. Naturally, this is the only spot where they can freely discuss the aesthetic assets of Justice Sotomayor. Then we see that they're play fighting with Transformers to determine the outcome of the controversial Hobby Lobby case.

Eventually the lady SCOTUS members—Justices Sotomayor, Ginsberg and Kagan—persuade the men to let them in under the sheets of the (admittedly cool) fort. "Isn't it weird that you're voting on women's issues, and all of the female justices disagree with you?" demands Ginsberg. Scalia retorts with an unimaginative period joke. Ginsberg is mad. The men laugh at how the world is their fort. 

Honestly, only the bad wigs indicate any difference from the real thing.