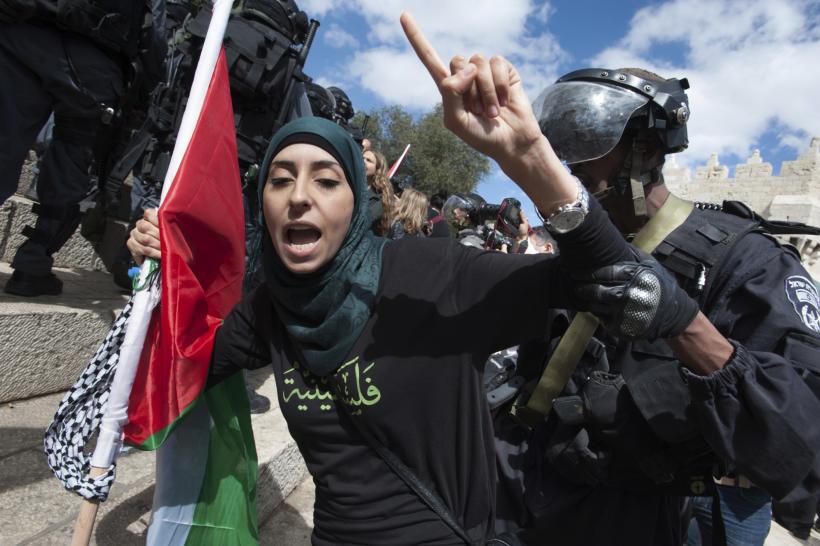 Thinkstock
Yesterday Israel and Hamas agreed to an unconditional, three-day ceasefire which began at 8am (GMT) today . . . and [expletive] we were hoping this one might stick, but alas; the suspension of violence lasted a mere two hours before devolving into destruction yet again. The U.S. and UN released a joint statement Thursday announcing the temporary truce and urging all parties to "act with restraint" until the ceasefire began. Although the statement insisted this decision was "critical to giving innocent civilians a much-needed reprieve from violence," it seems Secretary of State John Kerry was acting as a bit of seer, lamenting that this announcement did not represent "a time for congratulations or joy." 
Here's why everyone who wanted to celebrate the ceasefire was a little naive, if admirable in their hope to end the conflict.
The Casualty Tolls Since the Fighting Began July 8
Deaths and Injuries
Displacement
Per the UN, a quarter of Gaza's 1.7 million inhabitants have been displaced—some 250,000 of them taking up very squeezed residence in UN schools. This is quadruple the number that the UN expected.
Israel Just Called up Additional Troops
Thursday the IDF ordered up 16,000 more troops—bringing the total troop count to 86,000. Further, per the new ceasefire, "forces on the ground will remain in place" so soldiers won't be going. . . anywhere.
Israel's Leader Said This:
On destroying Hamas's tunnel network in the Gaza strip, Israeli prime minister Netanyahu said earlier today: "We are determined to complete this mission with or without a ceasefire."
Ceasefire Precedence
There are have been previous ceasefires both called for and actually brokered. . . but they've been only hours-long and have been oft-violated. An attempt to broker a longterm ceasefire in Cairo promptly fell on its face.
Schools, Hospitals, and Gaza's Only Power Plant Have Been Attacked
In an act the UN has condemned, Israeli artillery hit a school harboring Gazan refugees in a pre-dawn attack on Wednesday. Fifteen were killed. UN secretary general Ban Ki-moon's response: "Nothing is more shameful than attacking sleeping children." Damn straight.
And, earlier this week, an explosion at a hospital left 10 dead. Hamas and Israel both pointed fingers at each other for the attack. Attacks on hospitals and schools unequivocally violate international law. 
Further, in intense airstrikes that killed more than 100 people, Israel also took out Gaza's sole power plant on Tuesday—which has had devastating effects for Gazan civilians who were already enduring power cuts of up to 20 hours a day. A Gaza energy authority reports that it will take "at least one year to repair the plant."
The U.S. is Involved in Negotiating a Ceasefire But . . .
Certainly America is playing a central role in navigating the waters of negotiation and helping to bring Israel to the table to hopefully get this awful shit to a close. And the White House—in perhaps it strongest criticism against Israel yet—called the shelling of the Gazan school "totally unacceptable and totally indefensible." But the Pentagon has also confirmed that the U.S. gave Israel permission last week to dip into an American munitions stockpile for tank shells and illumination rounds. So there's that.
In (A Not Likely True) Conclusion . . .
So yeah. Even if the ceasefire had lasted more than a couple hours, the conflict's unthinkable violence, death, and destruction to date would have prevented any sort of celebration.
Though, to be sure, the 3-day ceasefire announcement did provide a teensy bit of hope; the agreement indicated that there was at least the slightest sliver of a chance that there might be some productive conversation--or at least increased efforts in that direction (although, realistically, the alleged capture of an Israeli soldier by Hamas today will likely only escalate matters and completely divert's Israel's attention away from any kind of a resolution). Per yesterday's ceasefire announcement statement:
Israeli and Palestinian delegations will immediately be going to Cairo for negotiations with the government of Egypt, at the invitation of Egypt, aimed at reaching a durable ceasefire. The parties will be able to raise all issues of concern in these negotiations.
We doubt such efforts are still on track in light of today's eruption of violence. . . but hey, a girl can dream.