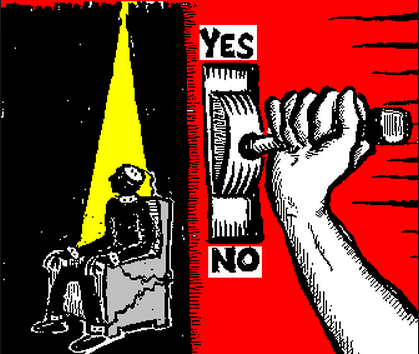 deathpenalty.procon.org
Michael Worthington (who raped and murdered Melinda "Mindy" Griffin) was executed last night—marking the first lethal injection since the harrowing, botched execution of Joseph Wood in Arizona last month. In a 5-4 split, the U.S. Supreme Court voted not to extend Worthington's execution; Missouri's governor agreed, denying petitions for clemency late Tuesday night. The news sends shudders down our spine, reminding us that capital punishment remains alive and well in 2014.
Worthington, assuredly, is a despicable human being. In 1995 he brutally raped and strangled his St. Louis neighbor, 24-year-old Melinda Griffin—it's human nature that we're glad for his conviction and incarceration. But the nature of his depravity doesn't negate the ever-growing hideousness of our country's execution practices. 
What do we mean by that? Well, let's review the details of the aforementioned convicted double-murderer Joseph Wood's execution. Documents released just last Friday reveal that it took 15 doses of lethal drugs before Wood actually died. He also, according to some witnesses (though not others), gasped more than 600 times over the two-hour period it took to kill him. 
The Chilling Truth About Modern-Day Executions
You might think this is an isolated incident of chilling cruelty . . . but you'd be wrong. There was also Clayton Lockett's botched execution in April, during which the execution team had no apparent idea what they were doing—it took over an hour for them to find a useable vein, with the drugs leaking into tissues rather than his bloodstream. After much writhing and groaning, he died of a heart attack. Even Obama took note, directing the attorney general to review death penalty procedures.
Oh. And let's not forget Dennis McGuire, who gasped for breath and writhed for 25 minutes before he died from an untested two-drug cocktail in January. That's right—Ohio used experimental drugs to kill a man. While the state later ruled his execution was "humane" it also announced that it would up the dosage next time.
Reminder: These are just executions carried out this year. There's a lot of secrecy surrounding our execution efforts (which is shady in and of itself), but numerous reports reveal that we have a profound lack of competency in killing people. 
According to Amherst professor Austin Sarat, who's been researching this morbid topic for years, bungled executions have been an "inexorable part" of our capital punishment history; apparently the U.S. has botched 3% of all executions—although that jumps to 7.1% for lethal injections.
Why We Should Care
But should we care that monstrous men suffer painful deaths, given all the unthinkable suffering they've caused their victims and their families? Yes—because in the case of capital punishment, it's the (supposedly civilized) state dealing justice. By the way, our decision to perpetuate the death penalty puts us in a very special group of countries who carry out the most state-sponsored executions in the world, along with Saudi Arabia, Iraq, Iran and China. Is this really an exclusive club we want to be a part of—especially in light of our constant criticism regarding their human rights abuses?
Not to mention the lingering lament that our country has no doubt killed innocent people. The Innocence Project has exonerated 18 innocent people previously serving time on death row. Guessing how many innocent people we've already wrongfully put to death is a game I'm not keen to play.
And then there's the whole notion that capital punishment doesn't actually deter people from murder—or at least that's just what 88% of criminal justice experts say, with Amnesty International's strong agreement. 
Also, moral concerns completely aside, California alone has spent $4 billion administering death penalty cases between 1980 and 2012 (while executing 13 people, by the way). Just imagine the children we could feed or the schools we could reform with that kind of cash; ironically life without parole costs a fraction of putting someone to death, due to the endless appeals, the hiring of prosecuting and defense attorneys, court reporters, psychiatrists, etc.—all of which are often employed for several years.
In short, capital punishment lands us in a club with Saudi Arabia, doesn't actually deter violent crime, is crazy expensive, kills innocent people, and tortures guilty ones, thus violating our own Constitution.
It ain't pretty folks.