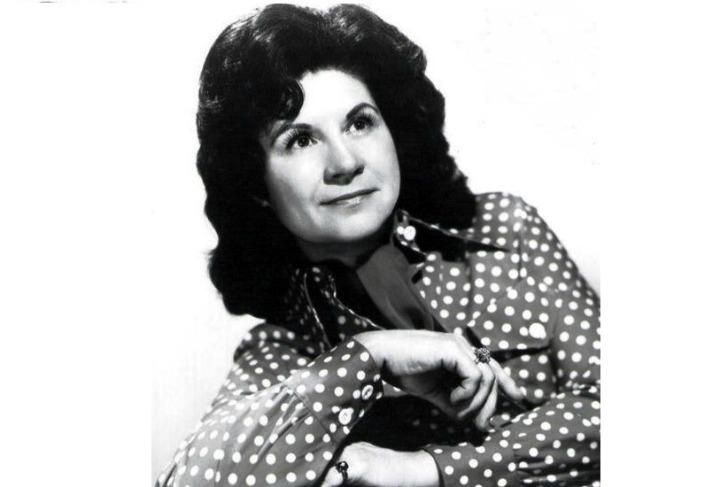 Credit: Wikimedia Commons
This story is part of Ravishly's Throwback Thursday "First Woman" series. Read more posts about pioneering ladies here.
Anyone who tuned in to this week's CMA Country Music Fest—in which the music industry pulls out its biggest selling-artists for mass consumption—saw plenty of women performing hit songs about heartache, revenge and country living. Miranda Lambert, Carrie Underwood, Lzzy Hale, Hillary Scott of Lady Antebellum and various other female country A-listers shimmied in their bustiers and tapped their cowboy boots to the adoration of cheering fans. The notion that women don't fit in country music, or that they'd alienate people by singing about being active participants in their lives, is strange to even consider.
But in the early 1950s these ideas were no laughing matter. Country music was a man's domain, and women were considered appropriate only as back-up singers dutifully singing along, sometimes to lyrics that were insulting to women. That is, until country legend Kitty Wells plopped her gingham-dressed self onto the country stage—with the aid of a forward-thinking male producer looking to challenge the gender dynamics of the mid-century.
Hitting Brick Walls
Besides the fact that Kitty Wells' beginnings are strikingly similar to Loretta Lynn's—both came from poor, working-class households and married young to husbands who largely shaped their early music careers—the nature of Wells' entrance into bonafide country stardom is possibly the most notable feature of her life. She would later become the first female to top the music charts, be dubbed the "Queen of Country," inspire a long list of subsequent female singers and, in her later years, receive a Grammy Lifetime Achievement Award.
But in the late 1940s and early 1950s, she could barely drum up any interest from music executives. While her husband (entertainer Johnny Wright) and his singing partner found modest success on the country circuit, Wells was disregarded by an industry that assumed female performers couldn't sell records—despite the fact that various women had proven popular in the genre previously. The post-War era was apparently seen as the time for returning men to exclusively rule the roost.
Wright recognized Wells' talents—which she had honed as a member of a gospel music family—and experimented with her role in his bands, sometimes making her a co-lead. But by 1951, he was resigned to leaving her as a back-up singer after receiving rejection from industry purse-string holders about starring a female vocalist.
Kitty's Supposed Last Hurrah
Wells was disenchanted with making a go of singing by this point, and was reportedly considering retiring altogether. But before she did, she agreed to a last-ditch recording session in 1952. A progressive executive at Decca Records had approached her with a provocative song designed as a response to Hank Thompson's "The Wild Side of Life." The ballad told the story of a wayward dancehall woman—a "honky tonk angel," if you will—who shamelessly left her role of dutiful wife to engage in tawdry nightlife.
The song reflected a common post-war sentiment holding that increased divorces, perceived delinquency and general moral decay came at the behest of women failing in their domestic roles.
Wells' recording of J. D. Miller's "It Wasn't God Who Made Honky Tonk Angels" turned the tables, retorting with such lines as "Too many times married men think they're still single" and "It's a shame that all the blame is on us women." Decca Records decided to stir the gender pot to see what would happen, and Wells happily obliged.
A Surprising Reception
Kitty Wells expected the song to get lost in the sea of country ballads. Instead it attracted some major attention from the industry—in an extreme censorship sort of way.
The song's message criticizing gender double-standards turned out to be mighty controversial for the music scene of the era, and was summarily banned by many radio stations across the country, and even by the Grand Old Opry. NBC specifically took issue with the lyric, "It brings back memories of when I was a trustful wife." Wells had to change "trustful" to "trusting" (because country music was only cool with men cheating) before the network lifted their ban on the song.
Despite the song's initial chilly reception—and counter to the assumption that no one would give a damn about songs sung by women—a significant segment of country fans lapped it up. "Honky Tonk Angels" peaked at No. 1 in the country charts, and even found success in the pop charts. After these successes, the Grand Ole Opry decided to jump on the success bandwagon by reversing its ban and extending membership to Wells.
Legacy
Some have argued that the song's appeal came from its meshing of boundary-pushing modern lyrics with a familiar melody based on a tune from early 20th century country powerhouse singers, The Carter Family. Instant gravitas.
Wells went on to have a long string of hits through the 1960s, continued performing and posting occasional billboard hits for decades, and starred in two syndicated variety TV shows. Her songs helped pave the way for later female artists who criticized the treatment of women in their music, like Loretta Lynn's "Don't Come a Drinkin'" and "The Pill," and Dolly Parton's "Just Because I'm a Woman."
There are still plenty of problems regarding women's role in country music. For one thing, they are still underrepresented, especially compared to other genres touting roughly equal numbers of men and women. But for all the continued (and legitimate) critiques of country musicians' lyrical focuses and sexism, the female artists of today have no problem asserting their autonomy in their songs, or decrying mistreatment by men. That, in part, is thanks to Kitty Wells.