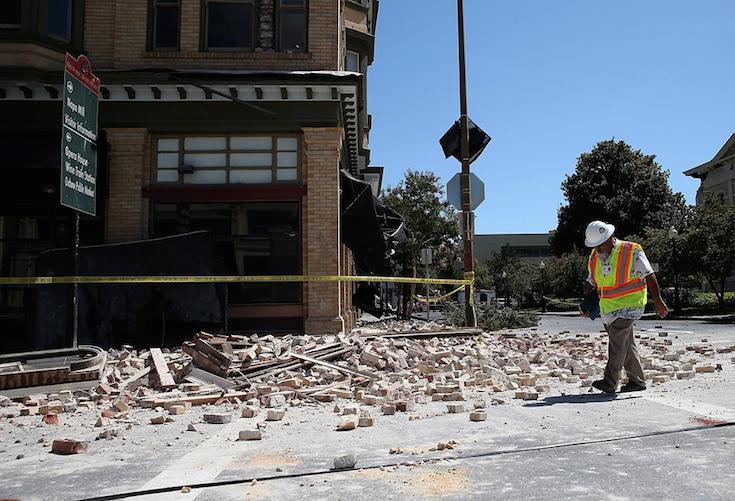 Damn it. I liked that bar. (Credit: Facebook)
As you've likely heard, the Bay Area was hit by a staggering 6.0 earthquake at about 3:20 a.m. Sunday morning. The epicenter of the quake was in Napa Valley,  smack dab between Napa (the town itself) and American Canyon, in the heart of one of the world's most renowned tourist regions.
This wine wonderland suffered substantial damage: Historic buildings were wrecked beyond repair, small businesses suffered, a fire in a mobile park burned several homes down, a 16 kilometer crack formed on the ground, and about 120 people were rushed to the hospital (three are in critical condition). 
It's worth noting that Vallejo (Solano County) was hit hard as well. Though their damages aren't as severe as Napa's, the hit was devastating nonetheless and caused just over $5 million worth of damage. Given that they are a less affluent community (previously, they went bankrupt), this impact has been particularly devastating. They too house historic buildings, lost in the shakes.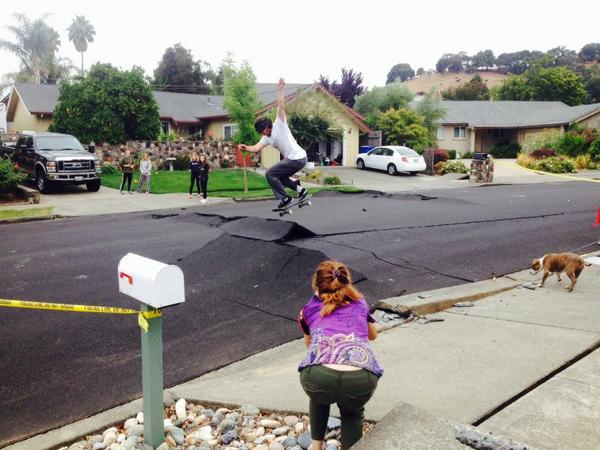 For me, this quake was personal. Napa is my hometown, where my Italian ancestors came to start a mob connect with other Italian immigrants. I have family and friends whose homes suffered severe damage, and who legitimately feared for their lives. It's also believed that a family friend's life-ending heart attack was caused by the quake.
As someone so connected to the place where the quake did its greatest damage, I've contended with questions not just about Mother Nature, but about human nature. It turns out you can learn a lot about people by observing the aftermath of a natural disaster.
Reality Check
Perhaps not surprisingly, people have been quick to snicker about the Napa earthquake, downplaying its severity. To some extent, this makes sense; in so many ways, the area was lucky. But while it's easy to cast judgment from afar and say, "Buildings are just buildings," it's important to remember that these buildings meant something to their inhabitants.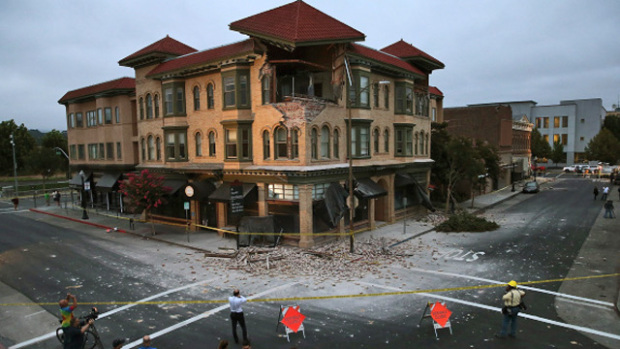 To you, this is just a pile of bricks. To me? This is the home of the briefly lived restaurant La Gondola, where I shared dinner with my mom and felt her treat me like a woman for the first time. The Goodman Library Building? A quick Google search will tell you that it's over a century old and one of the longest-running libraries in the state. What the Internet won't tell you is how I used to go there with my history teacher dad, who was eager to share his fascination with his two young daughters. Nor can it tell you about the countless times I leaned against it, laughing between bites of my Anette's sweets, and felt the scratchiness of the surface through my clothes. 
And then there are the homes. Never mind the fact that most were without power, and many without water—Napa is a loving community, and we take care of our neighbors.  My own dear (and pregnant) friend Rachel and her husband were evacuated from their home, the building certain to be condemned. My friends Stephanie and Chris, who are new parents, experienced the earthquake soon after bringing their newborn daughter home from the hospital. Can you imagine—first time parents, and that's your first night home? Meanwhile, a fire in a mobile-home park burned four homes to the ground, meaning four different families have lost their homes. 

People have also downplayed the region's loss of wine. Yes, losing Chardonnay isn't that big of a deal. But it's important to remember that wine is more than a frivolous indulgence; it represents the labor of thousands of people over a period of many years. Grape pickers. Winemakers. Mechanics. Farmers. These folks work tirelessly to produce wine because we need it to drive tourism and sustain the local economy.

Again, in the grand scheme of natural disasters, Napa was lucky. Yet real lives were affected. Homes were broken. People feared for their lives. Small businesses were destroyed. Buildings that housed generations of first dates and birthdays and dad-and-daughter excursions are forever lost. It is sad.
On Napa's Wealth (Or Lack Thereof)
One of the biggest misconceptions about Napa is that it's a spoiled rich town where it's easy for inhabitants to quickly rebuild post-disaster. I've explained this to so many people that I have an actual speech memorized in my head. I'll spare you the details, and just say this: Napa is a working-class community. It is not wealthy. Sure, there are affluent families, but they make up the minority. The median household income of Napa County (which includes Napa the "city," American Canyon, St. Helena, Oakville, Rutherford, Yountville, Angwin, Berryessa and other remote communities) is $69,571. That's roughly the same as California's average of $61,400. And keep in mind that this figure encompasses elite winery owners like Daryl/Dario Sattui and the Mondavi family. 

Many locals are actually immigrants. Harvest always requires extra help, so low-income jobs are relatively abundant. Napa may boast some pricey restaurants, but few locals can afford to eat at them. See the busser? She's also harvesting grapes to pay for her English classes. Notice the polite nod from a nearby cop on your way out? He's actually the D.A.R.E officer at Alta Heights Elementary.
These are the citizens of Napa. The opulence you witness when visiting is a mirage; it's akin to thinking the princesses at Disneyland go home to real castles.
A Hopeful Ending
Real lives were hurt in the quake, but it's not the end of the world. Locals have been reaching out to each other. Businesses have forgone competition to lend a hand to their neighbors. And in the wake of it all, an old friend of mine from school got married. In the midst of countless distressing Facebook updates ("Largest quake I've ever felt. I thought I was going to die"), I came across this sweet anecdote from one Caitie Rasmussen:
[My husband] and I have been through so much in our relationship, but with each and every thing we never give up and end up coming out stronger. I feel like yesterday, 8/24/14, was a true testament to that. A day that started out with terror and destruction turned into one of the most loving and happy days of our lives. Love really does conquer all.
That pretty much sums up everything you need to know about Napa—not to mention the power of humanity in the wake of catastrophe.
Now, if you need me, I'll be cleaning up the rubble in my wonderful hometown.