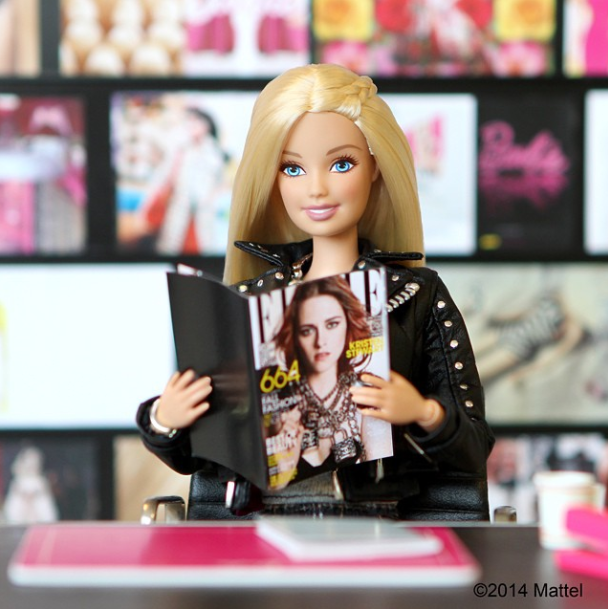 Image Courtesy of @BarbieStyle
If you're a fashion fan, then your Instagram feed is surely getting revved up for New York Fashion Week (we can't believe it starts next Thursday! Time sure flies when you're keen on couture!)
But among those #OOTD's, perfectly-composed shots of cold-pressed juices and avocado toasts (#preNYFWcleanse), and shopping bags brimming with mysterious—and sure to be drool-worthy—purchases, there's one new Insta handle you simply have to follow.
She's known by one name only, and she's more famous than Madonna and Beyoncé combined. 
Say her name. Barbie. And she's taking the international fashion weeks by storm.
This year, Barbie's doing a world tour of the four major fashion weeks—New York, London, Milan and Paris—and documenting her travels and fashion on her new Instagram, @BarbieStyle.
Like her fashion blogger peers Leandra Medine and Garance Doré, she's already showing off some perfectly-styled ensembles and catching up on her reading (we can't get over that teeny, tiny Elle Magazine.)
The buxom blond has already held a NYFW fashion show and rumor has it she'll be flaunting outfits created by 50 different A-list designers including Karl Lagerfeld and Versace all in celebration of her 50th anniversary. 
For someone as famous as Barbie, this is a surprisingly late showing on Instagram. But hey, better late than never, we always say. 
(What does a physically impossible, plastic-forged women serving as the centerpiece for fashion week say about the state of society? Gulp. We're going to shamefully swallow our cynicism and try to go along for the ride.)
So start following the madness now and bask in all of the iconic star's fiercely fabulous outfits. Then prep for her big coming out—she's helping kick NYFW next week with a party co-hosted by the CFDA next week. Oh and 50 Barbie-inspired C'est chic!
Here's hoping Mattel makes miniature cold-pressed juices to keep Barbie's spirits high!