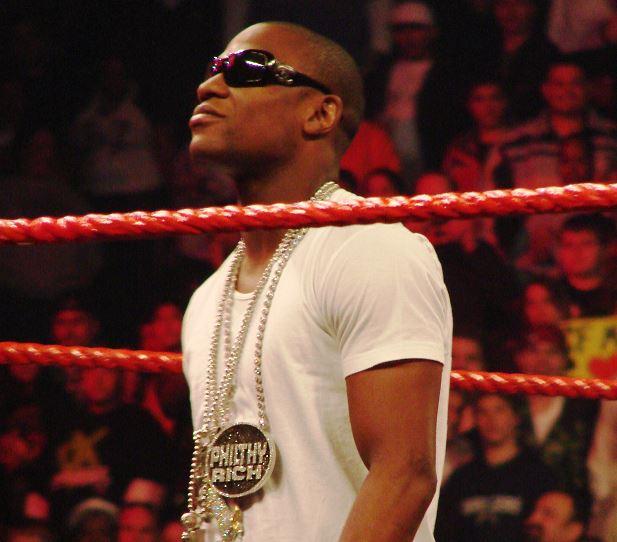 Credit: Wikimedia Commons
It's officially Famous Athletes and Intimate Partner Violence Week.
There was Ray Rice's horrifying video leak and consequent (read: appallingly overdue) suspension. Oscar Pistorius was just convicted of manslaughter in the slaying of his girlfriend—for which there's a chance he won't even serve jail time. Ray McDonald, in the first high-profile incidence of domestic violence in the NFL following the implementation of its "stricter policies," is suiting up to play this Sunday, despite the bruises on his pregnant wife's neck. And then there's that piece of shit Floyd Mayweather Jr., the world's highest paid athlete, gearing up for his big fight tomorrow. 
It is perhaps Mayweather Jr. who best represents (although the competition on this front is certainly fierce) that actually, every week is Famous Athletes and Interpersonal Violence Week—a fact The New York Times has taken note of today, with its article "Ray Rice Is an Outlier: Most Domestic Abuse Suspects Play On," containing an infuriating litany of athletes who've abused . . . but continue to play and rake in mega dough. 
Mayweather Jr. isn't even included in The New York Times piece. But let's just return our focus to him, as it will prove an instructive look at how athletes can, do and always have gotten away with the most sickening, violent, misogynistic crimes. All the while only building up their veritable mountains of money.
Despite multiple domestic assault charges and convictions, the media continue to hail and defend Mayweather Jr. And people are swarming to pay $74.95 to see him fight tomorrow—just on their TVs. And we think we mentioned that he's the world's highest-paid athlete—which means that he's accumulated in the ballpark of $400 million since he turned pro in 1996. And for comparison purposes, what he gets for fights that last less than an hour, it takes basketball superstar Lebron James two years to earn. 
Some Background On The Batterer
The short version of Mayweather Jr.'s violent history is that he has a record of abuse that extends over at least a dozen years—and includes, at minimum, seven separate physical assaults on five different women that have resulted in arrest or citation. This does not include the several instances where the police have been called in response to alleged threats by the boxer. Or the times, of course, no police were called. 
And as for convictions? Well, in March of 2002, the (to reiterate) trained fighter agreed to a plea bargain on two domestic violence charges. A few years later, he was convicted on two counts of battery against two women. Finally in December 2011, he spent three months in jail for hitting his ex-girlfriend in front of his children—charges that could have landed him in prison for decades.
He maintains his innocence on all charges.
The latest in Mayweather Jr.'s abuse horror story is that he is being sued by his former fiance Shantel Jackson for "beating her, threatening to shoot her in the foot and shaming her on social media for an alleged abortion."
Just This Week
We should always care that Mayweather Jr. is an abusive piece of garbage. Always. But he gave a number of extra reasons to care this week . . . like the fact that he's Team Ray Rice. 
On Tuesday, when asked about Ray Rice, he slammed the NFL for its decision to suspend him: 
"They had said that they had suspended him for two games. Whether they saw the tape or not, I truly believe a person should stick to their word. If you tell me you're going to do something, do what you say you're going to do. But once again, I'm not in the NFL, so I can't really speak about the situation."
And then he added: 
"I think there's a lot worse things that go on in other people's households, also. It's just not caught on video, if that's safe to say. You know I wish Ray Rice nothing but the best. He's probably going through a lot right now because football is his love. It's no different with me being in the fight game. If they told me, 'You know Floyd, you signed the biggest deal in sports history [with Showtime/CBS] and a couple months later the deal is taken away from you'—it's like 'Oh man.' It's not really the money. It's the love of the sport."
Does it get worse? Yes, it gets worse. He just kept talking, describing how he's been unfairly treated by the legal system on the domestic violence front, given the lack of pictures to demonstrate abuse: 
"Like I've said in the past, no bumps, no bruises, no nothing. With O.J. and Nicole, you seen pictures. With Chris Brown and Rihanna, you seen pictures. With [Chad] Ochocinco and Evelyn, you seen pictures. You guys have yet to see any pictures of a battered woman, a woman who says she was kicked and beaten [by me]. So I just live my life and try to stay positive, and try to become a better person each and every day."
You're a true victim, dude (read: HEAD MEET TABLE).
And dear Mayweather Jr.: on the "better person" front, you are failing profoundly. And so are the media. Here's just a tiny sliver of the media coverage we've seen on this (noting, in the past, that the media for the most part have always been in Mayweather's corner, despite all the convictions):
The Boston Herald ran an article titled "Floyd Mayweather Jr. hoping a bad week gets better" within which it identifies him as having a bad week given that his former fiance has served him him with papers "in a lawsuit that alleges Mayweather is both a domestic abuser and an insensitive lout" (um, this is actually confirmed by a multitude of domestic violence convictions), getting called out by 50 Cent for his inability to read, and all this "before he even opened his mouth up about Ray Rice."
And elsewhere, we not only see continued lionization of the athlete and jumps to his defense, but also a shaming of his fiance for timing her civil suit when she did.
But yes, poor Mayweather Jr., OUR HEARTS JUST BLEED FOR YOU.
And in an LA Times piece, after describing his custom homes, fleet of luxury cars and boastful claims, we are informed: "Tired of listening? You have to. He's still unbeaten."
Sorry LA Times, given that all the women his life are anything but, we don't have to listen any of the nonsense that comes out of his mouth, or any other abuser. We have to, in fact, do the opposite, and listen to the survivors of domestic violence. And then we have to care about them—every damn week.