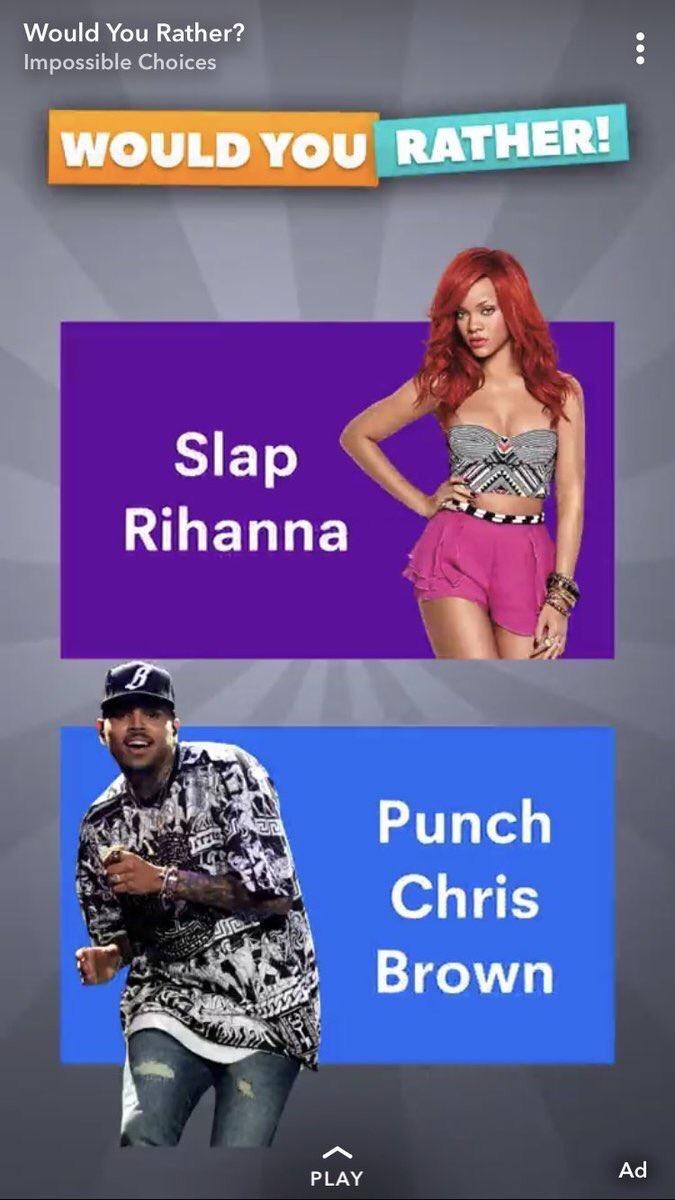 Would You Rather...
Just when I finished saying that I love the internet so much I could marry it, it goes and acts like an idiot again. When I say idiot, I mean who could possibly have approved this "Would You Rather" on Snapchat? Whatever the answer is that person is fired from being a person.
The offense, I can't believe I even have to say this, Would You Rather? Slap Rihanna or Punch Chris Brown. Most people know the history of Brown as Rihanna's abuser. Their relationship was headline news more than once. So I guess Snapchat is trying to capitalize on her suffering.
THIS IS NOT FUNNY.
It's not funny because it devalues her experience. It's not funny because it devalues the experience of every person who has been victimized by someone like Chris. It's not funny because physical violence is never funny.
On average, nearly 20 people per minute are physically abused by an intimate partner in the United States. During one year, this equates to more than 10 million people.
One in three women and one in four men have been victims of physical violence by an intimate partner within their lifetime.
Nearly 700,000 children are abused in the U.S annually.
This data speaks louder than I ever could. Abuse is rampant in this country and Snapchat, with the power to influence millions of users, has done nothing to educate, illuminate, or eradicate it. It's unfortunate that in a culture were social media is consumed so widely that they have not chosen to use their power responsibly.
Rihanna responded in turn, with the following comment on her Instagram story.
She asked folks to delete Snapchat.
Rihanna urges fans to delete Snapchat after domestic violence ad https://t.co/hhb2q8p9hp pic.twitter.com/H1Kk0kSHNS

— Reuters Top News (@Reuters) March 15, 2018
The internet showed up.
Snapchat stocks are plummeting already! Your power @rihanna! pic.twitter.com/GjBruwz0YR

— N∆TE (@NathanNAVY) March 15, 2018
Rihanna responding to Snapchat's ad. I can't believe they did this. pic.twitter.com/TpHQIXTm4j

— Gennette Cordova (@GNCordova) March 15, 2018
Let's all grab our popcorn and watch Snap stock take a nosedive.
The only good thing that is going to come out of this is you are going to share this article, whoever came up with this absurd idea is going to be out of a job, and Snapchat is about to look real stupid.
Sorry if you own stock.
But not really.