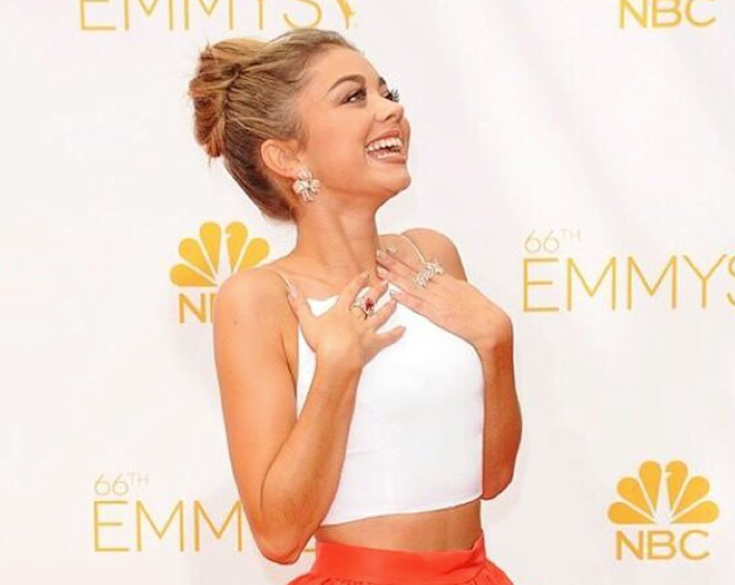 What MONSTER could hurt this darling face?? Grrr! Credit: Facebook
Lately, it seems there's a heart-wrenching tale of domestic abuse in the headlines every.single.day. And the hashtags #WhyIStayed and #WhyILeft keep conversations on the matter swirling on social media.
Celebrity clout may push this discussion to even greater prominence. As Miley Cyrus demonstrated by getting buzz cuts en vogue, celebrities have some serious sway on the public. In the case of domestic violence, a big name can help illuminate sadder circumstances. 

And so we are clapping/crying for Sarah Hyland (who plays daughter Haley on Modern Family). She filed a restraining order on her former boyfriend of five years—Matt Prokop—after she broke up with him, due to abuse. Hyland stated that Prokop choked and pushed before making threats against her life (as well as her dog's). The young starlet admitted that she feared for her life. In a move of remarkable strength, Hyland opted to end it. She called on her TV mom Julie Bowen (awww!) to help protect her during "the talk." Even then, Prokop flipped out. He screamed and threatened Hyland—the man even threw a lighter at her and swore to burn her house. After the breakup, Prokap continued to contact Hyland relentlessly (hence the need for a restraining order). 

Bravo to Hyland for drawing this matter into the limelight. Putting a face to such trauma makes the concept of domestic abuse feel more "real" for those who have been sheltered from that horrific beast. In this case, there's something about the victim that makes this tale an even bigger bummer: We watched Hyland grow up on TV. Modern Family first aired five years ago when Hyland was only 18. She played the ditzy, gorgeous high schooler stereotype hilariously (anyone remember when she rubbed her phone's battery against her hair?) and earned the show tons of laughs.
I don't know Hyland personally, but I know I felt this bizarre mama bear RAWWWWWR take over the second I heard the news. Who would hurt Haley?! Like it or not, viewers are viscerally affected by such TV characters. Think about it: We've seen Hyland's adorable face come to life in our living rooms on a weekly basis for years. Research even backs up that the familiarity of watching such a character for an extended period of time does make us perceive that character as a friend (or advocate). 

And because she feels like a friend, contemplating Hyland's pain is disturbing. But maybe, her public dark struggle with abuse will raise even more awareness on this huge issue. It also reinforces the message that abuse can happen to anyone. This conversation is a painful one, but—thanks to brave victims like Hyland—we may see a reduction in domestic violence in the future.