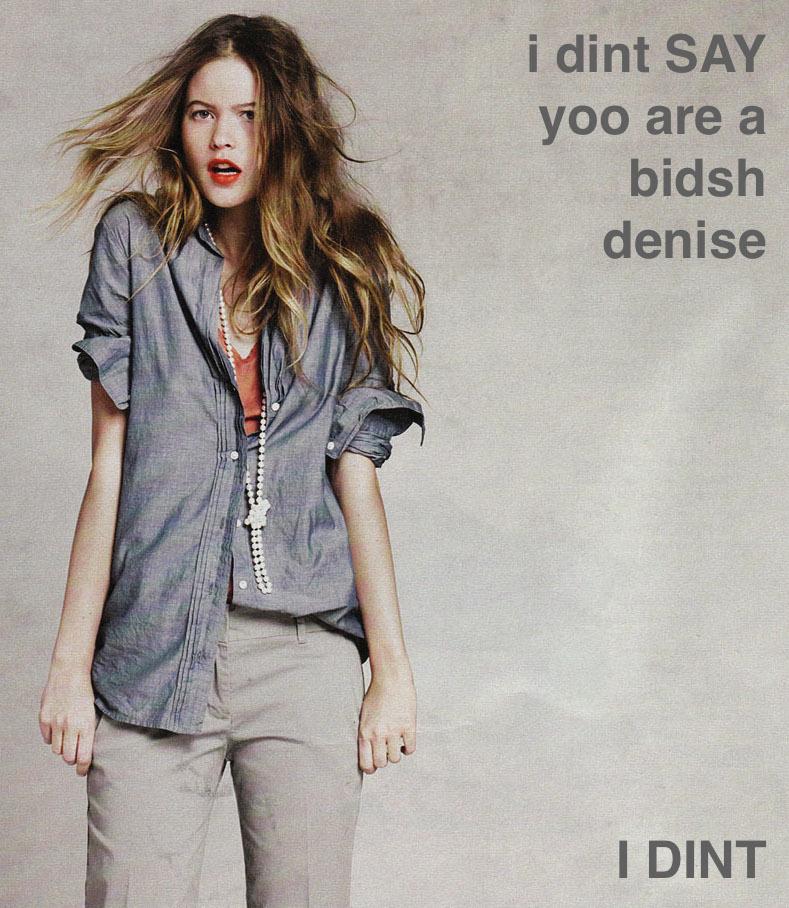 Credit: Drunk J.Crew
It's not often that the fashion world indulges in self-humor. On the contrary, Fashion Week and the fashion discourse thrive on self-importance and pretentiousness; fashionable ladies who don't take themselves too seriously are numbered (and Man Repeller has made a fortune out of it).
And this is why the Drunk J.Crew Tumblr is the highlight of the week. Created by a Chicagoan named Jen, it's already a huge hit. The brilliance of the account is in its marrying of images from J.Crew catalogs with slurred, misspelled lines you usually say when you've had one too many.
"We can go AFFER whidney Huston is over," says one model, sitting on the floor in a snake-print gown. Another dead-eyed lady, in a heartbreaking series of images, wants to sing Frozen at the karaoke tonight, but has her thunder stolen by "Cheryl," a fictional character that makes guest appearances. It's all surreal, and yet somehow . . . totally makes sense.
This new phenomenon manages to do so much with so little—and it's not just for grins and giggles. On the site's FAQ page, Jen explains that male models:
"Don't look wasted. They are more often photographed as assertive, rugged, hands-in-pockets, looking to get business done. That seems to be industry standard for male models".
Female models, on the other hand, "are more likely to be draped over something, fuzzy headed, confused." The stories she weaves together with the lines over the images make for a strong case—J.Crew models do appear to be helpless, dizzy or simply mindless.
But the humble Tumblr doesn't stop there. Cleverly noting she "can't afford their clothes," Jen's specific aim at J.Crew isn't accidental—the brand, headed by the always poised, always impeccable Jenna Lyons, rubs many the wrong way. As its grown in popularity over the last few years, the clothes, simple yet only sale-affordable, have found themselves associated with "annoying hipster couples," progressive yuppies and other slick, uptight types whose apartments or salaries seem like a cruel, fictional plot. Only adding fuel to the fire, Michelle Obama's ongoing endorsement may help sell blazers to rich housewives, but does nothing to elevate the brand's snotty, elitist look and feel. 
Drunk J.Crew rides the wave of J.Crew hostility with acidic humor, yet hard-to-resist charm. The praise it's receiving from media outlets, as well as its instantaneous success, only prove the point—we all want J.Crew to lighten up and have a beer. Or six.