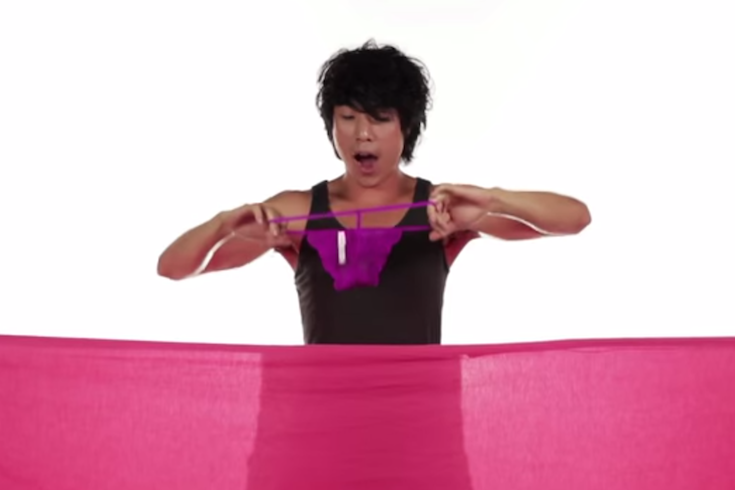 You can't fake that kind of shock.
In case you weren't aware, thongs are weird.
While I've always had a hunch this is the case, a new BuzzFeed video proves my conjecture to be true. In it, a bunch of men try on women's thongs from—where else?—Victoria's Secret, and hilarious reactions predictably ensue.
But the video is more than the ideal way to kill a couple minutes at the office—it's also damn thought-provoking. No, really.
As they wriggle into their thongs, the men talk about their "side dick" (the male version of side boob) and profess how they feel like their "ass is literally sucking it up, like a vacuum." All of which raises a valid point: Why the hell do women wear thongs?
As it turns out, thongs first became popular in the 1930s, when former New York City mayor Fiorello LaGuardia wanted a way to cover up exotic dancers . . . but you know, just a little bit (ah, the work of a public servant). It wasn't until 1974, when designer Rudi Gernreich unleashed his at-the-time shocking thong designs, that a mainstream success was born. (Interestingly, if not surprisingly, Gernreich was the inventor of the monokini as well.)

So there you have it. Thongs are weird, and it doesn't make a whole lot of sense that we wear them. Except, of course, to pay homage to Sisqo.
Happy Friday!