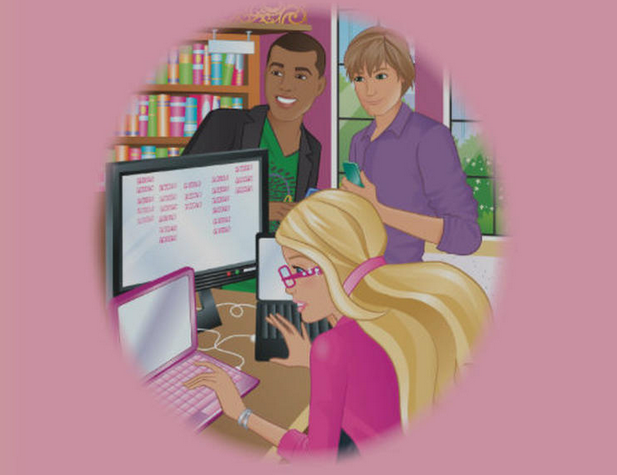 Don't worry your pretty head Barbie, those numbers and codes aren't for you.
Let's just get it out there; Barbie's fucking up.
This probably isn't much of a surprise, but the latest transgression of Mattel's signature doll is pretty egregious. 
Despite the promising title of Random House's recently published book, "Barbie: I Can Be A Computer Engineer" it actually teaches children Barbie can be a manipulative wannabe game designer. Instead of doing any coding as the book implies, she relies on her two male friends to make the game then takes the credit for their work. The biggest contribution Barbie makes during the course of the book? Destroying her and her sister Skipper's computers with a virus. 
For many parents who bought what they thought would be an encouraging gift for their children, they were left with more-than-demeaning fluff and as yuo can imagine, weren't happy about it. Amazon has already taken down the page with the deluge of negative reviews, but they were quite similar to the ones on Goodreads.com where the nicest comments described the book as "Insulting, sexist, disempowering nonsense that doesn't even read well." 
Although the strange democracy of the Internet is trying to fix it, the publication of the book is made worse because it didn't have so terrible. It's been done well in the past and could have been done well again. This isn't the first time Barbie has grabbed her double Ds and dabbled in the world of work. With more than 150 careers under her belt, Barbie has been everything from a model to a rapper and even an astronaut. Given the myriad jobs she's held over the years, one would think that adding the role of computer engineer wouldn't be that much of a stretch for Barbie, particularly in 2014. But apparently learning the very basics of coding is way harder than becoming a U.S. Air Force Thunderbird Squadron Leader (which she did back in '94). 
All of which is more troubling when considering the underlying belief system of Ruth Handler who created the blond bombshell. She believed that "through the [Barbie], the little girl could be anything she wanted to be. Barbie always represented the fact that a woman has choices."
Like I said, Barbie's fucking up. 
Fortunately for us, there's a newcomer to the doll game that could kick Barbie's perfectly toned ass into shape. (Although Ravishly writer Nikki Gloudeman has more than a few things to say on why this latest incarnation of a "realistic doll" is also more-than-troubling.) Former graphic designer-cum-toy maker Nickolay Lamm has designed a host of realistic "Barbie" dolls, dubbed "Lammily." Not only are the dolls based on the proportions of real women, they also include stick-on scars, acne, tattoos, even cellulite—all things you might see on an actual woman. The product just became available to purchase on Wednesday and their "average is beautiful" mantra is quickly gaining tremendous momentum.
What started off as a pet project for blew the hell up thanks to an uber successful Kickstarter campaign that raised over 5x the amount of money he originally needed; his crowd-funding campaign gleaned more than 13,621 backers, who preordered over 19,000 dolls.
Apparently everyone else was as fed up with Barbie's tanned and preposterous proportions as much as we were. The overwhelming support for the Lammily doll shows that people are ready for something different—something better. While it's still early and this doll clearly isn't a solution, we're sheltering a quiet flickering candle of hope that the Lammily doll represents a newfound attitude in a market that's saturated with sexist toys. 
I've said it twice, so I won't say it again, but clearly something's gotta give. Mattel has formally apologized for their misogynistic garbage (I mean honestly who decided this was a good idea?!) and Amazon has already pulled the dreck from its digital shelves, but how many young mind's have already been steeped in this damaging—if idiotic—diatribe against women?