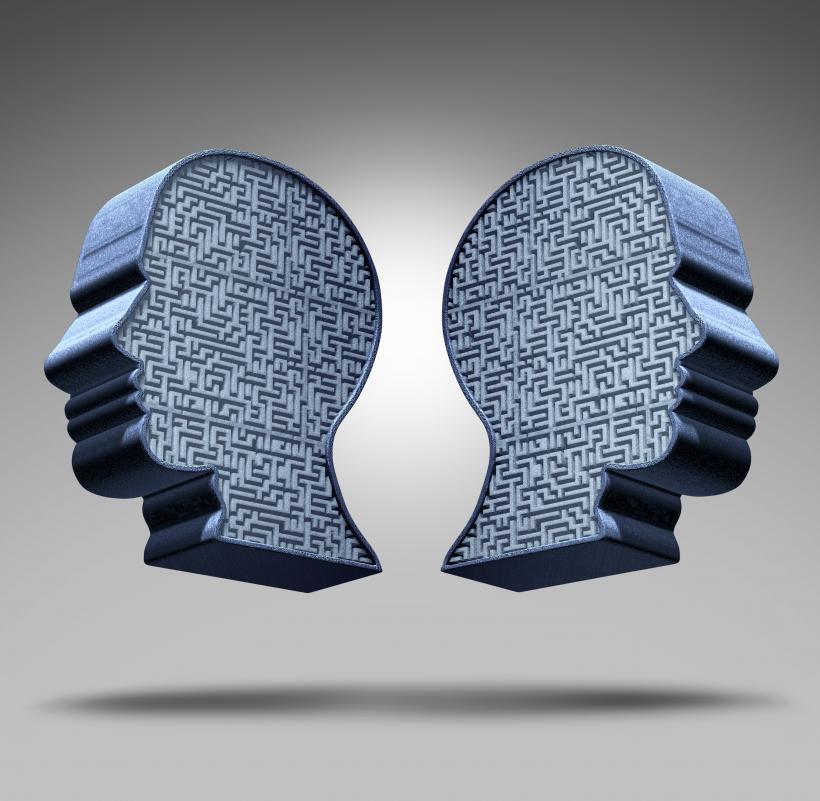 Credit: ThinkStock
Unmedicated (hypomanic): I'M STILL UP. I DON'T SLEEP. SLEEP IS FOR THE WEAK. I'M GOING TO BAKE A CAKE/SEW A QUILT/WRITE A BOOK ALL BEFORE 9AM!
In the rare event that you weren't made aware, March 30 was World Bipolar Day. But seriously, if you didn't even know that World Bipolar Day was a thing at all, I don't blame you, unless you are bipolar—or even if you are bipolar. It's not like this is a calendar featured celebration. Regardless, I am bipolar, and so in honor of this *esteemed occasion I am pleased to share this stream of consciousness with you.
(*It's actually about as esteemed as Stalin's birthday, but it certainly should be more widely recognized, say, even as important as Lincoln's birthday, given the number of mentally ill people in this, and every other, country.)
I've written before about my struggles/triumphs/life with bipolar disorder (part one, two, three). It's not curable, but it is treatable and that's the space where I currently reside: treated. In any case, as an ode to the day, and those who share the designation of Bipolar Two with me, I present:
A Day In The Life Of Bipolar Disorder—Both Treated And Not
Waking up
Medicated: Oh holy night. Is it 6 already? God I do not want to get up. Can we please not ever get up at 6? OK. Fine. I'm getting up.
Unmedicated (depressed): I'm not getting up. Ever. No.
Unmedicated (hypomanic): I'M STILL UP. I DON'T SLEEP. SLEEP IS FOR THE WEAK. I'M GOING TO BAKE A CAKE/SEW A QUILT/WRITE A BOOK ALL BEFORE 9AM!
Morning hours
Medicated: Let's see. I have a to-do list. Hm. Twenty-seven items may be too many. I'll make my way down and see how far I can get. Yeah 27 is for sure too many. I think I can do it. Well, ok, probably not.
Unmedicated (depressed): *Cry* What do I have to do? Like what do I really have to do, just to get through this day until tonight and I can go to bed again. I'll do just what I have to in order to appear functional. *sob*
Unmedicated (hypomanic): HOW MANY THINGS CAN I DO TODAY?!?!?! OK. PARK FIRST. KIDS LIKE PARKS. TWO PARKS AND A PICNIC. THEN SHOPPING. I'M GOING SHOPPING. COSTCO! THEN TARGET! THEN THE FABRIC STORE FOR NEW PILLOW FABRIC. OH THEN I'M GOING TO DYE ALL THE FURNITURE COVERS AND REARRANGE THE FRONT ROOM. AND COOK . . . ENCHILADAS. BEANS! RICE! I WOULD WASH ALL THE LAUNDRY BUT I DID IT AT 2 AM. MAN I FEEL GREAT. I AM NOT EVEN TIRED AT ALL. THAT'S WEIRD BECAUSE I SLEPT TWO HOURS.
Afternoon
Medicated: OK, halfway through the list. Better hustle. Feeling productive. Really want to keep this momentum. Two loads of laundry. Done! Dinner. Started! Cake. Baked! House. Clean!
Unmedicated (depressed): Is it bedtime yet? No?
Unmedicated (hypomanic): WHO NEEDS COFFEE?? NOT ME. COFFEE IS FOR WHIMPS. I AM DRIVEN. I'M NOT CRAZY. I'M JUST DRIVEN. I'M GOING TO BUY MYSELF SIX NEW OUTFITS FROM THE GAP. WHY NOT?
Evening (10 pm)
Medicated: Phew. What a long day. I'm going to knit and watch TV (or write this article). I'm getting tired. I'll push through until 11:30 to get some stuff accomplished.
Unmedicated (depressed): *snore*
Unmedicated (hypomanic): IT'S ONLY 10? THE NIGHT IS YOUNG. I THINK I'LL REARRANGE MY DRESSER. AND CLEAN MY CLOSET. DOING ONE WITHOUT THE OTHER WOULD JUST BE RIDICULOUS. OH WAIT. FIRST I BETTER FINISH MY BOOK. AND CAKE.
And repeat.
***
This is a bit off the cuff, not exactly my voice, but really only a slight deviation. The reality of bipolar disorder specifically, as compared to other mental illness, is those who "suffer" often don't know, or won't admit to that suffering. During certain seasons of my life my mind has felt positively aflame with ideas, rushing like whitewater carving its way through the granite of my consciousness. During other seasons, my mind is more akin to a black hole, sucking everything into it and leaving it to die.
No one wants a black hole brain, but a brain of fire and flames and endless creative energy? Who would turn that away? Not many.
This is just a truth; it's my truth and the truth of countless others. The truth is I don't always love being balanced. My medication leaves words on the tip of my tongue, my mind reaching for them—I know they are in there, perhaps buried under a couple hundred thousand other words, but they are there, even if I can't find them. That is supremely frustrating (. . . and also makes being a writer sort of challenging). Some days I'm tired. Really paralyzingly tired. So much so that I don't want to wake up. Some days I'm starving, which is another reason to loathe anti-psychotics. I love food. And when medicated, I sometimes love ALL THE FOOD.
It's not hard staying medicated, though, but nor is it easy—it just is. I am medicated because it's the smartest course of action, for me and for my family.
I have a mental illness, one I did not ask for, one that I can't get rid of, one that is part of a group of illnesses that are both feared and stigmatized. I have it, but it doesn't have me.