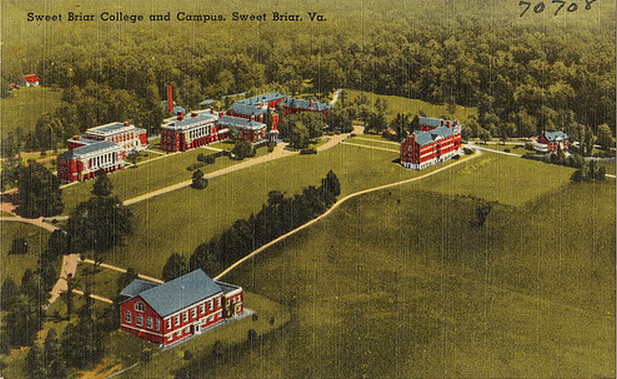 Sweet Briar's closing heralds a new, not necessarily better, era in higher education.
This past Tuesday, Sweet Briar College in Lynchburg, Virginia, abruptly announced that it will be closing its doors effective August 2015. In a short, startling video, college president James Jones Jr. explained that "insurmountable financial challenges" were forcing the school's Board of Directors to shutter the 114-year old women's institution. Board chairman Paul G. Rice posted a statement on the school's website as well:
"The board closely examined the college's financial situation and weighed it against our obligations to current and prospective students, parents, faculty and staff, alumnae, donors and friends. We voted to act now to cease academic operations responsibly, allowing us to place students at other academic institutions, to assist faculty and staff with the transition and to conduct a more orderly winding down of academic operations."
The announcement sent shockwaves through the tight-knit alumnae community and stunned current students now faced with the daunting task of transferring to another school. "It's like there's been a death in the family," says class of 2004 alumna Nicole Claire. "There's been no dialogue between the board and the alumnae. I would rather see the school go co-ed than shut down completely." Claire and other alumnae have already participated in a group phone call with the Board to voice their concerns and even considered a Kickstarter campaign to save Sweet Briar. (Listen to the Soundcloud conversation here, where administrators explain the factors leading to the school's closure.)
Sweet Briar's situation points to larger issues in the world of higher education, especially among small, liberal arts colleges. With a 94 million dollar endowment and a strong alumnae network, the institution appeared to be thriving. However, since the economic downturn of 2008, the number of students enrolled at Sweet Briar has consistently dropped—from 760 in 2010, to just 700 this fall. Also, in order to retain students, the college had been offering steeply discounted tuition rates—in some cases, as much as 60%. Those numbers simply aren't sustainable.
Scott Jaschik, editor at the daily online publication Inside Higher Ed, explained that Sweet Briar's woes aren't unique. "It's very hard to convince an 18 year-old girl to go to a women's college," Jaschik said in a telephone conversation. "Once girls arrive at these institutions, they report high satisfaction rates with the quality of their education, but overcoming that initial hurdle is huge." And while numerous reports indicate that single-sex education offers all sorts of benefits, young applicants often overlook those statistics.
It's become increasingly difficult to weigh a good education against what some might argue is a "better socialization"—there is often a knee-jerk reaction to the notion of an all-girls institution as an archaic nicety.
Still, schools like Sweet Briar offer an opportunity for young women to realize that they can achieve their dreams. Claire, a children's librarian in Massachusetts, recalled her experience at Sweet Briar as essential to becoming the woman she is today. 
"Before I went to Sweet Briar, I had no direction. I lacked motivation. I could have been a better student. Sweet Briar accepted me and I didn't look back. The minute I got to orientation I met amazing faculty, staff members, and extended members of the community who make Sweet Briar the enchanting and special place that it is. Being in such a supportive, caring environment motivated me to be a better student and make a contribution to the world around me." 
Claire's position is shared by graduates of women's colleges around the country. Maggie Chow Shahid, a manager at Yahoo and a 2003 Smith College alumna, recalls being more excited than apprehensive about attending a women's college; she wouldn't trade that experience for anything. "I wouldn't be the same person if I had gone to a co-ed school," Shahid said. "Smith encouraged me to be the best I could be—to strive for excellence without limitations or pressure to give into stereotypes. I think that's so important for women, and, although many young women may never realize it, Sweet Briar's closing heralds a new, not necessarily better, era in higher education."
Women have come a long way towards gender equality, but these schools provide an environment for girls to become strong, independent women. 
Sweet Briar's bucolic location worked against it too. Situated in Amherst County, Virginia, the school is a solid two hours from Richmond, and students today are reluctant to be so far from an urban center. "Urban is on the upswing," said Jaschik. "Look at Barnard. It's right across the street from Columbia, and women there can apply for any internship in Manhattan they want. It's very hard for a rural school to compete."
Only time will tell if this renewed interest in urbanism is simply a passing "fad" or a harbinger of things to come.
Other, bigger, women's colleges, such as Mount Holyoke, Smith and Bryn Mawr also face challenges attracting students, but they are starting from stronger financial footing, with much larger endowments and greater international recognition. Smaller single-sex schools have gone coed as a way to remain afloat.
Some wonder whether an abrupt closure is the right approach. Jaschik says that once a college announces it will close, they have go through with it. "Closing in August is significant because it gives students who might be a few credits short of a degree the opportunity to earn those credits and get their diploma. It also allows current students time to transfer to another school." For the moment, Sweet Briar still has funds to ensure a smooth transition for transferring students and to secure transcripts at a local accredited school.
"Of course, alumnae who aren't so confident are probably requesting copies of their transcripts anyway," Jaschik said. Don't be so sure that the lady Vixens will let Sweet Briar close without a fight, says Claire. "We're hurt, but many of us feel this isn't over yet."'