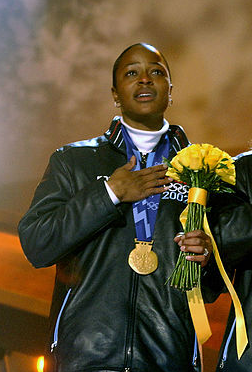 Olympians are the closest thing that humanity has to divine and holy athleticism. Just to be deemed worthy of the Olympics is, well, kind of amazing. If you get there, you're in a sparkling, sliver-small percentage of the whole population. And as a person of color at the Winter Games, the numbers shrink even more. And to be a black woman in a historically male-dominated arena is even rarer. They may make up one of the smallest demographics at the games, but these ladies are some of the most bada*s around. 
Let's hear it for the girls! The trailblazing African-American Olympians who have made history at the Winter Games have been predominantly ladies. This year, there are 19 black Olympians going for the gold. And approximately one fourth of those athletes are women bobsledding for Team USA.
The Summer Olympics have traditionally boasted more famous African-American medal winners than the Winter Games, but I mean, come on. 19? Really? Even though black athletes have been woven into the fabric of American sports for decades, the Olympics seem to be trailing woefully behind the times. The first black person to EVER to win ANY medal at the Winter Olympics wasn't until ice skater Debi Thomas stepped onto the scene in 1988.
Then, it wasn't until 14 years later that bobsledder Vonetta Flowers made history by becoming the first black Winter Games gold medalist. EVER. Ahem, note they were both incredible ladies from Team USA. F*ck yeah, America!
Bobsledding is a rather weird, obscure sport, but people of color – specifically African-American women – seem to have the niche sport down. Perhaps it's because of the sport's isolated appeal that these women are so drawn to it. Kinda makes sense that such a marginalized group would gravitate towards a lesser known sport and begin to totally rock the Olympic event. Even though people of color are seriously underrepresented at the Olympics, we've got a hell of a legacy behind us. The women's bobsleigh competitions take place on the 18th and 19th. Until then, get to know the ladies who are makin' history happen.