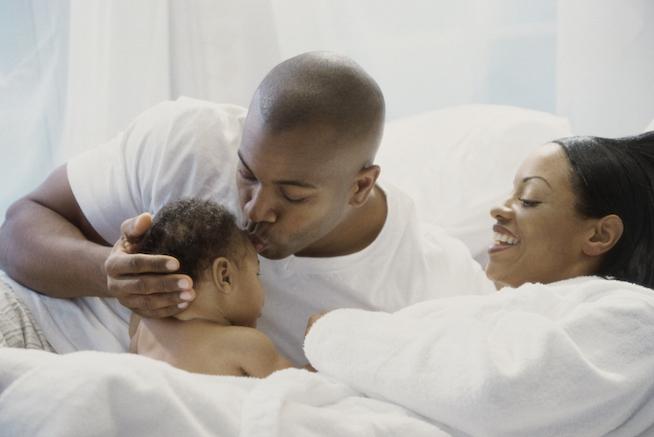 Babies change things. This we know to be true.
Remember when you started dating and you couldn't get enough of each other? Well, cohabiting at times can make you feel quite the opposite.
No matter how loved up you are with your better half, you are bound to hit those inevitable rocky spots. Whether you're house-hunting, getting married, or having a baby, there will always be something thrown in the mix to cause mayhem. But don't despair, here are some ways to ensure damage limitation when your relationship temporarily derails and get yourself back on track again:
1. Cohabiting For The First Time
Remember when you started dating and you couldn't get enough of each other? Well, cohabiting at times can make you feel quite the opposite. It's all exciting and romantic in the beginning, but adapting to sharing your space 24/7 can take a while to adjust. Suddenly, you spot all those annoying habits you hadn't noticed before, you may clash on the décor (what's wrong with a little sparkle?), or who's not doing their share in the domestic duties. We are all stuck in our own ways and that's OK, but remember, you are now working as a team. What I've learned over the years are the 'three Cs' — communication, consideration, and compromise. Don't go in with any high expectations, it's a learning process about each other as you grow — it takes time. Some days will be good, others just plain crap. But keep talking about what works and doesn't work and find some middle ground when conflict arises. Living together is great, but takes patience (a lot of it!) and a great sense of humor! 
2. Post-Baby Sex 
Having a baby is a joyous time, but can often bring about drastic changes to the dynamic. With sleep deprivation, breastfeeding, body hang-ups, and not to mention the baby blues, it's no surprise that time for each other and sex drive can be nonexistent. In fact, the very thought of having sex can be daunting for many post-natal moms who are anxious about their bodies or who would just rather use a night off for sleep!  But it's very easy to neglect your partner's feelings, and rejecting his advances may cause some tension. Make an effort for quality time or arrange frequent 'date nights.' Get a babysitter, dress up in your favorite outfit, hit the town or spend a night in together. Even if you don't feel sexy, he certainly does— so take it one step at a time to rekindle that spark. 
3. Money Matters 
"That costs how much?" is a common phrase that crops up when you're managing joint finances. Spending habits can often come under scrutiny — there's always a spender and a saver! And when you run into financial difficulties, i.e. job loss, debt, sick leave, this can often put a huge strain on any couple. In fact, a recent survey has found that money woes are a main cause of stress in a relationship. Get your sensible heads together, create a spreadsheet, and list your monthly expenses. Then you can use that as a guide to budget and track your joint finances. Make any necessary cuts and always be honest about your transactions!
4. Role-Switches/Career Changes 
Whenever there is a seismic shift in roles or career, this can affect couples. When my friend got made redundant, he took on the role of stay-at-home dad while his wife worked full-time. As logical as it seemed, it still had its fair share of hiccups and brought about conflict and resentment. The same happened when a friend decided to go into further education to pursue a new career. When our own priorities change, we're often so caught up in them we forget to communicate with each other — especially when we are going through difficulties. It's inevitable for people to change over time along with concerns and long-term goals, but it's important to share that and not leave your partner out in the cold. Make it a point to regularly talk about each other's plans and share any doubts or worries. By doing this, you can provide each other with the support and motivation that you need at challenging times.