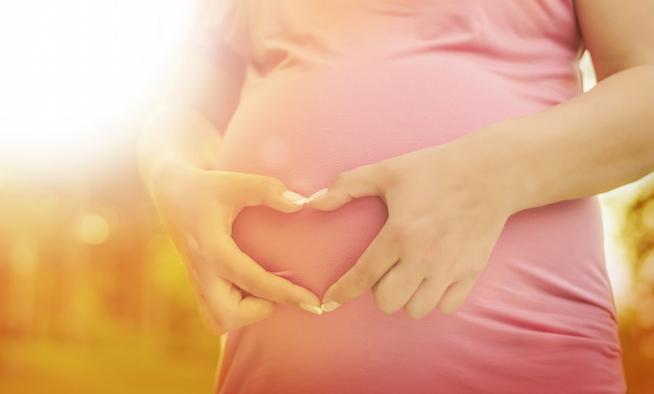 It's fun! Trust us!
The last thing you want to do is turn baby-making into work.
My husband and I had our first baby seven years ago. We're a quintessential military couple who got married young and had our son right away — in fact, it was a shotgun wedding. We have survived the seven-year itch and are ready to complete our family and make our son a big brother, and we're pretty darn excited!
So here we are, seven years after our first son was born getting ready to try for baby #2. But things are different this time around. We are older, and I have to admit...it's very different actually trying to get pregnant as opposed to trying to avoid it. Whether this is your first baby or not, there are a few things to consider at the very, very beginning, when you have just made that decision to try for a child. Here are some of my tips:
Take Deep Breaths.
There is obviously so much to think about and take into consideration at this point in your life that you feel like you could just burst! Try to take things step by step and one thing at a time. 
Have Fun With It!
The last thing you want to do is turn baby-making into work. At least for the first three to six months, make this a special time with you and your partner before you become obsessed with ovulation kits and the numerous gadgets and such on the market. Yes, the people closest to you in your life may know you are trying to conceive, but this is something that you and your partner are going through together privately — so make it a fun and exciting experience!
Start Tracking Your Ovulation Cycle. 
Speaking of ovulation cycles, thanks to modern technology, there are many great apps (my favorite is Ovuline) that exist where you can very easily track your cycle and make it a stress-free experience. They are much less complicated than an ovulation kit, and will simply guide you towards the best days to get busy!
Fitness Is Key! (And Nutrition, Too…)
It's super-important to be healthy in order to get pregnant — both you and your partner. This time around, I wanted to lose an extra five pounds before getting pregnant, with the goal of being able to bounce back easier this time around (since I'm not 21 anymore). But it's also important to keep fit throughout your entire pregnancy — this will help you with your post-baby recovery, too. Start keeping track of what you are eating and the nutrition that's coming from those foods. Shifting your mind to thinking about eating for energy and nourishment instead of cravings will also help you stay on track. 
Keep Those Prenatals Handy. 
It's a great idea to start taking prenatal vitamins while you are trying to get pregnant so that you are getting the right amount of folic acid every day. Plus, this will help you get on a routine of taking them daily. Thankfully, there are alternatives now that I didn't have during my first pregnancy, such as Rainbow Light Prenatal Precious Gems (gummies) or Premama Prenatal Vitamin Drink Mix — goodbye horse pills!
Limit Your Alcohol.
You might opt to cut down, to stop drinking completely, or not to change anything, and that decision in yours and yours alone. My only advice is to just start being mindful of your alcohol intake. I'm not a huge drinker unless I'm out for a celebration, and I have just made the decision to only drink wine — no hard stuff for a while!
Start Planning…
There are so many things to plan at this point, so keep that word "start" in mind. Start looking into doctors, hospitals, gear — all that fun stuff! Another really fun thing to start planning is your birth announcement. Thanks to social media, there are some really fun ways to announce to friends and families as well as creative ways to tell children that they will be a big brother or sister soon. My motto is to have fun with it, don't stress...because everything will work out in the end!