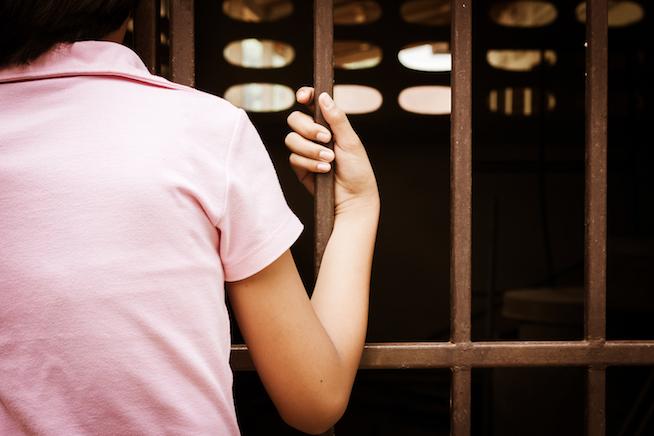 It's time.
There is a class of Alaskan against whom physical and institutional violence is routine. Some say that the state tries to hide its past sins by killing off the evidence. This report, and the new administration that produced it, seem to perhaps be the beginning of the end of that.
When I heard that my friend "Anna" had been arrested off the side of the road, where she was found unconscious and smelling of alcohol, I called the jail right away.
I fell in love with Anna a million years ago when we were both in foster care. We were hiding inside a cabinet and she pulled a marker out of her purse and wrote above our heads, "We are hiding. We are not afraid." My heart melted and swelled and I'd pretty much do anything for Anna still.
The guard at Fairbanks Correctional Facility informed me that she had been charged with fifth degree criminal mischief, a class B misdemeanor, and that a judge at arraignment had decided to hold her without bail until trial. I told him she needed to be transferred to a medical detox facility. She'd been on quite a bender and has ended up in the emergency room when trying to sober up before — alcohol is one of the most deadly substances to withdraw from.
"You do the crime, you do the time," the guard informed me.
She hadn't been convicted of a crime. Do Alaskans have a right to be not deprived of potentially life-saving medical treatment until proven guilty of nonviolent fifth degree criminal mischief? I swallowed my rage and hung up on him.
The next day, after visiting Anna in jail, I went to the bookstore. A man approached me in the parking lot.
"Can you donate a few dollars for my cousin's funeral?" he asked. "He died from alcohol withdrawal at Fairbanks Correctional Facility."  
I gave him a few dollars and he gave me a memorial flyer.
Gilbert Joseph had been picked up after drinking a debilitating amount of hand sanitizer in Fairbanks and placed in "protective custody." This is a standard procedure here in Alaska — there is even a community patrol van that picks up the inebriated and shuttles them to jail.
According to an Alaska Department of Corrections administrative review released by Governor Walker on November 16, video revealed an unconscious Mr. Joseph dragged into a cell with his pants down and left lying on his back.
Though facility management had determined that there had been no suspicious behavior or assaults on Mr. Joseph, the review team noted that he had been assaulted repeatedly by a cell mate, including having his mouth and nose covered several times.
At one point, a correctional officer appeared to enter the cell and tell the cell mate to stop assaulting Mr. Joseph, but did nothing to prevent further assaults on the unconscious man. Although the video revealed that Mr. Joseph took his last breath at 1:35 in the morning, a correctional officer reported that he was alive at a 2:27 routine security check.
Although the team reviewing the case for the governor's office referred the case repeatedly for investigation, the Alaska State Troopers and the Department of Corrections found that no assaults or suspicious behavior had occurred. At the time of the report's release, there had still been no personnel investigation.
Dermot Cole, writing for Alaska Dispatch News, noted that "It would have been better for Gilbert Joseph if he had never been placed in 'protective custody' by the state…If so, he might be alive today."
The administrative review also described the death of Joseph Murphy, who was also taken into 'protective custody' and brought to Lemon Creek Correctional Center with a breath alcohol concentration of .165. After sobering up and being held in the correctional center for over the time allowed by law, Mr. Murphy began pacing his cell, pounding on the door, complaining of chest pain, and requesting his pills (most likely nitroglycerine). One correctional officer is reported to have responded to his request for medical care by yelling, "Fuck you! I don't care, you could die right now and I don't care."
Seventeen minutes later, Mr. Murphy collapsed on the floor. His body stiffened with his legs in the air, and then relaxed. Eighteen minutes after that, guards began chest compressions.
These stories are consistent with the experiences I've had and heard about in many of Alaska's institutions, from foster care to criminal justice. There is a class of Alaskan against whom physical and institutional violence is routine. Some say that the state tries to hide its past sins by killing off the evidence. This report, and the new administration that produced it, seem to perhaps be the beginning of the end of that.
"The state has a valid interest in making sure its Department of Corrections is a thriving state agency that promotes inmate and public safety," said Governor Walker at the press conference where he released the report. "A majority of inmates will ultimately be released, so it behooves us to ensure their time in our correctional facilities does not hinder their pursuit to a healthy life."
After about a week, Anna was appointed a public defender who requested a new bail hearing. Her bail was finally set for $200 and a friend bailed her out the same day. Out of curiosity, I went to the courthouse and requested any assault records involving her boyfriend. I wondered what the difference in treatment would be between a white man accused of assaulting an Alaska Native woman and that same Alaska Native woman accused of nonviolent criminal mischief.
Just six months or so before, he had been charged with both harassment and assault. The police report noted that he told officers he had "pushed her to the ground. After shoving her he held her neck and was showing and telling her that he was the cleaner of the residence. He let her go and…He then threw [Anna] to the ground again."  
His bail had been set the same day he was indicted. He was bailed out two days later.