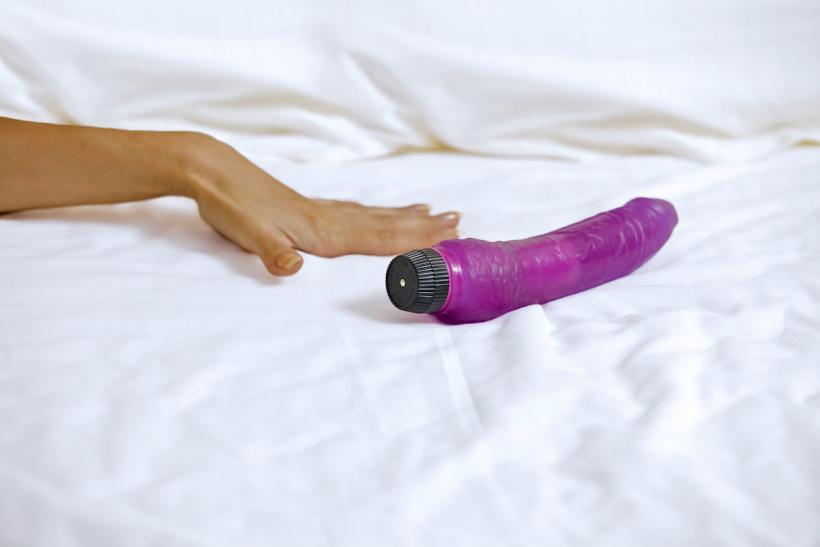 Bring the vibes. Image: Thinkstock
Editor's note: This particular article is drawn from the author's experience as a cisgender woman who has sex with cisgender men. Ravishly recognizes that not all women have vaginas/clits and not all vaginas/clits are attached to women — and that vibrators are for everyone!
"I don't understand why you're writing about this." My boyfriend said as we moved from deadlifts to chest exercises. We were standing in the center of our local gym, surrounded by sweaty dudes making the grunting noises that sweaty dudes make at the gym.
He's referring to the article I'm writing about guys bringing vibrators into the bedroom.
"We bring vibrators into the bedroom nearly every single time we fuck." I stated simply, garnering a few glares. I figured this would prove my point. My boyfriend is a man who has no issues with bringing a vibrator into the bedroom.
To my dismay, he still did not understand the critical nature of my topic.
So, like any feminist surrounded by sweaty dudes at the gym, making the grunting noises sweaty dudes tend to make at the gym, I explained the importance of women's pleasure during a sexual experience.
"The guy I dated before you, I dated for eighteen months. Do you know how many orgasms I had? Three."
He nodded in solidarity and passed me a ten-pound flat weight.
Women's pleasure is easily brushed over. For our beloved male counterparts, orgasm is a cakewalk. It is a simple byproduct of intercourse. Orgasm for women is often treated as an afterthought.
This fact escapes many guys. Despite their best intentions, they leave our vaginas as dry as sad bodega flowers. We yearn to be watered, guys. Our vaginas neeeeed the water.
The statistics on sexual pleasure amaze me. They are startling. Seventy-five percent of women cannot achieve orgasm from intercourse alone. Vaginal orgasm, while possible, is just not that easy to achieve (we can address that in another article).
For most of us, clitoral stimulation is the quickest road to climax. This doesn't just mean we like it, or want it, or enjoy it. We fucking NEED it in order to come.
Vaginal orgasms are real. But if you want to climax quick? Someone needs to be stimulating the clit with something — usually fingers or a vibrator. Yes, it may mean a little extra work.
But a dedicated dude will make it happen. Hence my point.
A man who cares is just as invested in his partner's pleasure as he is his own.
Sex is not a one-sided experience. If you want to focus solely on your own pleasure, you go right ahead and masturbate to your heart's content. You get it, babe.
But this is sex, and it is between two equal people. That means both parties have the right to pleasure.
In typical heterosexual penis-in-vagina intercourse, the man is almost certainly going to have an orgasm. Now, this doesn't mean a woman shouldn't feel inclined to make the act more enjoyable. Grab those balls, pinch the nips, and go to fucking town.
But because we've come to see this activity as the essence of what sex is, women are disadvantaged during sex. Our orgasms are not guaranteed.
That doesn't mean your sex partner shouldn't make damn sure he's trying to figure that shit out.
Will it always happen? No. Should your boyfriend/husband/SO try really fucking hard? Hell yeah.
Sex is beautiful and amazing, and also dirty and hot. It should be an enjoyable event for both of you. Under no circumstances should you be pinned in missionary, under the gross body of some dickwad, while he furiously humps your body and ignores your needs.
No man worth fucking doesn't care about making you come. If he doesn't want to get you off, he sucks.
This should be in Fucking 101.
Repeat after me, "If he doesn't try to make you come, he sucks."
Which brings me to my next point: a man who cares isn't intimidated by sex toys.
I remember a male coworker once telling me that he'd "never allow his girlfriend to bring a vibrator into the bedroom," following it up with something about his "dick being enough."
I honestly almost choked on my beverage, half cackle, half gag. It was such a sick joke. Here I am, working at a liberal media publication, and I'm still surrounded by clueless men.
The thing is, men everywhere are intimidated by sex toys, regardless of politics. Apart from handcuffs and whips to hogtie us to the bed, they don't really want anything to do with outside tools.
It probably stems from a general sense of inadequacy. It's a feeling of admitting defeat if they bring in a helping hand. Honestly, it's not even the their fault, because this is what they're conditioned to believe.
Newsflash, guys: You seem/are a lot more inadequate when you aren't even willing to put my orgasm above your own insecurities.
Truly, get over yourself. My boyfriend has a perfectly lovely dick, and I still want my finger vibe present in 85 percent of our sexual encounters. It's not that I don't love him; it's not that the sex is bad without a vibe — it's that I can get at my clitoris more easily if I have it.
This is important to me.
I want to have an orgasm too, boys. Unless your dick is going to magically split in two and curve up to hammer my clit during intercourse, I need my fucking vibrator (or vibrators, depending on the day).
A man who cares knows a vibrator is sexy AF.
A man who gives a shit — the kind of man we gorgeous and empowered women deserve to be fucking — is a guy who knows how sexy bringing a vibrator into the bedroom really is. Nothing is going to get me wet faster than a dude who whips out a sex toy to please me.
You're essentially saying, "Hey, baby. I gotchu. I know my dick is rad, but I want you to feel extra good."
A man who brings in a sex toy is a man who knows how women work. That is HOT.
Bringing a vibrator is a huge turn on, guys. No woman is going to think that you're compensating with a sex toy. She's only going to be begging to get naked with you immediately the minute you press that on button.
Get it. Phew.