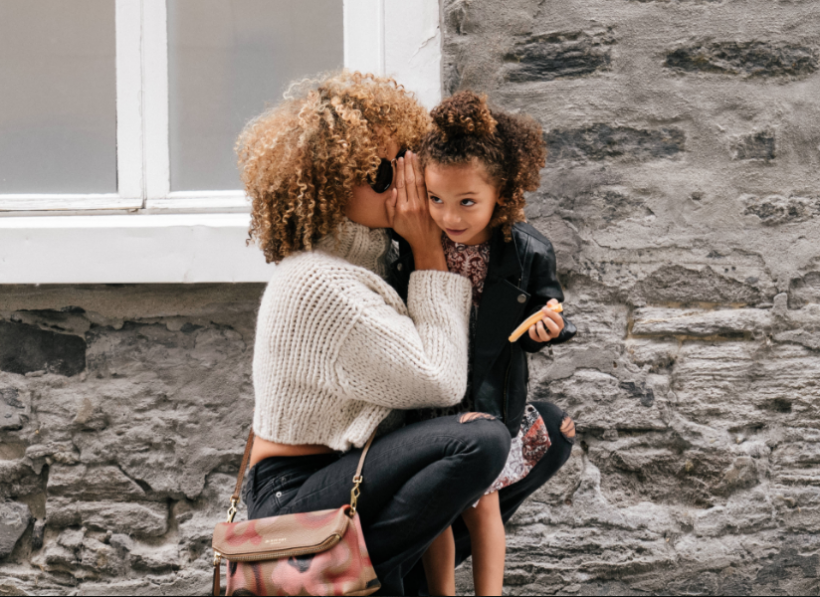 Owning your choices as a parent rocks (Image Credit: Unplash / London Scout)
I opened up Instagram the other day only to be deluged with pictures of my friends' kiddos – each of them dressed in their cutest outfits and carrying backpacks as big as they are, setting out on their first day of school for the year. Some of the kids were older, but so many of them were in the same age group as my daughter – just hitting that preschool-maybe-or-maybe-not age.
I found myself doing the math – here's a kid born in late 2012. Okay, I thought, different birth year. Don't feel guilt. Another child, though, born only a few weeks before my daughter. Guilt takes one step forward. And here, one born two months after her – aaand guilt hits me square in the gut. 
The choices we make as to how and when to educate our children are our own, and I know this, but I suddenly found myself feeling like a pile of human garbage for not making the same choices as my friends.
At these insecurities, my rational being turned and looked at me like I have three heads and said, "Um. Pardon me?" No version of myself should have ever been caught dead letting the decision of one parent affect my personal conviction, and all ensuing decisions, I make as a parent myself. But it was.
I wasn't born or raised in the US, and as such, I have no exposure to the American school system. My mind sometimes starts reeling; every few weeks, I find myself tugging at my husband's shirtsleeve — we're doing the right thing, aren't we? She's not necessarily supposed to be enrolled anywhere, right? How do things work here again? And what's the difference between preschool and kindergarten?
Questions tumble out of me and I find myself feeling just as unsure as I did three decades ago, when I was setting my own tiny foot into the school system.
How did I get here, anyway? When did I morph into an adult and become responsible for a little being of my own? Where's that grownup thrice my size gently holding my hand and ushering me forward into the great unknown?
Each of her milestones is one to celebrate - and celebrate we do indeed - but I mourn the passage of time all the same. And I do so in a way that I can only surmise is unique to those of us who never wanted to raise a child with no siblings.
You'd be on a serious trip if you took a walk through the recesses of my mind. As a mother to one and no other, due to the dark beast that is secondary infertility, I don't have the luxury of the chaos that comes with having multiple children. I don't juggle various kids' schedules, I don't make drop-offs & pick-ups at different locations that cater to a slew of peoples' needs, and I don't pick apart wild fights while I pull out clumps of my own hair in frustration.
I have one daughter – a miracle in her own right. But she is the only one little person to whom I devote my love, and the only one I get to help raise and watch grow. So instead of wild chaos, sibling rivalry, and hand-me-downs, I get to watch with bittersweet joy and heartache as my only child ages far faster than I want her to.
And really, she won't stop. Time keeps moving. Never again will I get my yesterday with her back, or the day before. Our days of breastfeeding are over; spoon-feeding mushy peas are behind us. I've already seen her first tooth break the surface of her gums, and I've watched her take her first step. My husband and I have been through potty training, and we've taught her how to dress herself, and now we're watching her learn to ride a bike all by herself.
Each of these milestones is one to celebrate — and celebrate we do indeed — but I mourn the passage of time all the same. And I do so in a way that I can only surmise is unique to those of us who never wanted to raise a child with no siblings. 
There exists no second-born in our family to distract me from the sweet sorrow of watching my daughter grow up and take off. 
So it comes as no surprise that I wince when I see pictures of my friends' kids clambering up those school bus steps, because they serve as a painful reminder that our time is coming soon enough. And I'm nowhere near ready.
But here's the part in the story where I break off, stare myself in the eyes, grab hold of my shoulders and speak firmly yet calmly, using only my most coveted collection of swear words, because every once in awhile I just need that reminder that I'm okay, and that everything's going to work out just fine. Here upon me are the days in which I find Cheerios in the couch cushions and Frozen-themed wristwatches tangled up in my hair.
That darling girl of mine is here with me now, and no matter if she's home for ten thousand more days or she's out there in the world gathering up a lifetime of experiences of her own, she'll always be nestled safely inside my heart, and tangled up wildly in my arms.
So you'll have to excuse me while I sit myself down for one stern-ass pep talk about the importance of trusting my gut, having the courage of my convictions, and marching boldly ahead in my resolve to absorb every last minute I get with my growing girl, knowing that never again will any of these days be upon me. I'll always love watching her grow, though I'd kill for a pause button. But as no such button yet exists, I'll gather up all my gusto and my favorite snacks, and carry on along this wild and wondrous road with gratitude.