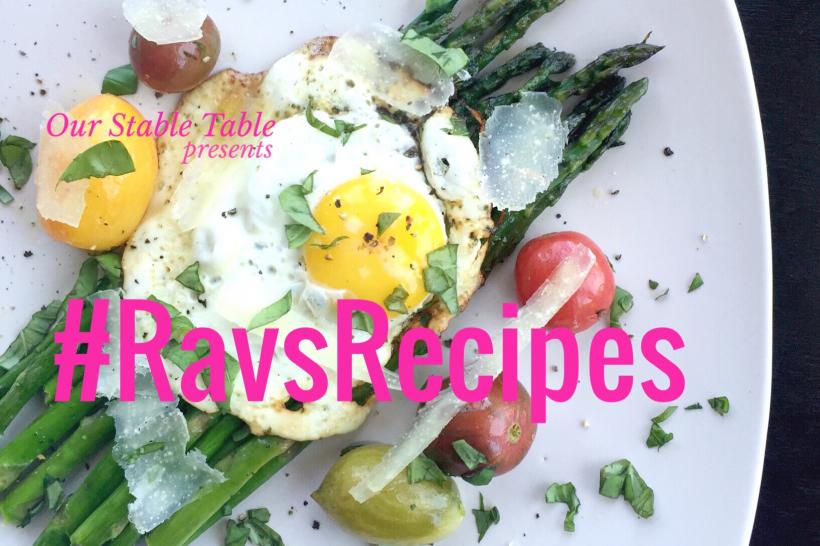 To elevate this dish, consider drinking a dirty martini while your asparagus roasts. Image: Our Stable Table.
I love my tiny trees.
Asparagus. It's a definite love-it-or-hate-it kind of vegetable.
In general, I'm a veggie lover, but I'm a super asparagus fan. There is no way that I won't eat it.
I've even been known to eat it canned in my more desperate moments.
It took me a long time (maybe too long?) to figure out a magic trick to consistently eliminate the woody ends. To be clear, I'm not typically in favor of eliminating woody ends in other forms, but woody ends do not belong on asparagus. ;)
The trick is this: Take the spear in both hands and snap the bottom part off. This will naturally break off the woody parts.
For a quick video tutorial, watch the video below.
My standard preparation of these little green guys is a simple oven roast.
Coated in a little olive oil and salt, this is a sure-fire way to create a great side dish every time.
And considering we don't buy it often, because asparagus typically tends to be pricey, I'm happy to employ a method that I know will achieve consistent success, even if it is basic AF.
To elevate this dish, consider drinking a dirty martini while your asparagus roasts. You can also add some petite, fancy tomatoes, a little Parmesan, and a crispy-fried sunny-side-up egg.
Or, if you're one of those multi-taskers, have both. At the same time.
Ingredients:
1 lb fresh asparagus spears
1 large handful mini tomatoes
1/8 cup Parmesan cheese, shaved
Olive oil
Kosher salt
Cracked pepper
1 Tbsp butter
1-2 eggs
Fresh basil, chopped
Directions:
Mix your martini. Make it extra dirty, because you will be dealing with woody spears and you might need a good dose of courage.
Snap off the ends. Do it. If you're still unsure, watch the video again. That's what it's there for.
Lay your prepared asparagus on a baking sheet, along with the tomatoes. Lightly drizzle with olive oil, and sprinkle with kosher salt. Place in a 400ºF oven for about 6-8 minutes.
While your asparagus and tomatoes are cooking, take out a skillet and melt your butter on medium-high heat. Crack the egg into the sizzling skillet and LEAVE IT ALONE. I know — It feels counter-intuitive, but leave it alone anyway.
Use this time to shave a little Parmesan with a vegetable peeler.
Remove asparagus from the oven when it is bright green and still has some firmness. Plate with tomatoes, and top with crispy fried egg, Parmesan, cracked pepper, a sprinkle of kosher salt, and fresh chopped basil.
Enjoy!