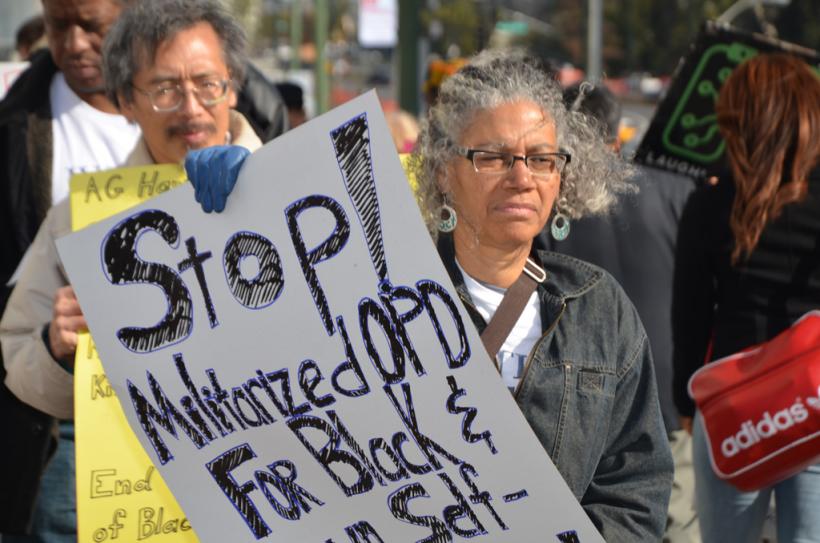 "The police shooting of ‪Charles Kinsey last week [as of writing] exposed the myth of policing as a viable response to crisis scenarios in the United States." Image: by Daniel Arauz/Flickr.
This article originally appeared on AlterNet and has been republished with permission.
A video showing African-American mental health therapist Charles Kinsey lying on the ground with his hands in the air before being shot by a North Miami police officer has rightfully provoked nationwide outrage and horror.
The shooting, which Kinsey survived, has also shined new light on police treatment of disabled people, who are disproportionately likely to be killed by law enforcement. Kinsey was shot while trying to help autistic man Arnaldo Rios-Soto, whose family says has been traumatized by the incident and is now unable to sleep or eat normally.
The outrage has translated into calls from a handful of advocates to boost "federal funding to increase training for police, and for technology that can help locate people with disabilities or dementia who wander away from their caretakers," according to Miami Herald reporter David Ovalle.
But some human rights campaigners argue that now is an important time to scrutinize federal funding of highly-militarized police trainings in the Miami area that may contribute to surrounding police agencies' aggressive tactics.
During each of the federal years 2015 and 2016, the Miami/Fort Lauderdale area received roughly $5.5 million dollars from a controversial "counter-terror" federal grant program that finances trainings that contribute to the militarization of police forces nationwide.
Known as the Urban Areas Security Initiative, the program has financed a police militarization and weapons expo known as Urban Shield and the training of SWAT teams across the country. In addition, the initiative has bankrolled the dispersal of military equipment to law enforcement agencies, as well as so-called Fusion Centers — intelligence-gathering hubs that have been used to warrantless surveillance on Occupy activists and Muslim-American communities.
Campaigners across the country say that this federal program has financed some of the most blatant examples of law enforcement aggression and overreach that have touched off nationwide protests.
"The police shooting of ‪Charles Kinsey last week [as of writing] exposed the myth of policing as a viable response to crisis scenarios in the United States," Tara Tabassi, national organizer for the War Resisters League, told AlterNet:
Policing upholds the current social order: whiteness, neurotypical behavior, and wealth are the markers of who matters in our society. When someone displays neurologically atypical behavior or thoughts, makes unexpected body gestures, or is having a crisis about whether they want to live or not, they are considered suspect, untrustworthy and criminal. When the person is a Black male in a working class neighborhood, existence is often seen as criminal.
"What matters now," Tabassi continued,
is that we hear an overwhelming cry for more police trainings, yet the content of current trainings goes unexamined. In the case of North Miami, Florida, families with children or siblings living with autism are asking for more relationship building with the police, and police sensitivity trainings. While sensitivity trainings are a first step, they do not address that fact that policing is built on a foundation of militarism and racism. We need more.
Notably, the police officer who shot Kinsey, Jonathon Aledda, is a SWAT Team member, according to city manager Larry Spring. Police departments in the Miami area have used the recent massacre at the Pulse LGBTQ club's Latinx night to justify a rush order of military equipment. In a letter to the city commission sent June 28, Miami Police Chief Rodolfo Llanes argued that the equipment is necessary for the "aid and rescue" of civilians.
This push comes amid a nationwide effort by police departments to invoke the massacre at Orlando's Pulse LGBTQ nightclub and the killing of five Dallas police officers to ramp up the militarization of their forces and repress demonstrations. This includes the potential reversal of hard-won reforms by the Black Lives Matter movement aimed at partially curbing the distribution of weapons of war to police departments across the country under what is known as the Federal 1033 Program.
Calls for funneling resources into trainings continue to mount even though police officers behind key, high-profile killings have themselves received training. St. Anthony police officer Jeronimo Yanez, who shot Minnesota man Philando Castile, in 2014 participated in the "Bulletproof Warrior" training.
Agustina Vidal, an organizer with the Icarus Project, a mental health support network and education project, told AlterNet over email that:
SWAT and police team tactics traumatize communities and disproportionately impact people of color, as well as low-income, LGBTQI, and immigrant groups. Disturbingly, many of these raids come as the result of policing mental health, where 'suspects' are in fact people experiencing an emotional crisis. People in crisis do not need violence, they need meaningful support and resources.
"Militarizing the police endangers our communities and heightens risk of injury and death to groups that are already disproportionately impacted by state violence," Muhammed Malik, long-time resident of North Miami-Dade County and former Racial Justice and Voting Rights Coordinator at ACLU Florida, told AlterNet. "The mentality of militarization within the context of a racist society warps neighborhoods into war zones and views residents as enemy combatants to be subdued by heavy force."
"This incident in North Miami is not isolated," Malik continued. "It's part of an ongoing and tragic pattern of militarized violence, which serves as yet another reminder that state funding of police militarization should be opposed in the interest of protecting our residents' right to life and right to live in an environment free of state violence."
Tabassi urged,
The policing of Charles Kinsey and Arnaldo Eliud Rios Soto makes clear that mental health professionals must be the first option for someone in a moment of crisis — not a militarized SWAT team. SWAT officers often respond to people in moments of crisis or suicide: Where are our institutions for de-escalation, emotional support, and safety planning as solutions for crises? Police teams across the country are regularly trained in military tactics, with an array of war weapons. Police are doing exactly what they are trained to do.
---
Sarah Lazare is a staff writer for AlterNet. A former staff writer for Common Dreams, she coedited the book About Face: Military Resisters Turn Against War. Follow her on Twitter at @sarahlazare.
Image: 2013/03/05 Rally to Prosecute Oakland Police Officer MIGUEL MASSO! by Daniel Arauz (CC BY-SA 2.0)​