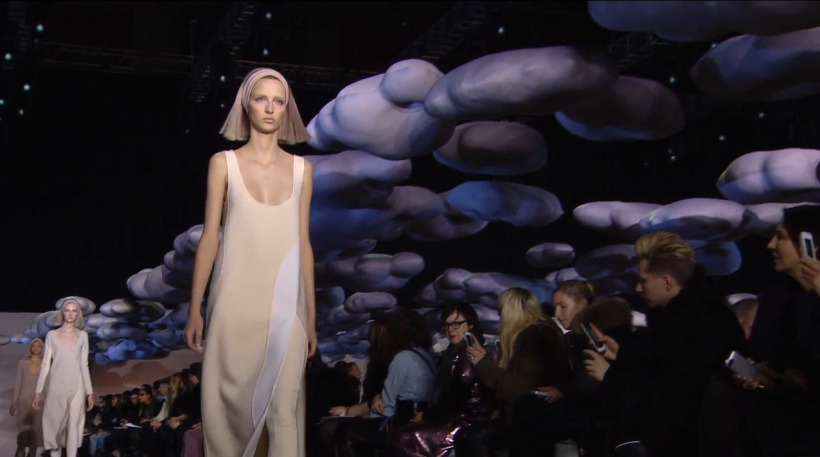 New York Fashion Week's show sets have been intoxicatingly ethereal — from Marc Jacob's surreal cloud walk (we really didn't give a sh*t about the Kardashion boobs involved) to the Opening Ceremony's 4,000 lbs of melted chocolate wall paint — NYFW has been a waking dream of divine fashion surroundings. 
A lot of us see fashion as whatever Victoria Beckham is wearing this week (in addition to her patented pout of course), but these runway shows offer a rare glimpse in the designers' minds allowing us to view their new wares – and thus fashion – through a different kind of lens. Rather than crafting a mere parade of emaciated beauties showcasing breasts, blood and even a pig-face or two (who comes up with this stuff?!) instead it's become an immersive experience. The set has become almost as important as the clothes in completing the designers' vision, serving as a pivotal piece for the fantasy narrative they're weaving before your eyes.
Just what are those clothes really trying to say anyway??
The proper runway set is the essential context clue for what a designer is trying to say with a collection. Rodarte took us to space with their Star Wars-themed catwalk; Hugo Boss led us through the looking glass and into a hard-lined – yet sexy – collection; Lacoste's LEDs and mirrors made us imagine what a cleaned up, chic version of a rave would look like.
Now that these to-die-for garments are off the runway and are slowing drifting down to reality, it inevitably means some will lose their allure while others gain it — these designs take on a new look when worn by someone we know and love (Michael Costello's Grammy dress for Beyoncé, much?), while other outfits will inescapably look absurd (we're still waiting to see the first brave face sporting a Marc by Marc Jacobs giant bow shawl). 
Image: Marc Jacobs