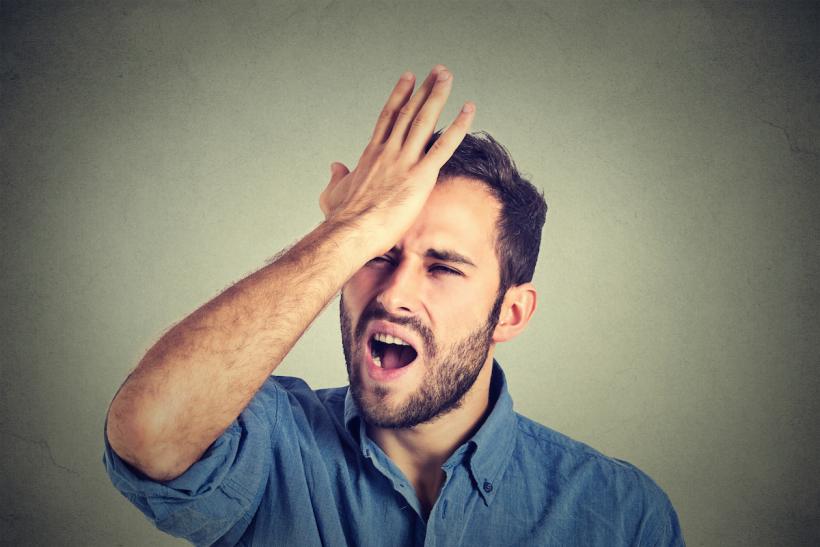 A vagina is not a grapefruit for you to chew on.
There is not nearly enough information on how to give oral sex to women. We're too wrapped up in blow job techniques to be bothered with the clitoris. No! No to this!
Mastering cunnilingus is something all men should aspire to do. If you're making any of these eight, monstrous cunnilingus mistakes, here is why they're terrible and how to fix them. Hurray for happy vaginas!
Forgetting about the clitoris.
The golden rule of cunnilingus is: STAY ON THE CLITORIS. 
All the other parts of a vagina are great, and certainly, deserve their moment in the sun, but the clit is king. A big mistake guys make is either forgetting the clitoris or (gasp!) not even knowing where it is. *cries*
There have been too many times when I've looked down at a man, and suddenly realized he thought my clitoris was a full two inches from where it is. It's heartbreaking.
What to do instead: Look at a few pictures of the vulva, vagina, and clitoris. Ask your girlfriend if you're in the right spot. She'll tell you if you're not. It's not that hard to find; it's right on top; like a cherry on a sundae.
Darting your tongue like a lizard.
Attention to the clitoris is crucial when giving good oral, but you have to make sure you're giving it the right kind of attention. Lizard tongue is the bane of many women's existences. It's when your partner darts his creepy little tongue in and out of his mouth, making momentary contact with the clit, but never enough to feel anything, but frustration. 
Some guys think it's a form of oral foreplay or teasing, but it's not. It just sucks.
What to do instead: Instead of going full reptile on your girlfriend's vag, stick with consistent circles in a counterclockwise motion. Just keep doing that and she will come. Promise. 
Not listening to her sounds and commands.
You'll know something is working by paying attention to the sounds and words coming out of her mouth. If you're going down on your girlfriend and all you hear is radio silence, all is not right in paradise. You are doing something wrong.
What to do instead: If you're unsure, ask what to do or what she likes. Try a different movement, such as circular rotations or a figure 8. Pay attention to the clitoris until she's making pleasant sounds or telling you not to stop doing whatever you're doing.
Doing too many things at once.
Doing too many things is not the answer. Sure, a little variety is nice, but when you're going from clit to vulva, to clit to fingering, to I-don't-even-know-what, it overwhelms us and makes it hard to get off. 
Buddy, you are not a porn star, and a vagina is not a violin in need of a constant change of motion, tuning, and movement. We ladies appreciate that you're trying, but it isn't working.
What to do instead: Showing off your plethora of extraordinary, incredible, over-the-moon oral skills is highly appreciated, but maybe just stick to one or two of those skills per oral session. Instead of finger blasting your girlfriend's G-spot while licking her clit and somehow also fingering her butthole and tweaking her nips, just stick with tender G-spot stroking and clit action.
Using your teeth in any capacity. 
A vagina is not a grapefruit for you to chew on. Using teeth during oral sex is an absolute "NO-NO." If you want to graze your chompers along a thigh or over a nipple, great. Do NOT put those pearly whites anywhere near a vagina. Vulva and clitorises are sensitive and do not need a nibble. 
What to do instead: Kiss it. Lick it. Suck it. Duh. 
Slipping an unexpected finger into her rear.
Props for being adventurous, but can you not? Now, some women enjoy a little ass-play during their oral experiences, and that's cool. But you know what women don't like? Not being asked if that's something they enjoy. Slipping a finger into her ass will almost certainly extinguish whatever orgasm was mounting, leaving her annoyed and you in trouble.
What to do instead: Before you start sexual touching of any kind, ask your lady-friend how she feels about you touching her butthole. If you want to surprise her, buy her something nice; take her to the movies. No one needs that kind of surprise.
Aggressive finger banging.
Fingering is lovely and can make the oral sex experience explosive, but do not go at it like you're trying to pound our pussies into diamonds. No girl wants a bruised vag, OK? The word "banging" should never be used to describe anything you're doing to a vagina. They are fragile and need to be handled with care.
What to do instead: Insert a finger into her vagina and hook your finger up. Massage her G-spot methodically and gently. 
Stopping before she's finished.
Of all the shitty things you can do, no offense is more egregious than stopping before she has climaxed. I don't care if you're over it; it doesn't matter if you'd rather move onto the main event. You have to finish what you started.
What to do instead: Keep doing "that thing she likes" until you hear her say: I'M COMING!!!