Trump's only been in office... EIGHT weeks?!
Can you believe it's only been eight weeks since Trump took office? That's not even a full school marking period. It's shorter than a 90-day free trial on an app or news site. It's nothing!
But it's also felt like For-Ev-Er.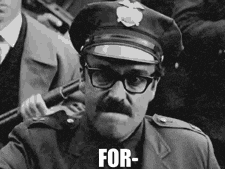 I'm starting to see signs of burnout among my friends as we resist and persist our way through the daze of the days. However, there is no end in sight so we need to give ourselves permission to pace ourselves and take care of ourselves. 
But self-care doesn't have to mean totally disconnecting from our passion for change. Here are a few ideas for how to recharge for the resistance.
1. Get outside!
The weather is starting to get nicer and we should all take advantage of the fresh air and sunshine! Go for a walk or a hike or a camping trip or a picnic. Hey! Do you live near a National Park? How about making a point to visit to show your love for our most amazing national nature preserves?
2. Speaking of getting outside, you can do a little something for the environment in your own backyard, or on your patio, or in a community garden.
Try planting a few things that are beneficial to pollinators. Bees and butterflies needs to eat too, and we can help them out.
3. Spring cleaning can become a charitable endeavor, as well as a great chance to reduce, reuse, and recycle unneeded objects.
Is there an organization in your area that takes professional clothing for people interviewing for jobs? Maybe an organization that will take gently used linens for families transitioning out of homelessness or women setting up a new home after leaving an abuser? Are there organizations helping refugees resettle that could use kitchenware? Clear out the clutter and give it to someone who needs it!
4. Spend some time with animals.
See if a local shelter or rescue organization needs a dog walker or a kitty cuddler. I never regret time I've spent with animals, and I bet animals don't regret time spent helping humans relax a little.
5. Finally, don't forget that you're not alone.
Plan a happy hour or a book club or some other gathering with friends to celebrate the longer evenings. Break bread with the people in your world who need some physical and spiritual nourishment. Use the time to laugh and enjoy each other. We are all in this together and it can — and should — be about fellowship.
Our struggles are all real, my friends. Don't be ashamed to say it. Let's take care of ourselves and find the joy in life.