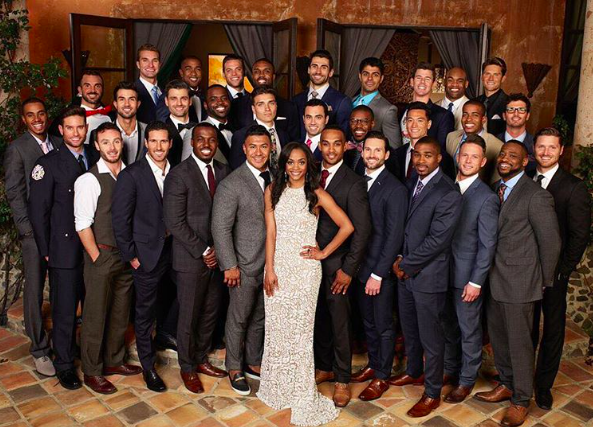 Instagram/ bacheloretteabc
The story opens with this season's Bachelorette, Rachel Lindsay, wearing the lavish red dress from the promotional materials, and we briefly revisit her experience as the runner-up on the last season of The Bachelor, when everyone was rooting for her to win at love. But this season is different from the last in an important way, one that I've been increasingly nervous ABC won't manage well: the network doesn't seem to know what to do with a black protagonist. In several interviews, the show's host Chris Harrison approaches the subject with a milquetoast, #AllLivesMatter-style approach, spitting platitudes like, "Rachel just happens to be black." 
I find the claim that Rachel's ethnicity doesn't matter upsetting; let's be honest, Rachel's race is the only reason I'm watching this season.
Seeing an intelligent beauty who represents me feels like a kind of accomplishment. But it seems apparent that those promoting the show (and the Bachelorette herself, on occasion) want us to forget her race, despite the fact that race does play a role in matters of romantic compatibility. 
All of these emotions and thoughts were swirling in my head before the premiere. Fortunately, the first episode isn't as overtly terrible as I had initially anticipated. Despite the previews, in which one white dude emerges from the limo announcing that he is, in fact, "Ready to go black," many of the candidates are more endearing and likable than they seemed in the live introductions and online profiles that were unveiled last week.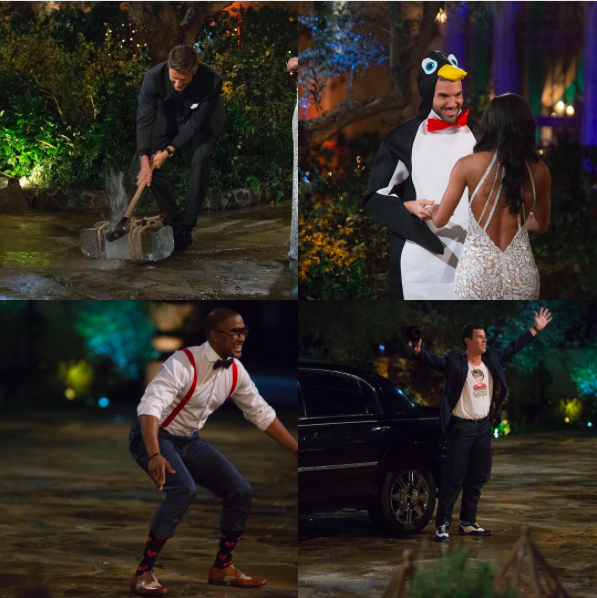 In the premiere, Rachel is here to slay — and find her future husband — in a gorgeous, backless white sequins number. She appears super sweet, kind of quirky, and obviously smart. Of course, as she meets her suitors for the first time, she's presented with a few gimmicks: one dude hops out dressed like a penguin, and another shows up with a mannequin, which is a hilarious highlight of the show, in my opinion. (The dummy has his own confessionals, narrated in a French accent). Despite being an actual medical doctor, the dude who calls himself "The Tickle Monster," turns out to be just as creepy as his nickname implies — when he offers to fondle the Bachelorette. Yes, in the very first episode. 
But then, the absolute worst gimmick of all appears: The Whaboom guy.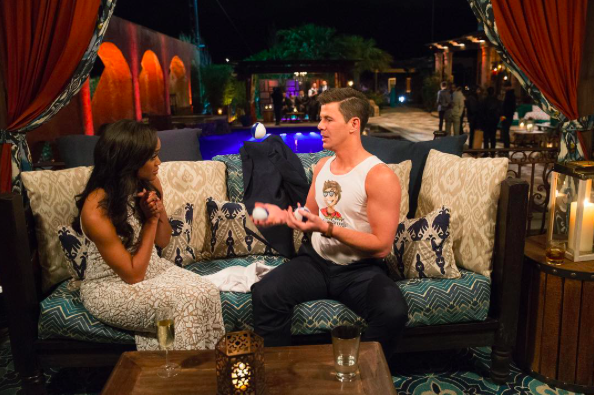 Loud and obnoxious, dressed in a sleeveless white tank decorated with his own mascot under a blazer. Not only does this guy show up looking crunchy as ever, but he also comes equipped with a megaphone to announce his arrival, followed by some tragic commentary about his testicles and how he's ready to be Rachel's future husband. Their intro is awkward and uncomfortable, as he shakes his head around in some sort of Tasmanian Devil-like fit, all while shouting the word "Whaboom." 
It's clear that I'm not the only person who is absolutely, immediately irritated by Whaboom, aka Lucas. Blake E., the drummer, who arrives in an adorable way (accompanied by a marching band), seems ready to stop the shenanigans, and questions exactly why Lucas is there since it seemed apparent that "Whaboom" is pretty self-promoting. These two even exchange some heated words. 
From the outset, Blake E.'s artistic job struck me as incompatible for Rachel, but he actually seems super cute on camera, and appears to take a liking to her early on, so who knows. The biggest shock came during the rose ceremony when both Blake E. and the "Whaboom" guy make it to the final round. Hot Blake K., sadly, is cut, along with Milton, who bursts into tears when he acknowledges the fact that Whaboom made it to the second round. Please note, Milton doesn't seem like a fit either, after doing this creepy purring thing that Rachel is clearly not into. 
Another creep factor: Rachel's grade school classmate Frederick. I never anticipated that he would make it past the first rose ceremony, considering he admitted to finding her after years of no contact, just to try his chance at love. He probably should have moved on at some point, but in the words of Rachel Lindsey herself, "The struggle is real." 
One dude who seems to be a strong candidate to win this whole thing: sexy Bryan.
I don't necessarily find him attractive, but his methods of seduction include speaking a foreign language and exerting his dominance (in the form of a kiss) over an already strong woman who admits she likes to be in control. The two make out a couple of different times, and poor drunk Mohit yells "Nooo," from the bushes. That guy never stood a chance and is also cut in this first round. Bryan's je ne sais quoi is too strong a match for any of the other bachelors, but if Bryan wins, it's going to feel like when you go to Nordstrom's, try on every single dress on the sale rack, but end up just buying the first one you put on.
Just as things are getting a little too hot and heavy, the show switches gears back to daddy Kenny, who gives us a little bit of insight into his family. Kenny talks about his home life and gushes about missing his daughter, who we find out about early on, and who he's very close to.
I'm rather disappointed with Iggy, who looks good on paper, but who comes off as boring in this episode. However, another early favorite pick, Diggy, does not disappoint. He comes on boasting about his "swag" and coming through in a gingham print button down, bold pink bowtie, and oversized tortoiseshell frames. 
Everyone in the house seems to be "smitten" with the contestant. And all she asks in return is what every woman wants in her dating life: for the men to "Keep it real, to keep it 100." 
It seems we were on our way to greener pastures and smooth sailing until the scenes for what to expect from the season arrived. 
I hope these clips are a bold exaggeration of this season, intended to get us to tune in again. Of course, I'm (secretly) here for every last second of the drama, but it makes me nervous to see that there's conflict built around a "country boy" surrounded by the group of black contestants in the house. We see this contestant being aggressive, then hear foreshadowing from one of the other men in the house that, "Blood is going to be shed," and cut to a shot of a swollen eye dripping with blood. 
So far, so good: I'm excited to watch Rachel slay her wardrobe every week, accompanied by her fluffy, toasted orange-colored dog named Copper, who is totally stealing the show. Hopefully, we'll be able to follow a journey of true love as Rachel continues "letting love lead the way." 
---
Join Ravishly (@ravishlydotcom) and Jagger (@BasicBlaecGirl) on Twitter each week during The Bachelorette, to watch the drama unfold! 
SaveSave