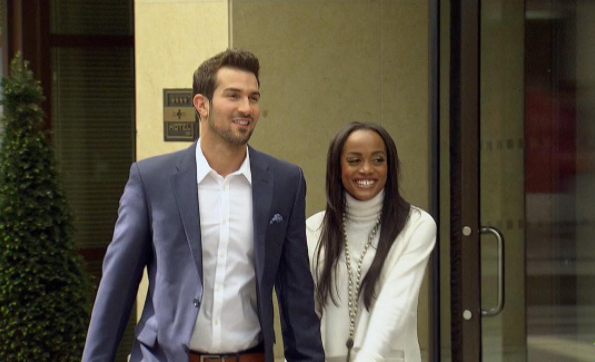 Bryan gets a hometown, and it's previewed he makes it all the way to the final two. This seems... questionable. (Image credit: Instagram/@bacheloretteabc)
After a week off, The Bachelorette is back, and I'm not going to lie: this week was just more thirst, desperation, and boredom. The episode kicks off in Geneva, Switzerland. It's gorgeous, or as Rachel describes it, "picturesque." She says she is "100% falling for these guys," and that she's a little shocked by it.
The pressure is starting to build because this is the last week before "hometowns," the notorious episode in which the bachelorette/bachelor goes back to meet the final four contestants' families.
Rachel walks into the room where the five contestants who are left are sitting, looking like an "angel," as one of the guys says, dressed in all white. I'm living for her makeup and the asymmetrical-cut cashmere turtleneck she's wearing. She gets right to business and gives Bryan the first one-on-one date… again. There's a quick glimpse of a shirtless Bryan as he prepares for the date, and he shortly emerges dressed in all the accouterments of a FuckBoi: a sharply tailored suit with a pocket square to match.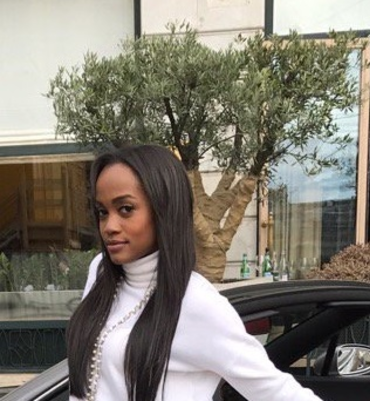 The couple gets into a Bentley with red leather interior, and Rachel is smiling ear to ear. They drive through Geneva and stop at a watch store — that's what the city is famous for, after all. Rachel seems lost in the sauce for this man, and decides to buy Bryan one of the watches they're trying on. He is ecstatic and leans in to eat her face. She's so sprung. It's both cute and nauseating to see them happily pawing each other like horny teens. 
The lovers walk into a gorgeous venue. Is it a castle? We're in Switzerland, so... it's probably a castle. 
Bryan reveals that he went to an all-boys school. The conversation strays to chatter about how the two have private school in common, and the obvious quip about Rachel's Catholic school girl outfit. Then the subject changes to a conversation about a jealous ex — the problem stemmed from Brian's relationship with his mom, and the two broke up because of the beef his ex and mom had. Bryan is obvi the only son, and this sounds like a red flag to me. 
It looks like Rachel and Bryan are having dinner in the middle of the Beauty and the Beast ballroom, and just like in the movie, Rachel gives Bryan a red rose that may lead to eternal love. After the rose is gifted and they lean in for another round of tonsil hockey, a string symphony emerges out of nowhere, and the date ends with them making out for the rest of the night. 
Dean Holds Back, Then Opens Up About Some Majorly Strained Family Relationships
Next up, Dean's date rolls around, and both are dressed fancy for church. Dean is hot AF, but he's clearly a child.
They are so adorable walking down the street. She's in a pistachio pastel green dress coat and a cream knit bodycon, and Dean is keeping it simple in a white button down, slacks, and oxfords. Their brunch at a cafe is super awkward as the clock is ticking, and Rachel is dropping hints for the men to take advantage of these dates to get to know her. Dean then asks her, "Do you believe in the tooth fairy?" She seems annoyed but chuckles and tries to be more specific. He follows that up with: "What's your favorite dinosaur?" That's when it seems she realizes their relationship "lacks the depth and seriousness" that the other relationships have. Prior to this, Dean confessed to being super nervous because his relationship with his parents and family seems strained. 
Rachel is sensing something is bothering Dean at dinner. He elaborates that his family is weird, and seems to be dancing around the fact that his family is somehow broken. After coming clean, Rachel is down with the possibility of walking into some kind of dysfunctional situation. The plot thickens when we catch a glimpse of Dean's dad, who appears to be a devout yogi, as revealed by @deanie_babies Instagram page. Sleuths on Twitter even went so far as to track him down, revealing that he works at a kundalini yoga studio, under the name Paramroop Singh Khalsa. Rachel and Dean strike me as such a good match, and he seems really sweet, but he's just too young. 
But it really doesn't matter at all — rumors are swirling on the internet that he doesn't make it to the last round, and that he was spotted on the scandalized spinoff Bachelor in Paradise.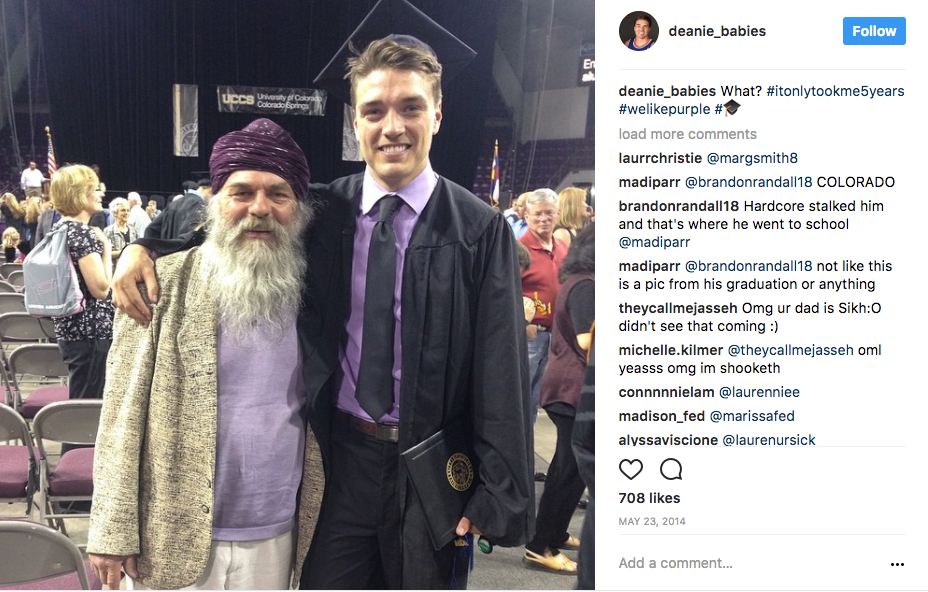 #TeamPeter: Holding Strong As The Surest Bet
Peter shows up afterward, and he is finally getting his second one-on-one. He is greeted by Rachel jumping into his arms, giving him lots of kisses. I am absolutely #TeamPeter. Rachel hasn't had a one-on-one with Peter since their first date, and I think it's a good sign that they're able to pick up where they left off. They fly off through the Alps in a helicopter, then ride around on a dog sled. Rachel is doing way too much.
The dogs are a perk, but it looks freezing — I would rather die, love be damned. But she's determined, and is still pushing and looking chic in a cashmere scarf and goose down coat. Peter and Rachel end up wrapping their bodies around each other in order to stay warm in the snow, as they rekindle the spark they once had. 
During dinner, we discover that Peter's parents are named Gary and Lynn, and it's the whitest thing ever. Peter then bursts my bubble by admitting that he has never been with a Black girl. This does not matter in the grand scheme; it just adds an additional layer in learning how to communicate in a successful relationship. After reassuring Rachel that it won't matter to his family at all (walking into a Guess Who's Coming to Dinner situation is always a scary part of parent introductions), he segues into a sad story about his ex. Peter admits to abandoning his ex and never letting her meet his parents because she wasn't the one. But he is extremely forthright in letting Rachel know that he would tell her if things between them were not heading towards an engagement. 
The Dreaded Three-On-One Elimination Date
We head back to the rest of the boys, who are understandably nervous. There is a set-up for a triple date with only one rose to give. Matt is the first to go, and Rachel is letting the waterworks flow. Matt seems bummed, but he makes sure to bring his glass of champagne on the ride home to dull the pain. Totally a baller move, and it's super sad that ABC won't be exploring my home state, Connecticut. They share one last tender make-out before he leaves. As Rachel dries her eyes, it's down to Eric and Adam. Adam's hair is so crunchy… maybe it's too much gel. And I am sure that stuffed mannequin didn't help his situation. (No disrespect, Adam Jr.).
But after a really hard sell and lack of shared enthusiasm about meeting his family, Adam gets the boot, and stinky Eric gets to stay. Given that Eric has never brought home a girl before, it's a big gamble, but we'll see whose family wins over her heart as they head toward the homecoming.