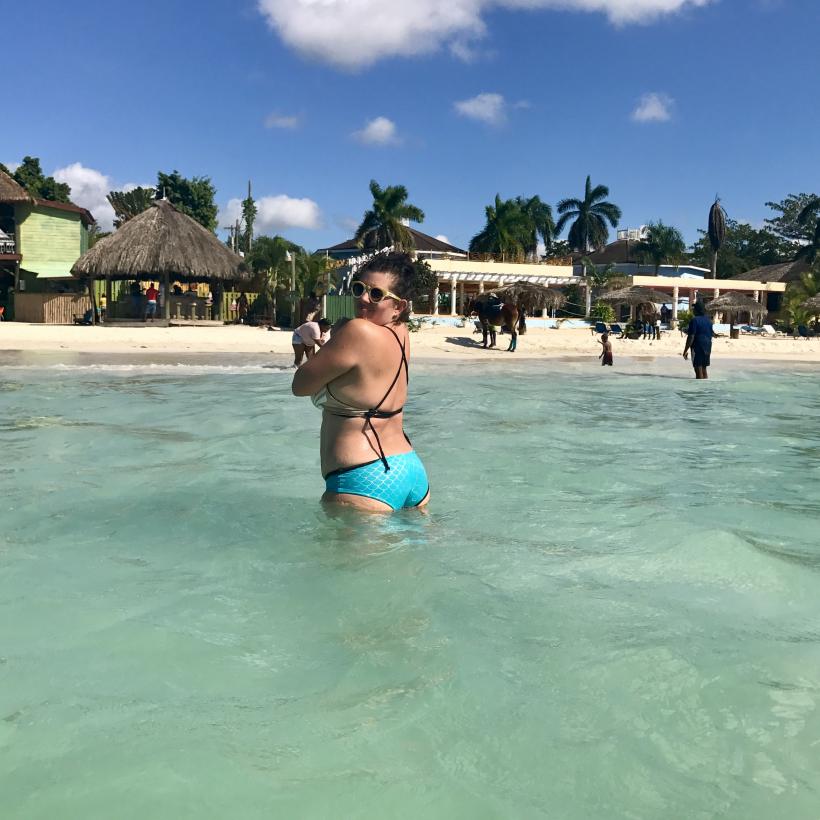 As our lovely Editor-In-Chief jets off to a body positive retreat at #BabecampJamaica, we're following her along for a week of ocean air, radical acceptance, and all-around babeliness. You can find previous entries here.
Gather round, ladies and gentlemen, for the story of how a jellyfish stung me on my ass. It hurt. I got peed on. By several people, a few of them strangers. I would not recommend being stung on the ass by a jellyfish. 
This morning, we returned to the coastline for our sun salutation and meditation. I took my mala along, and spent much of the session internally chanting my mantra. Meditation at the seaside is something very special.
And then four of us went to Seven Mile Beach. The best way to go to the beach here is to find a hotel or restaurant and then use their portion of it. Security guards stand watch to chase off the aggressive peddlers. Also, very kind women bring you whatever drinks you ask for. In whatever quantity you ask for them. Just in case you think I went a day without weed in my life, don't worry. There were many dudes with joints and lighters.

This is a postcard coastline. Weed included.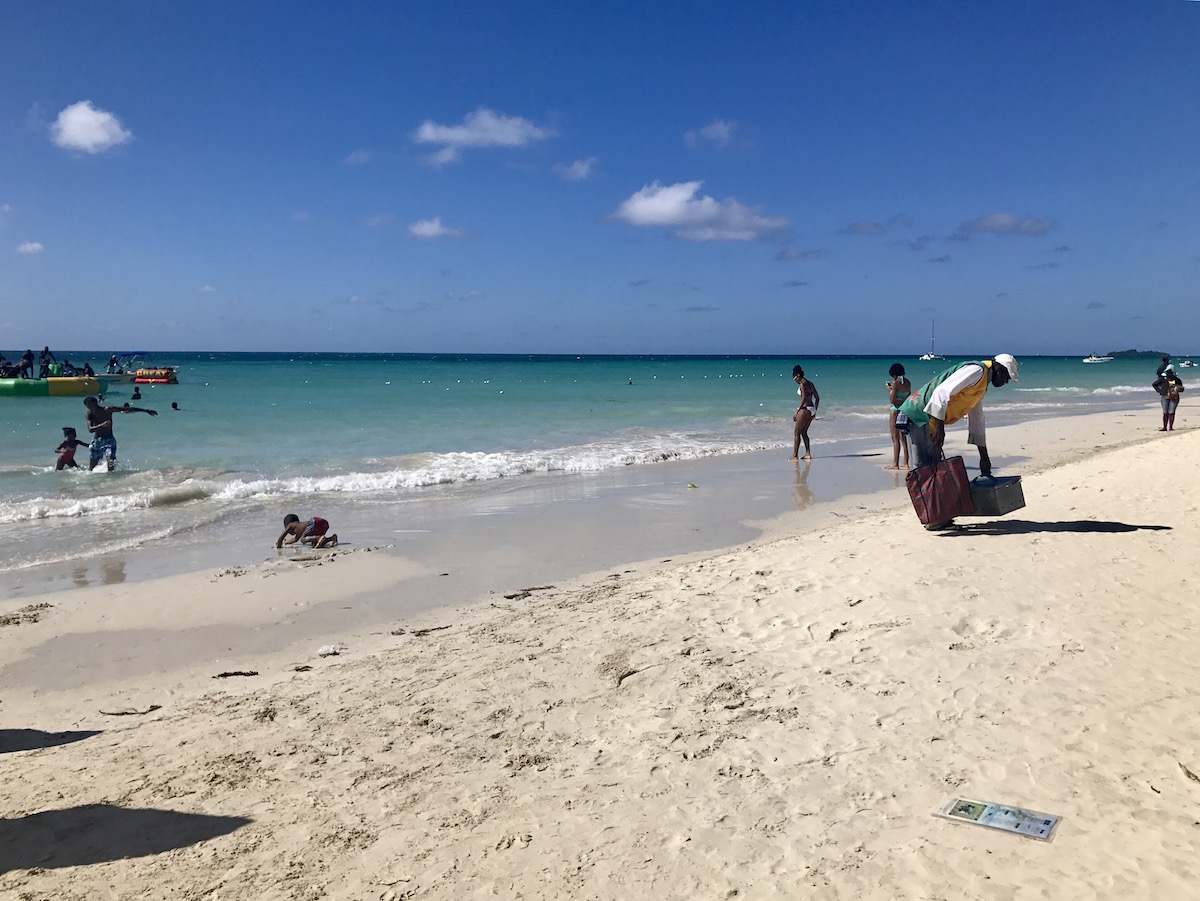 After a rum drink that tasted like, well, rum (with bananas maybe?), we walked across the white sand into the crystal blue idyllic water.
AND THEN A MOTHEREFFING JELLYFISH STUNG MY ASS.
At first I wasn't sure what had happened to my ass. I told Miranda, "Something is wrong with my butt, it really hurts." And then a few minutes later, "No, it really really hurts, like a jellyfish sting." (But there aren't any jellyfish here, right? The water is clear.)
THERE ARE JELLYFISH HERE.
I didn't know what else to do, so I found a female employee who looked like she wouldn't think I was crazy. She took me to the lifeguard. I think the lifeguard did think I was crazy, but he had some ointment that he offered me with the promise that it would help. He instructed me not to scratch the stings, as that would only further spread the neurotoxin (NEUROTOXIN).
So I laid on a lounge chair and wept.
THIS IS MY BUTT. THOSE WELTS ARE ALL ACROSS IT. THEY DO NOT LOOK BAD. THAT IS A LIE THEY ARE VERY BAD.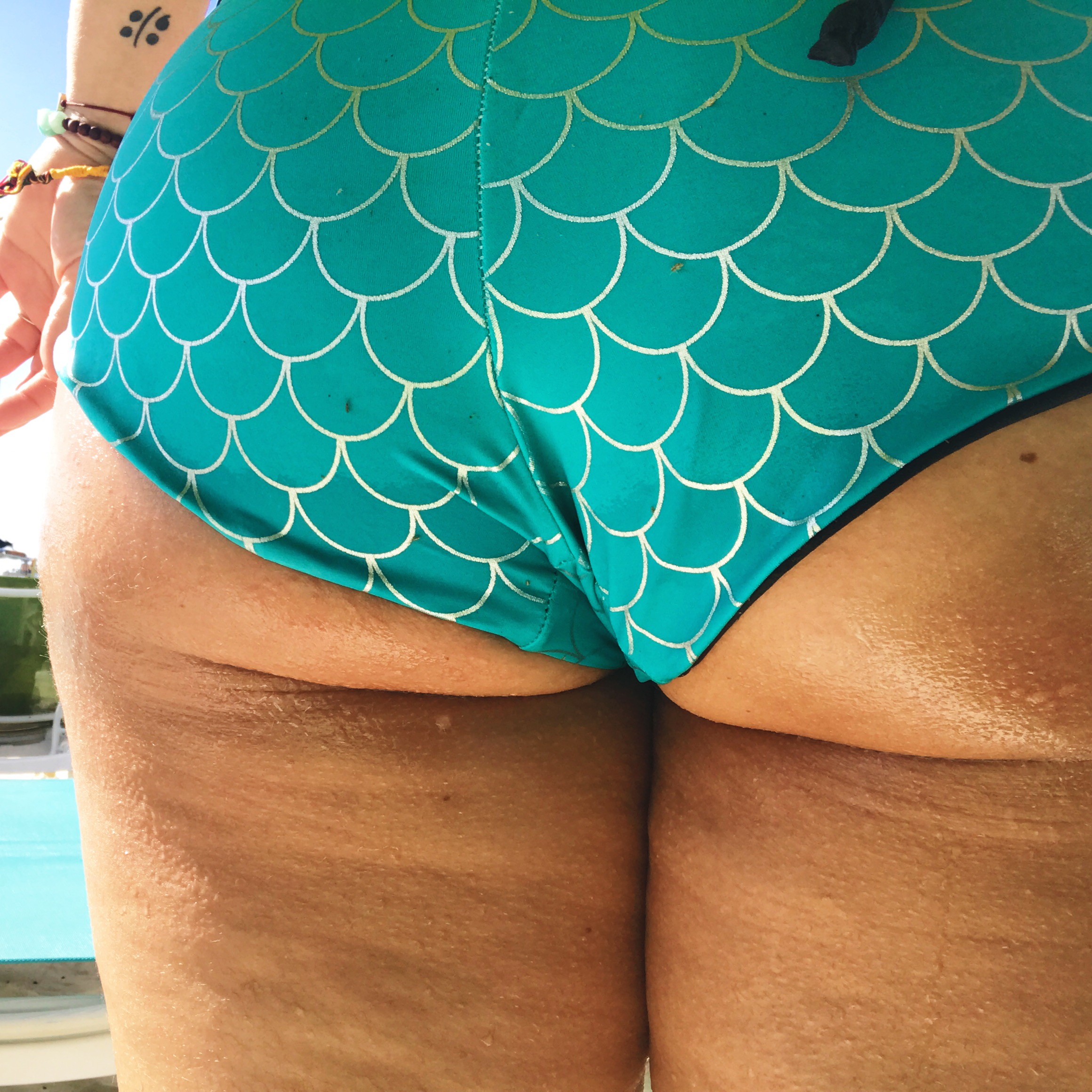 Note: If you go to Jamaica and are worried that you have a big ass and too much hip, do not. Jamaican men will treat a chubby woman like a godess. I've been told this more than once. Somehow this made it slightly less embarrassing to let a stranger examine my ass in this moment of desperation, so I thought I'd include it should you ever find yourself in a similar situation.
I thought vinegar might help — I don't know why, it just seemed like a helpful liquid — so Dot went and got me a cup from the bar. Bless her German heart. She poured it on me. It didn't help. Not even a little.
At this point I'd become a spectacle. Other employees were asking if they could help and I was willing to take literally ANY.
That's when the pee happened.
First, Dot filled a cup and poured it on me as I laid prone on the sand near the water. I DID NOT EVEN CARE THAT PEOPLE WERE WATCHING. She told me she'd continue to pee on me if I bought her drinks.
I bought her drinks. Many drinks (at least two). Sarah also offered her pee, but I think Dot felt especially protective of my ass, so she made all the pee for me.
If you are judging me right now, you have never been stung on the ass by jellyfish in a place with no grocery store for several miles, no car, and no way to alleviate the burning sadness that is your buttcheeks.
When all was told, she'd poured pee on me twice.
Twice was not enough. And that's when things got weird(er).
By this point I was just laying in the sand with no will to live. Tour boats let out people — couples on a day cruise, folks out to snorkel, folks being pulled around on a giant banana. They stared at me. I did not care.
If they stared at me for longer than a few seconds I just went ahead and told them what they definitely did not want to hear, "THE WATER ISN'T SAFE, OK. THERE ARE JELLYFISH. THEY ARE CLEAR. THEY WILL STING YOU ON THE ASS OR ANY OTHER PLACE THEY'D LIKE BECAUSE THEY DON'T CARE ABOUT YOU OR YOUR CARIBBEAN VACATION. THEY WILL MAKE YOU WANT TO DIE. THIS IS WHAT HAPPENED TO ME AND I AM CURRENTLY LAYING HERE BEING PEED ON. Kthxbye."
And that's when I met Sylvester and Ramon.
Sylvester and Ramon are both Jamaican. Ramon was on vacation himself, wearing a huge sunhat and glasses, but looking not at all tourist-y with his dark brown Jamaican skin and jeans. They were standing on the sand talking about I don't know what. They saw me marinating in Dot's pee. They asked what was wrong. I told them. They laughed. I don't know if they were laughing because I was laying face down on the beach or because the whole being-stung-by-a-jellyfish thing is so painfully tourist-y.
Sylvester offered me his urine.
I said yes. And also, "please god PLEASE. Deliver me from this agony."
I didn't think he'd actually give me his pee, but a couple of minutes later he returned with a plastic cup full. Which he then poured on my ass.
You stop judging me. Right now.
I would have let ANYTHING or ANYONE pee on me, OK?! Pee was the only thing that made it feel even remotely less awful.
In the evening we wrote something we wanted to let go of on a small piece of paper and threw it into a bonfire. We watched them burn, and hoped what was on them burned with them.
And then Randi poured her pee on me — which I laid in. For not just a few minutes.
My ass burning was almost gone.
I had a lot of pee poured on me today. More pee than I will ever see again — unless I get stung by another asshole jellyfish, at which time I will again ask strangers for their pee.
I took (another) cold shower, and after chatting for a bit with a few of the ladies, feel asleep while reading (again). When my phone hit me in the face (again), I woke up long enough to write this before I fall into yet another ass-burn-slumber.
I hope my ass-burn is gone tomorrow. I don't know how much many more people would offer their urine.
I did go back in the water, because ADVENTURE. I did not get stung again.
Amen.