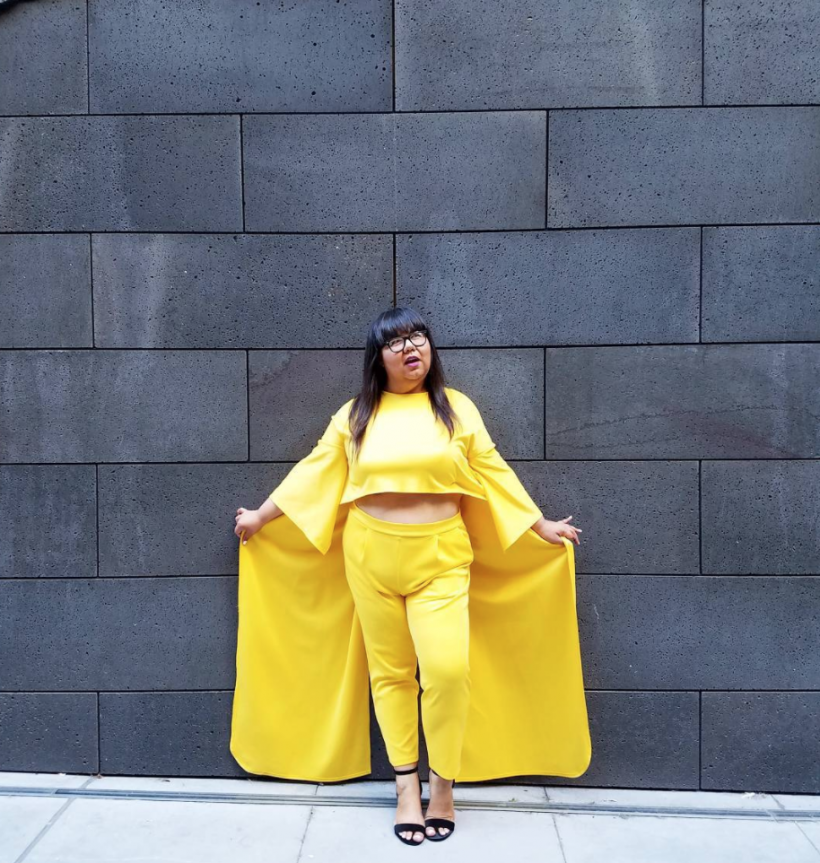 image credit: Virgie Tovar via Instagram
This year has been a doozy for a plethora of reasons. Between a Trump/Pence inauguration and the subsequent protests of primarily women and feminine folk across the country who marched in the Women's March, as well as the recent #MeToo movement, people have been mobilized. 
Women, femmes, and non-binary people have taken to the internet to hashtag their feelings and buy shirts to emblazon their feelings on their chests - from telling Trump to "Grab This," declaring that they are still "Nasty Women" or giving each other permission to "Punch More Nazis." We wore our moods in millennial pink ennui, passionate oxblood, and vibrantly in-your-face yet optimistic yellows. These trends became bolder as we became more certain of who we are and where we stand. 
While political mobilization may be our absolute FAVORITE trend of 2017, there's been some super bold, stylish wardrobe trends that have popped up throughout the year that are worth celebrating. Looking back upon all of the incredible looks that plus-size fashionistas have served over 2017, we were able to hone into some of the more ubiquitous fashions that kept popping up in their stylish glory. 
Millennial pink has been the "it" color of the last several years, everywhere you can possibly look on Instagram. The millennial shade has more punch than pastel, but lighter than bubblegum, and has found its way across clothing, makeup, cars, phones, kitchenware and beyond. 
If you thought that Velvet was just for the fall and winter, you are super mistaken. Velvet, especially of the crushed variety, as absolutely everywhere this year. It even popped up in the form of crop tops, bathing suits, and summer dresses! Plus-size model Shay Neary shows off a gorgeous fall velvet look in this blush-and-burgundy combo.
Floral got an edgier makeover this year and at just the right time. While we were celebrating femininity and the power behind it, designers were rolling out florals with dark bases and darker petals. The result was a slightly less wholesome but more romantic take on a spring staple, which also allowed it to be embraced year-round. In this picture, writer and model Leah Vernon shows us just how amazing dark floral can be in this Society+ tutu. 
Like dark floral, palm print also offered a bit of an edge. Think of palm print as the androgynous sibling to floral. While floral itself is not an exclusively feminine print, you will find much more of it in the more feminine shopping areas. Palm print does not have that problem, as it can be found on both sides of the aisle, easily styled and shopped for. The long lines of the palm leaves are more architectural and modern as opposed to the "ditsy" prints of florals on billowing skirts of yesteryear. Mamafierce's Briana Hernandez shows us how this print can be applied in a super feminine, romantic way by pairing it with an off-the-shoulder cut and flowing fabrics. 
Metallic fabrics were everywhere this year and we love it. From the micropleats of Premme's popular midi skirts to rich brocades and even in lipsticks and eyeshadows, metallic detailing was one of the most popular styles. Almost nobody rocks it more effortlessly than the always-stylish Troy Solomon. 
While the cold-shoulder trend was still hanging on for dear life, its more timeless sister popped up to say "hi!" and it could not have been better timing. Off-the-shoulder styles give similar amounts of bareness, but they are pieces that you can keep in your closet without looking as dated as the cold-shoulder trend. Is it from the 1970s, 1990s, or 2010's? Natalie of Shameless Creature shows off this gorgeous off-the-shoulder look in the form of a swimsuit, keeping it fresh and body-positive in the process.
Black mesh isn't just for goth kids any more. The see-through style popped up in the form of t-shirts with athletic cuts, bodysuits, loose full-length dresses, and under layers. The result was a fresh take on a familiar style, stretch its parameters from goth to urban to romantic bohemian and even preppy at times. Gabi Fresh gives us a new take on the trend with this graphic cropped tee. 
No matter the year, the concept of minimalism is timeless. Simple silhouettes, basic colors which are not easily dated, and restrained accessories keep your look refined and easily mixable, allowing you years of use within your closet. Suma Jane Dark shows us the power of a simple black maxi dress in this look. 
Behold, your new power color. Yellow has the punch of red, but the optimism of a smiley face. When paired with bold cuts and all-over use of color, yellow makes even more of an impact than bold, warm tones like red can because it is the less expected choice. Virgie Tovar chose yellow to captivate her audience visually at her TedX talk. As you can see from this photo, her choice was amazing. 
A recent makeover of the puffer jacket has brought it back into the fashion foray. No longer is it just for campers and outdoors folks or tech bros in vests, the puffer jacket has new lines and a fresh attitude. Shown here at the Universal Standard popup in Portland, plus-size model and jazz singer Kanda Mbenza-Ngoma rocks the "Kanda" puffer — a match made in heaven.
For glamour girls, faux fur will never go out of style. For the rest of the world, it may feel frivolous. When faux fur is in style, stock up! Fun colors like this gorgeous deep purple hit the market in hard-to-find sizes, leveling the playing field for us plus-size fashionistas who can rarely find it. Lisa of Mustang Sally Two shows off this amazing monochromatic look made perfect with this faux fur coat. 
Oxblood, burgundy, maroon, deep red… whatever you call it, the color is red's easier-to-wear and more worldly sibling. Deeper and more complex, the ton is evocative of blood and wine, and deeply sensual. Photographer and fashion blogger Rosey Blair makes full use of its sensuality with this beautiful deep plunging maxi dress.
---
Related: