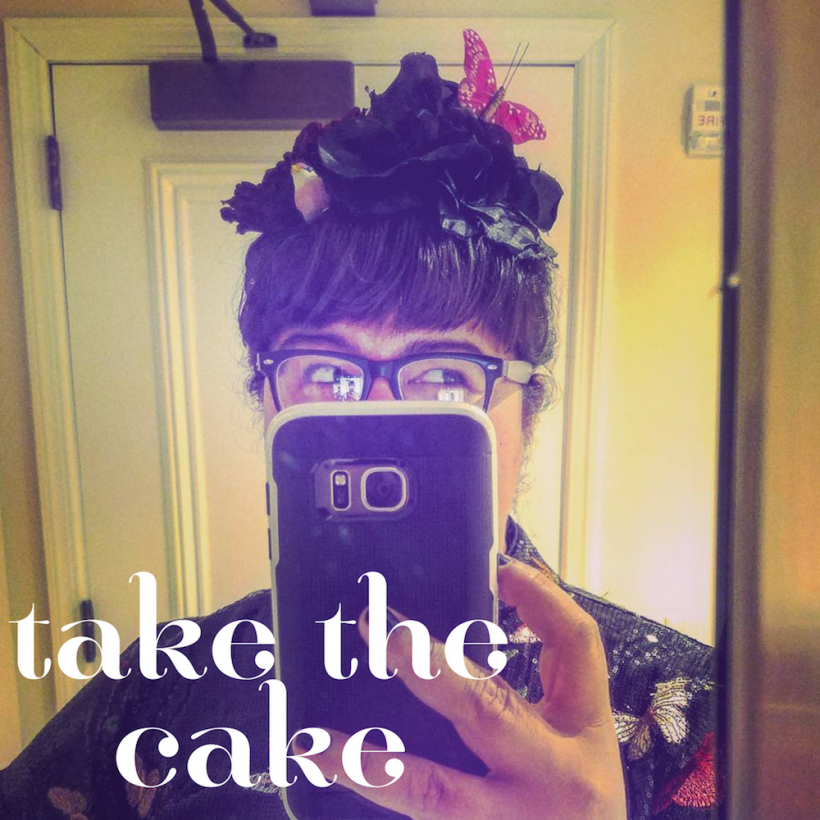 I went to Glamour Women of the Year Awards and took selfies with Gabourey Sidibe!
Earlier this month I flew into JFK for the Glamour Women of the Year Awards (WOTY, for short). I was excited (and, like, mucho surprised, actually) to have received an invitation but I'm not one to question my right to attend a high profile evening of sequins and celebrities.
Before leaving for New York I had to deliberate on what to wear. I considered a skin-tight, two-piece bubblegum pink, off-the-shoulder, crop top and pencil skirt set, but the invitation specified cocktail attire and the set is more of a middle-of-the-week coffee run look. Thankfully I'd met my WOTY soul dress a few weeks earlier when I was at Santee Alley with one of my favorite humans, plus size stylist Jessica Hinkle.
There are a total of three plus size booths in the vast micro-planet that is Santee Alley, and of those three there is only one that carries the kind of clothing that really inspires me — rhinestone bustiers, wide corset belts, lily white Selena-inspired jumpsuits with lace detail, etc. Jessica actually saw it first: a black sequined mini-dress with mock turtleneck and bright nature-inspired hand-sewn appliques. She sang my name across the sales floor the minute she saw the dress, knowing that it was exactly the kind of gaudy-over-the-top thing that helps me thrive in a world that is often so utterly underwhelming.
A few nights before I left I modeled the dress for my trusted style guru/friend/roomie Kori. She suggested some flowers for my hair to match the appliques. The moment she said flowers, my brain immediately lit up with ideas for a head terrarium that would include butterflies, tiny pineapples, birds, seashells and maybe some tiny plastic babies like they put in the rosca de reyes. She voted against the hair terrarium, but I decided that I at least needed some birds in order to feel like my authentic self. Kori also suggested I get the look hemmed. My reaction to hem-spectations is always a toddler-like hissy fit that ultimately leads to submission. She won the argument by pointing out that if I did end up getting a selfie with Solange I wouldn't want to look like a ragamuffin. True.
The event was in Brooklyn. I took the subway from the West Village where I was staying to Flatbush. The outfit game was outstanding. Lamé, fur, backless dresses, off-the-shoulder and sleeveless tops. There were stiletto nails, high heels, tuxedo pants and red lips. I got there particularly early so I could watch as the historic Kings Theatre filled up with about 3000 people, most of us women.
I got a glass of wine, and of course promptly spilled it on my own leg.
But it turns out that the universe had bigger plans for me and my booze leg. As I got up to grab a napkin I ran into Gabourey Sidibe. She immediately noticed my hair bird and I took this as an invitation to giggle like a fool and then ask if I could take a picture with her. She grabbed my phone and snapped a couple of selfies, and I'm actually writing this from my penthouse in hell because I died after that.
When the show began it was a non-stop lineup of ultra mega power ladies — Solange, Nicole Kidman, Serena Williams, Gigi Hadid, Sofia Coppola, Anna Wintour, Maxine Waters (who finished her acceptance speech by asking everyone to stand up and chant "Impeach 45!"), Laverne Cox, Drew Barrymore, Katie Couric, Jodi Kantor and Megan Twohey  (the NY Times writers who broke the Harvey Weinstein story), Ruby Bridges (who desegregated New Orleans schools in 1960 when she was six years old), Norma McCorvey (the plaintiff in the 1973 case that made abortion legal), Roe v Wade, Cameron Russell, astronaut Peggy Whitson, Wonder Woman Lynda Carter, Chimamanda Ngozi Adichie, and many others. Special video messages were broadcast into the theater from Michelle Obama and Hillary Clinton. It was extraordinary to be in a theater full of passionate, brilliant, talented, driven women and girls.
I felt incredibly privileged to be there, but there were moments when I had to reconcile with the fact that as a fat woman I am more of a high-fashion observer than a full participant. For instance, Dior's artistic director, Maria Grazia Chiuri, brought me to tears when she said that she loved what she did because she knew that fashion was the way women express their souls. It didn't escape me, however, that I can't fit into a single thing that Dior makes. What does that say about my right to articulate my soul.
Though I was nowhere near the only fat girl in attendance, one of the only things I felt was missing from that evening was a population of plus size babes commensurate with our powerful presence as consumers of fashion mags, clothing, makeup and culture. Glamour is a fashion institution, and fashion has long been a complicated subject for plus size women. While thin women are encouraged to experiment with expression, fat women are dissuaded daily from taking risks with visibility. The censorship is unspoken, expressed through the cut and style of the garments available to us.
Of the women who were onstage that night, it was heartbreaking to notice the contrast of high necklines, muted colors and cheaper synthetics worn by fat women with the gowns and polished updos of their thin counterparts. Having spent a lifetime longing for amazing clothing myself, I knew for a fact that most of the gorgeous gowns I saw simply do not come in plus sizes and even if they did they were most likely prohibitive for fat women because of the trickle-down economic effects of fatphobia (fat women are taken less seriously as job prospects and have less disposable income). But it's not enough to chock the lack of size diversity in fashion to money. The truth is that companies build brands by banking on size-based bigotry and the scarcity mentality that fuels female competition.
Just as all the women I listed above are innovators of style and femininity, so too are there hundreds of thousands of fat women who create and re-envision the culture every single day without the support that thin women have to do so. The truth is that we see the widest range of fashion expression available to the smallest women because these are the women we culturally construct as successful and worthy. But what if the image we had of success and worthiness came in every imaginable size?
I left WOTY that night feeling indebted to all the women I saw and met, and to all the women who weren't there too. I hope to see more women like me – and women who are bigger than me – at high profile events, expressing the true range of our desires, our creativity, and our VBO.
---
Related: