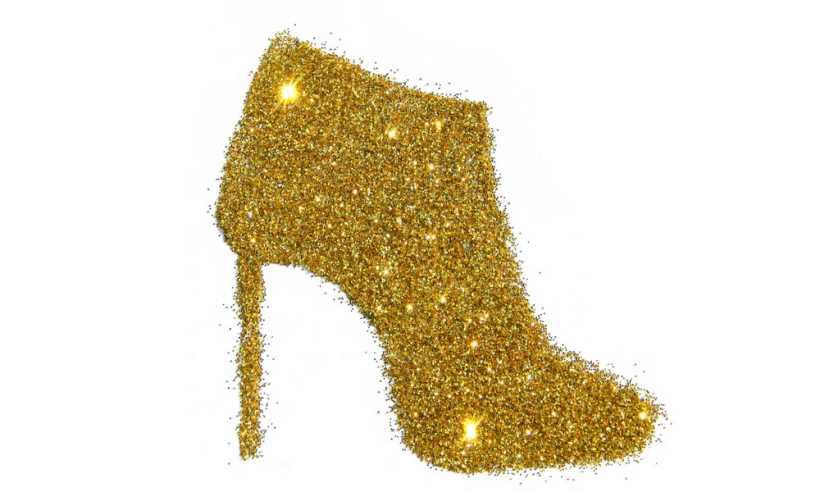 There's nothing demure about a glitter boot or these other statement booties.
How many times have you looked in the mirror and just wished you had something a little bolder, a little more stylish… something with a little more oomph?
A good pair of shoes can be that.
The right pair of shoes can make or break an outfit, and winter's glitter boot trend is a perfect example. They've got the personality and sex appeal of a heel, but are much sturdier and more comfortable. What's more, there's nothing delicate about this silhouette. It demands your attention.
These bold and sparkly chelsea boots are everywhere on bloggers and models of all shapes, sizes, and identities. If sparkly isn't your thing, there are plenty of other gorgeous statement bootie options for you to choose from like beautiful brocades, velvets, suedes, and metallic finishes.
Channel your inner Ziggy Stardust or The Purple One with these chunky heeled booties, perfect with a dress, jumpsuit, or a great way of transforming your simple denim look into a sexy rocker vibe simply by switching out your usual subdued shoe for something special. These boots don't care if you're out partying or going to the grocery store, and even this post-holiday season is still very much all about the sparkle and extremely bold, rich details.
Why are so many plus-size fashionistas embracing this trend? Simply put: you can have a killer shoe collection even if you do not always have access to other clothes.
Shoes, jewelry, and bags can transform your favorite closet staples in a million different ways, so they're often a great way to play with an otherwise "safe" outfit choice. Booties are great because they can be femme without being super traditionally feminine, and they can also play up the look to give it a hard femme rocker edge.
There's nothing demure about a glitter boot or these other statement booties. Need a little bit of bold style inspiration? Check out how these plus-size and curve fashionistas rock theirs.
1. Margie Plus (@margieplus)
Musician and blogger Margie Plus slays in these stellar silver glitter boots. Sashay throught the rest of winter in the perfect sparkly booties like some kind of rock n' roll cosmonaut.
2. Kellie Brown (@itsmekellieb)
If glitter isn't your thing, try a bold color in a bootie silhouette. Kellie Brown rocks the perfect teal suede booties with this unexpected but amazingly bold color combo.
3. Briana Hernandez of Mamafierce (@mamafierceblog)
Bay Area fashion maven Briana Hernandez combines lush velvet with gold booties for a smoldering ensemble in this boudoir shoot.
4. Alex Michael May (@alexmichaelmay)
Everyone's digital BFF, Alex Michael May, slays this perfectly '70s vibe with a sequin dress by Premme and sparkly red glitter booties from ASOS, showing that you don't have to be pressured to wear heels to make a stylish statement with a dress.
5. Troy Solomon of A Bear Named Troy (@abearnamedtroy)
Fabulous booties don't just have to be for women. Fatshionista Troy Solomon shows us how to bend the binary with these gorgeous pink booties.
6. Bira Biro (@birabiro)
Ethiopian-American jewelry designer Lydia Gobena of Birabiro shows up with bold style and a profound ability to rock just about any accessory.
7.  Shira Rose (@asequinloveaffair)
Body-positive psychotherapist and eating disorder coach Shira Rose always has the most incredible shoes. While they may not be sparkly, these incredible embroidered floral boots certainly serve the same impact that glitter and metallic boots do.
8. Anna O'Brien (@glitterandlazers)
Gorgeous emerald green booties are a great way to make a simple, everyday look into something special.
9. Anabeth Fuller (@anabeth.jpg)
Texan Instagrammer Anabeth Fuller shows off her beautiful booties in this lively look. Don't be afraid to experiment using booties in place of heels!
10. Nicole Reider (@theheftyhideaway)
A plus-size blogger with a flare for retro rocker fashions, The Hefty Hideaway's Nicole Reider always has some fun whimsical look with a rocker edge. These boots are the perfect way to add that vibe to any outfit. 
---
Related: